Walmart Worker Reveals the Strange Way They Rearrange Stores So Fast in Viral TikTok
A viral TikTok showing how employees move entire shelves in one go has people shocked.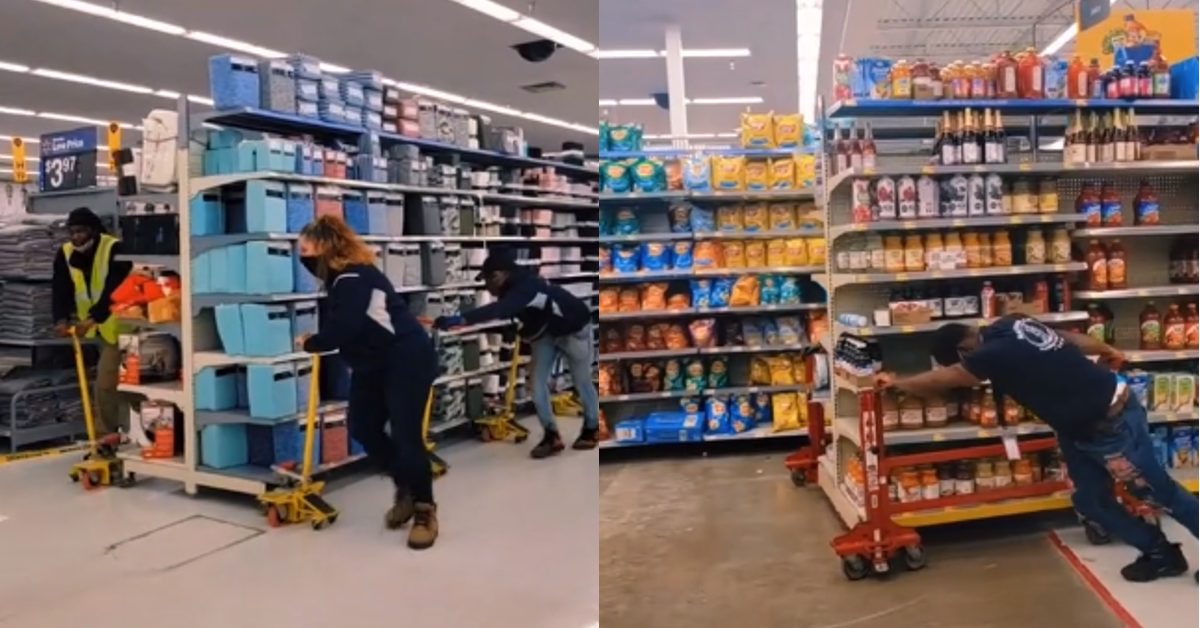 Like any job, working in retail is full of mundane moments. Take re-stocking shelves, for example. Not only do you have to make sure that the displays are aesthetically pleasing, but you have to properly price the items with stickers and make sure any "defective" products are sent to the back, and this is for thousands upon thousands of individual pieces of inventory depending on the size of the store you're working in.
Article continues below advertisement
This isn't just a frustrating and tedious task for employees, but it can be for customers too who walk into a store and are all of a sudden thrown through for a loop as everything in their favorite retailer is suddenly in a different spot. Sometimes it can feel like those changes are done overnight, but how are they able to move so many products and entire sections of a store so quickly?
A viral TikTok from user @tammylynnturley shows how that's done, at least in one grocery store. Have you ever tried moving a dresser with some friends and instead of individually taking out the drawers and all of your items in them, taped them up and did your best not to jostle them?
Well, that same principle is applied with this shelf-moving tactic. See it for yourself below:
Article continues below advertisement
In the clip, employees can be seen jacking up a shelf with specifically made lifts that have wheels on them. The wheels are then unlocked to roam free and the entire shelf is then moved by a team of people to a different part of the store. It's a pretty awe-inspiring and brilliant technique that's perfectly suited to efficiently restructuring the interior of a large store's inventory.
Article continues below advertisement

TikTokers were blown away by the practice. Many folks expressed that they thought the shelves were "bolted to the floor." For others, it was a real light-bulb moment as their "rage" at seeing their favorite store completely re-organized in such a short amount of time finally made sense.
Article continues below advertisement

Although there were a lot of people who were impressed by the efficacy of the way in which the shelving units were moved, there were some who highlighted this as another way retailers coax customers into spending more time and theoretically more money while shopping in their stores.
Article continues below advertisement

By walking by more products as you search for what you actually came into the store to purchase initially, the chances of you ambling by something you didn't consider buying initially, or a great deal that might entice you to spend a few extra bucks increases.
Article continues below advertisement

Retailers also understand the importance of item real estate in their stores and will place certain products in more prominent or "premium" areas because they make higher margins on these goods that they're selling.
Article continues below advertisement

After seeing the viral TikTok, there were plenty of folks who had a joke or two about the shelf-moving operation. Like one user who wrote, "I left my kid on a shelf now the whole aisle is gone."
Article continues below advertisement

Another commented, "The way I thought I was losing my mind cause I just KNEW my shopping floorplan."
Was this a revelation to you? Or have you worked in retail and known that this was the deal all along?