Domino's Employee Fired After "Exposing" Managers for Gaming Instead of Working In Viral TikToks
A Dominos employee is alleging that they were fired after recording location managers playing videogames during a busy shift.
When you work in a high-yield, quick-turnaround fast food business like Dominos, things can get really stressful, really fast. Prepping tons of food orders in a short amount of time, coordinating with delivery drivers and fielding tons of customer requests online and over the phone can be extremely hectic. It's at these moments where it's only natural to expect that all hands at work should be one deck.
Article continues below advertisement
Whether it's your first week working there or if you're a manager with some experience, there's an expectation that during these fast and furious times that everyone needs to be pulling their weight.
But what happens when you feel like folks aren't putting in as strong of an effort as you can some of your coworkers? And what happens if those folks are "higher up" on the totem pole than you are?
In a TikTok post from an account titled @dominosdiscriminates, an employee working out of a Las Vegas-based location uploaded a clip of two employees playing video games. The creator stated that the workers in question were managers not on break and gaming while a litany of tickets began piling up in the queue.
Article continues below advertisement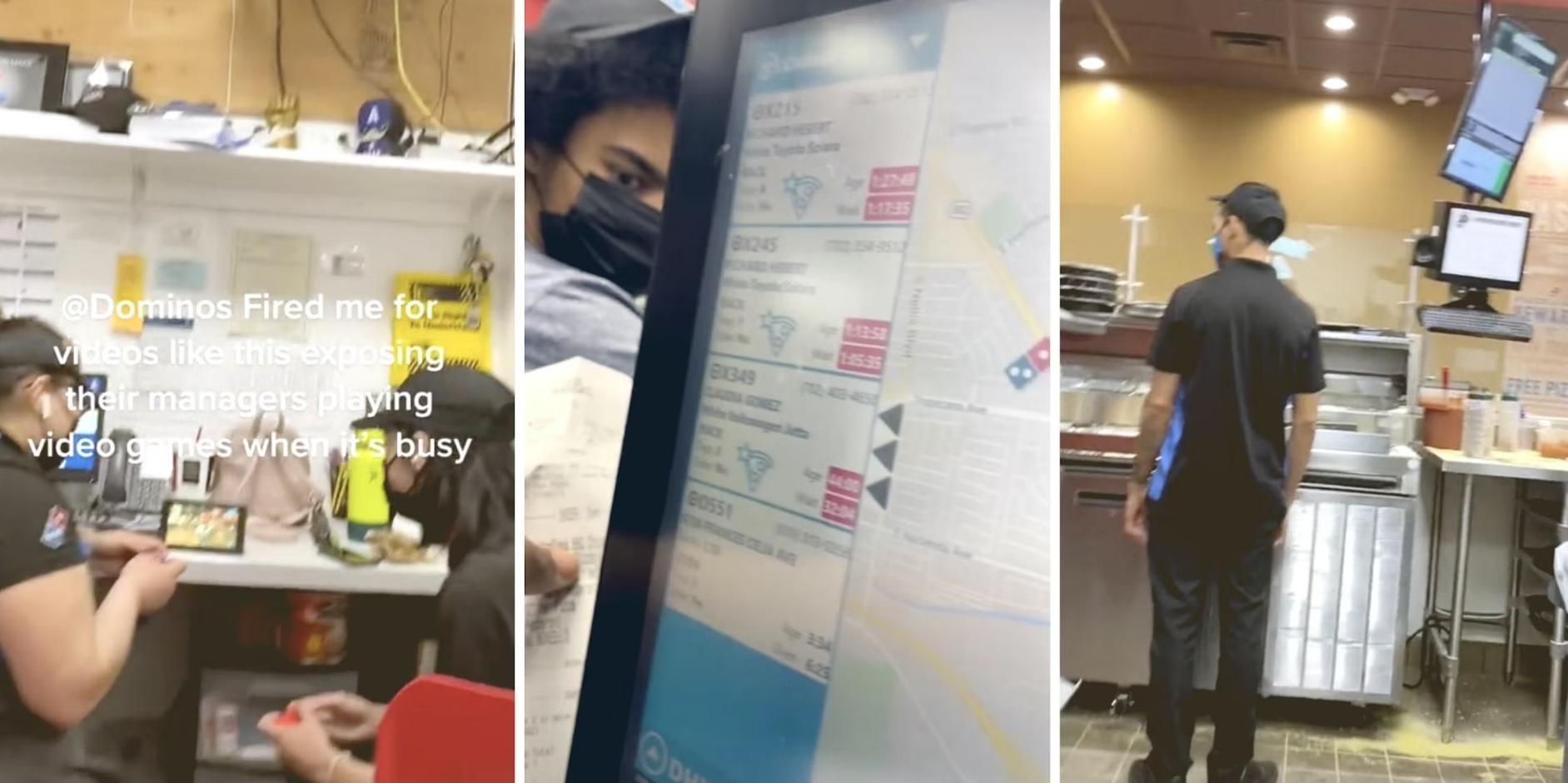 In a text overlay in the now-viral TikTok, the employee writes: "@Dominos Fired me for videos like this exposing their managers playing video games when it's busy."
Article continues below advertisement
The TikToker had posted to the platform previously expressing the same gripe but instead of the location being investigated by corporate to see if there was any truth to the individual's allegations about the performance of his fellow employees, he says that he was fired instead.
The first video that the TikToker had posted received a fair amount of hate, with folks basically calling him a tattle tale and a narc. And everyone knows that there are fewer things worse than a narc.
However, it seems that his second video generally received a much different response.
Article continues below advertisement

To many viewers, it seemed that the TikToker was genuinely affected by the poor performance of his coworkers. He did clarify that unlike some folks initially theorized, the managers in question were not on their break.
Article continues below advertisement

"I don't get why people are hating on u for this. People shouldn't be on the job if they aren't gonna work," a TikTok user by the name of Cee said.
Other indicated that this was pretty much par the course for their own employment tenures at Dominos.
"Dominos is hand down the worst company I ever worked for. This store is franchise I'm guessing?" Jazz Mercado said.
Article continues below advertisement
The TikToker clarified that he was working in what was indeed a corporate-owned Dominos pizza location.
And while there was a fair share of users who more or less said that same thing that @juicer7777 said, "lmao dude you made like 10 bucks an hour move on with your life," it seems that there were others who were a lot more eager to side with OP.

@Dread said, "You're in the right man. Don't listen to these fools in the comments."
When others suggested he bring the gripe up with corporate replied with: "I did, I was ignored and investigated for these videos and ended up being fired for it."