Walmart Greeter Detains Customer Even Though He Paid for His Items in Viral TikTok
A Walmart customer posted a viral TikTok where they claimed a store employee accused them of stealing, and held them "hostage" in store.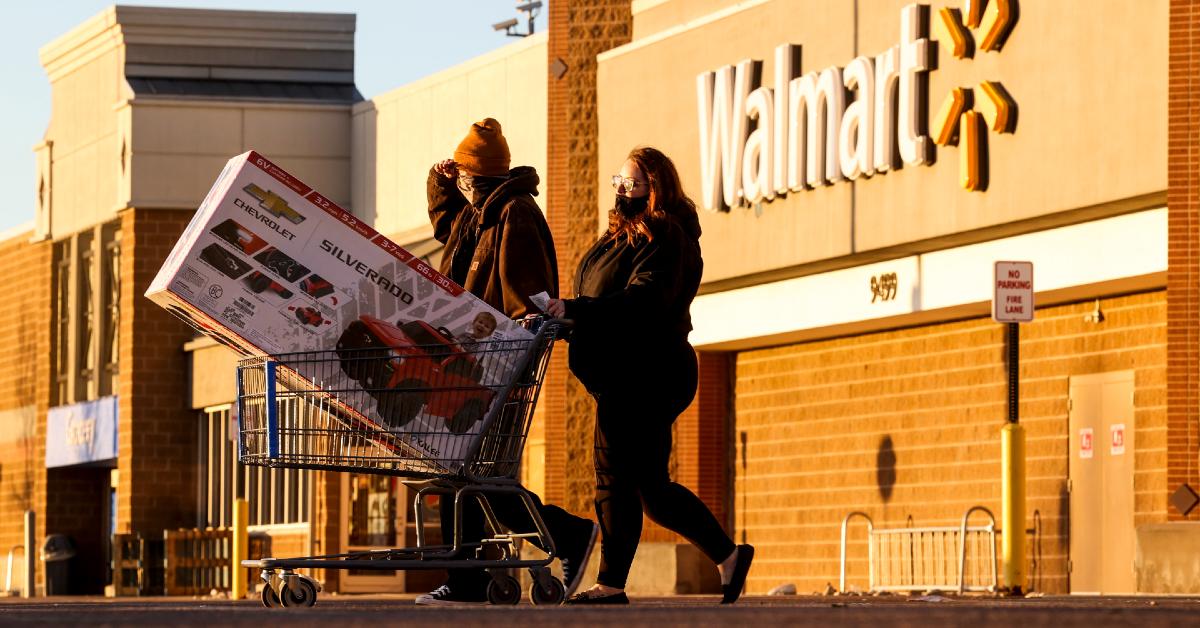 TikToker Travis Lee Ragan uploaded a viral video that shows him beefing with a Walmart greeter as he attempts to leave the store with a cart that's filled with containers that look like they're designed to carry fuel/gasoline.
Article continues below advertisement
Travis' video sparked a conversation on the legality of receipt checkers situated at doors, with many stating that the only stores allowed to stop customers to look at their bill of sale are those with subscription agreements like Costco and Sam's Club.
His clip which includes an initial meeting with the Walmart greeter has been viewed nearly 27 million times. It begins with Travis telling the greeter to get out of his way and not push the cart back into him because it's assault.
He tries to leave the store but the employee blocks his way, until Travis says, "Go get your manager."
Article continues below advertisement
The employee responds by telling Travis to go and get his manager, to which the TikToker responds that he's not going to do that, as the worker is the one stopping him from exiting the store. "Now you're holding me hostage against my will," Travis tells the worker, who then yells into the distance at another employee, "Yo can you go get the manager?"
Article continues below advertisement
The employee shrugs his shoulders and looks at Travis before saying, "We can stand here all day." Travis tells him that he understands he's "underpaid" and "mad at life" before saying that the worker "cannot stop" him or "hold [him] against his will" because "it is illegal."

Article continues below advertisement
Travis begins pushing his cart through the store and the Walmart greeter begins walking alongside the cart, following him to the exit. The TikToker invites the Walmart greeter to follow him to his car, but the greeter instead continues to prevent him from leaving the store.
Travis attempts to back out of the store while repeating that the worker's actions are illegal as the employee waves into the camera saying, "hi" repeatedly. He tells the worker that he can't wait to "post it online" to which the greeter says, "post it."
Article continues below advertisement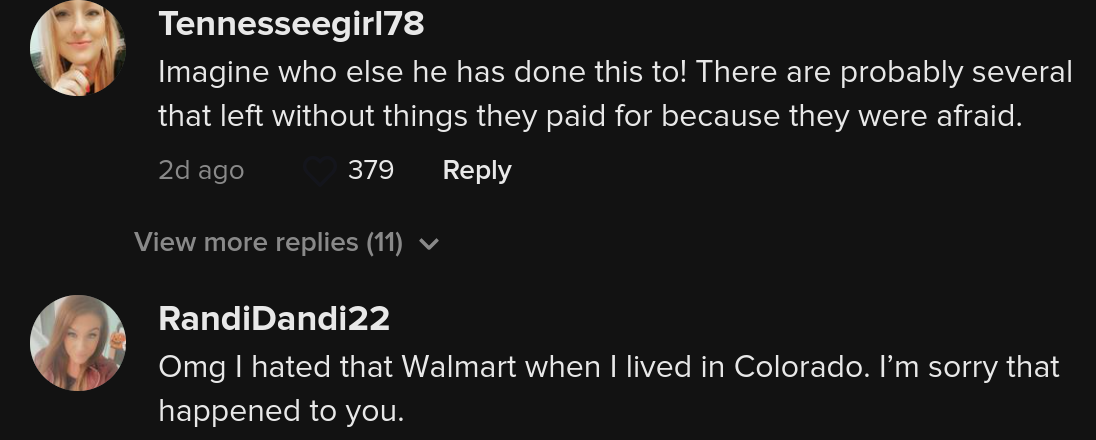 A manager then approaches Travis and the Walmart greeter. Travis hands the manager the receipt and tells him that the employees who work for him cannot physically get in his way or block him from leaving the store. "He cannot do that legally it is against the law," he tells the manager, who sends the greeter away to separate himself from the situation.
Article continues below advertisement
After checking Travis' receipt and seeing that everything is on the up and up, the manager hands it back to him and then follows the TikToker out to his car.
In a follow-up video, the TikToker gave more insight into what happened.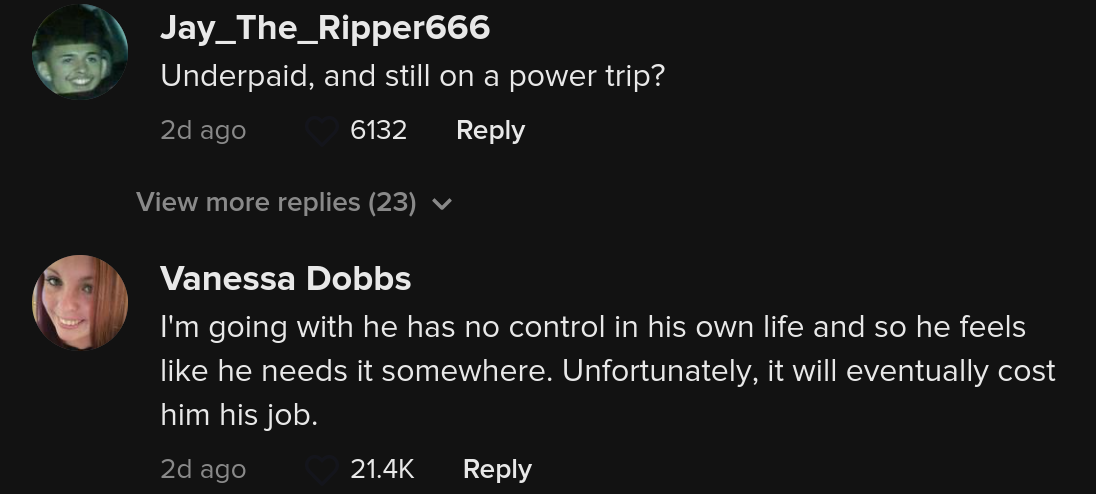 Article continues below advertisement
"Yesterday I went to Walmart and got diesel exhaust fluid and 4 gallons of windshield wiper fluid. Instead of going to self checkout I went to the cashier the cashier that I went to was closest to the exit where Chuck was working. There's no doubt in my mind that Chuck did not see me just leave the cashier."
He continues, "I'm on my way out I'm on the phone, Chuck wants to see my receipt. I tell Chuck thank you I just don't have time today and I tried to walk past him Chuck jumps in front puts his hands on my car I asked him to please move and he refused I get off the phone and I start recording because it's important that we document these situations."
Article continues below advertisement

"It prevents us from losing our anger and we can also show our side of the story. I asked Chuck to get a manager and he said no you go get a manager. That's not my job. I don't know who the manager is why would I go get a manager for you. So I tried to go around him. Chuck continued to place himself in front of my car and would not let me leave."
Article continues below advertisement
He says things like we can do this all day and you're not leaving the store. He also allowed other people to leave without checking their receipts. That's not right. Chuck cannot prevent you from leaving the store Chuck cannot detain you if he thinks that you're stealing something he can follow you to your car take down your license plate number he can call the police check the cameras call security. He is not a security guard he is not a police officer he can absolutely not detain you."

Article continues below advertisement
Aisle of Shame writes that it is illegal for store greeters to stop you and that customers are allowed to walk right on past them or refuse to show them their receipt if they choose to do so. The outlet states: "You can ignore the greeter and walk on if you want to. If the greeter stops you or forces you to show the receipt, they may violate your rights."
Travis adds, "I purchased the things I wanted to leave I was on a time crunch I had the right to leave," and he adds that while he followed up with Walmart to see what kind of disciplinary action was being taken against the worker, Chuck, he learned that he was given a warning. However, the TikToker noted that Chuck was still working the door, and seeing as the had an unfortunate interaction with him at the part of the store, the TikToker said it was probably a bad idea to keep him working there.