"How Do Your Walmart Donuts Taste?" — Employee Exposes How Walmart Donuts Are Made
A Walmart employee claims in a series of videos that most of the store's baked goods are not made fresh and are stored in the freezer until needed.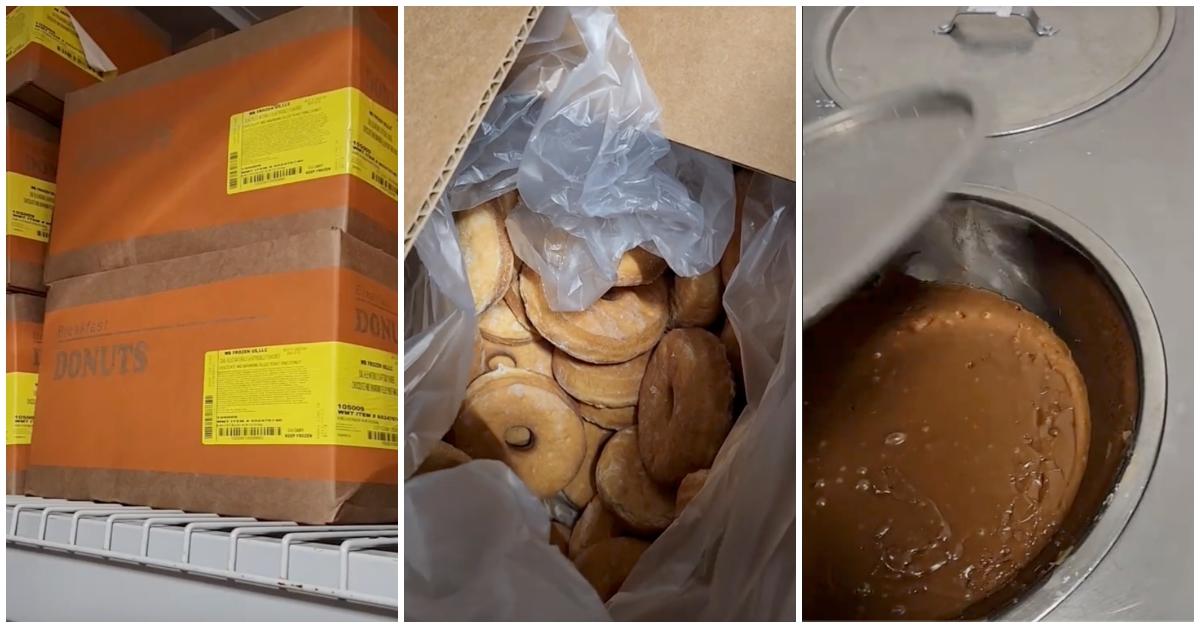 In a perfect world, every baked good we got the opportunity to devour would be freshly baked, and handmade from only the finest ingredients. But unfortunately, that's just not realistic. While there are definitely some bakeries that can guarantee straight-out-of-the-oven goodies, most places hawking pastries are not serving you recently made treats.
Article continues below advertisement
Take it from one Walmart employee who shared a trio of videos describing how the store's donuts, breads, and cupcakes are actually made. If you frequent Walmart's bakery, you may want to take a peek.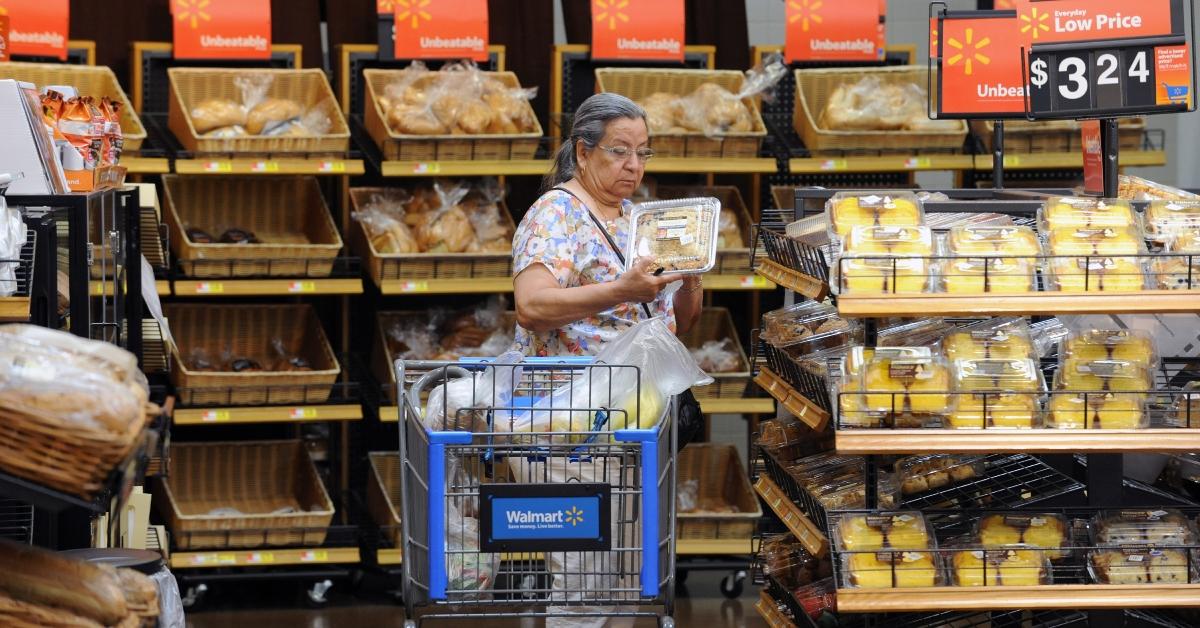 Article continues below advertisement
A Walmart employee shows how most baked goods are made in the store and it's very unimpressive.
While Walmart may have a bakery section in every store, not all of those baked goods are freshly made. In fact, we're not sure if any of those are actually baked in house. TikTok user @alexander_rexx shared a recent clip about the store's donuts.
In their clip, which appears to be filmed inside the back kitchen area of a Walmart store, they show about 12 large cardboard boxes, each with a plastic bag of donuts inside.
"Walmart donuts are not fresh. They order plain yeast donuts in bulk and store them in freezers," they say while using a voice effect to disguise their voice.
Article continues below advertisement
They further explain that when the sales floor runs low on donuts, an employee will grab a box to warm up and then glaze them as opposed to whipping up some fresh batter and baking the donuts right then and there. At the end of the clip, @alexander_rexx shows that they have a station in the kitchen with containers of the various glazes.
"How do your Walmart donuts taste?" wrote @alexander_rexx in their video's caption.
Article continues below advertisement
In the comment section, most folks weren't too shocked by this information. One user wrote: "I am OK with this." Another claimed that it wasn't a secret. And others pointed out that most grocery stores do this.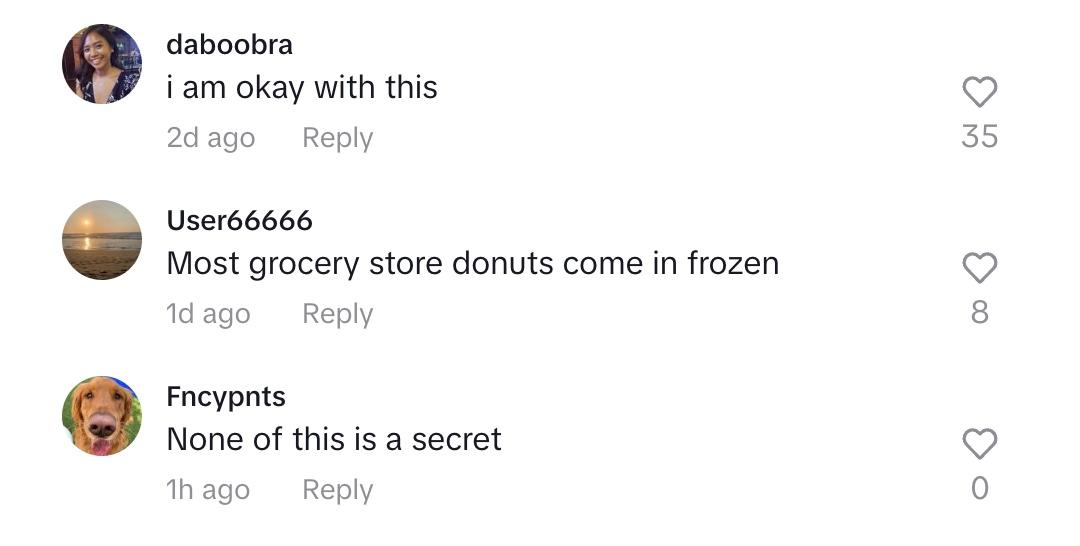 Article continues below advertisement
But @alexander_rexx had more to share about Walmart's bakery section. In another video, they used the same voice effect to reveal the following information: "Walmart's fresh loaves of bread are Pillsbury brand." In the back kitchen area, they show that all the bread boxes — from hearth breads to rolls — read Pillsbury. And once again, these boxes appeared to stay frozen until needed on the sales floor.
Article continues below advertisement
Again, many people were not taken by surprise: "Thirty-seven years grocery here, this is what they do in all chains. Over half of product sold is brought in ... not made there," wrote one person in the comments.
Article continues below advertisement
And in a third video, @alexander_rexx shared that just like the donuts, the cupcakes were frozen until needed. A bakery associate would ice dozens of cupcakes and then place them in the fridge until they were needed on the sales floor.
One person revealed in the comments: "As a former baker, you'd be surprised to know that many bakeries freeze their cakes. If demand is high it's impossible to completely bake fresh."
Another piggybacked onto that: "Most chain stores with high production needs do it this way. Depending on their cake vendor, the cake can still be pretty good/moist!"
Article continues below advertisement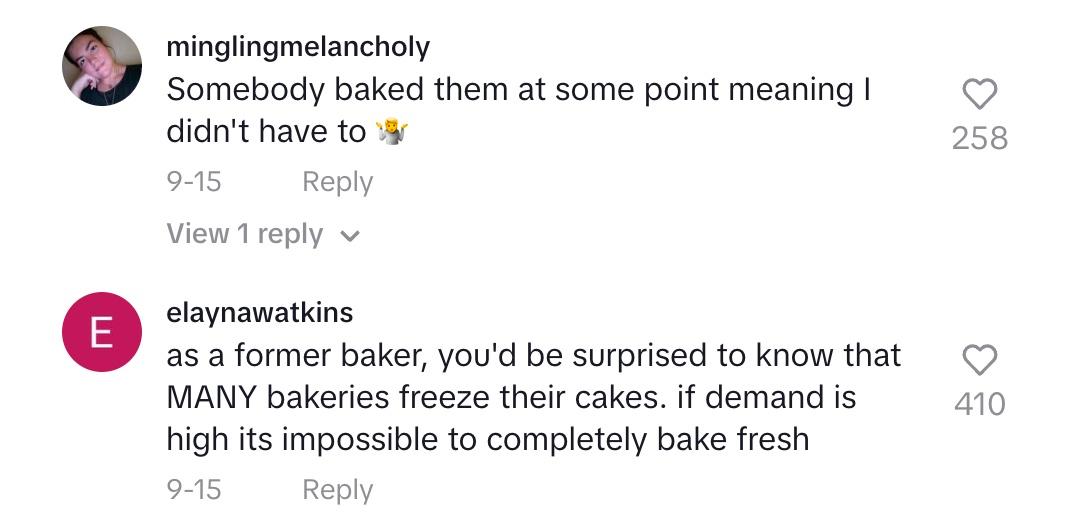 And a third user claimed that none of this bothered them. "Somebody baked them at some point meaning I didn't have to," they wrote.
So, would you still buy baked goods from Walmart?