"There's Literally Holes on the Back of the Cake" — Woman Documents Expensive Cake Fail
When a woman ordered a very expensive cake to celebrate her fiancée's new business, she got a cake that had definitely been through it.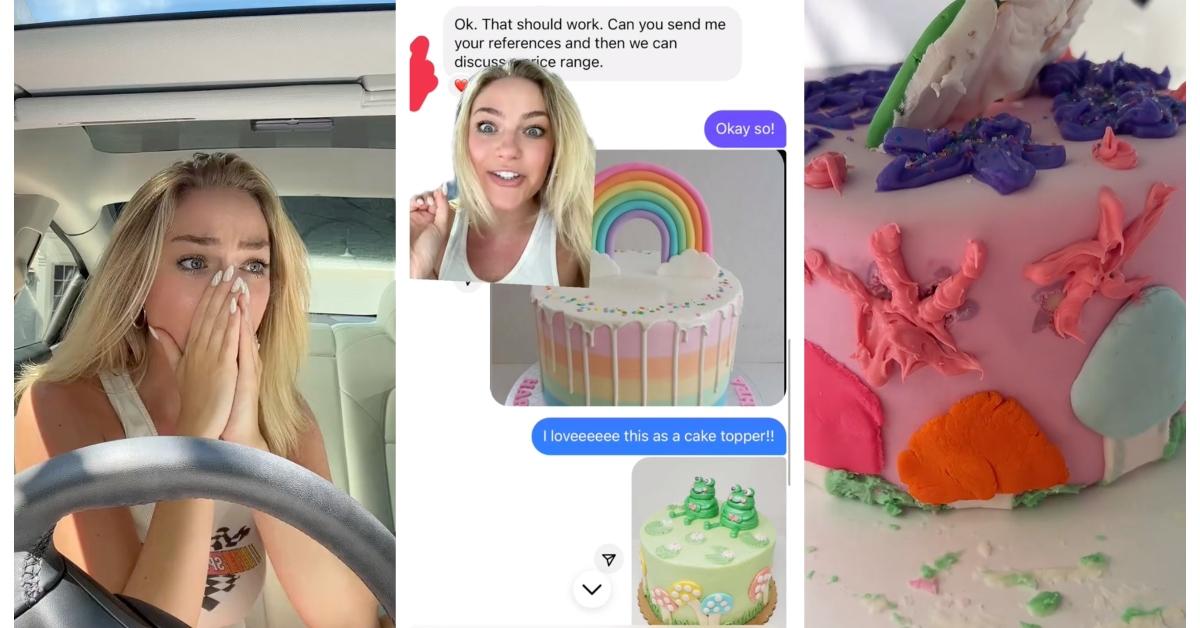 As I'm writing this, a Mary Berry coffee mug sits on my desk. A cartooned version of the chef smiles while reminding me that, "No one likes a soggy bottom." The former judge of The Great British Bake Off has unintentionally left her mark on a generation of people who look at a showstopper and think, "I can do that." And maybe they can, with a bit of practice.
Article continues below advertisement
Unfortunately, some folks have put the icing cart ahead of the fondant horse by over-promising on their baking abilities. It sounds like that's what happened to Katie Kelly when she ordered a cake to celebrate the launch of her fiancée's new company. After finding a bakery online and DM'ing with them, Katie thought things were pretty clear. What she ended up getting was a confusing post-apocalyptic confection. What would you do if you asked for Bake Off and got Nailed It?
Article continues below advertisement
Is it cake?
According to Katie, the bakery she found makes "really cute cakes," which apparently were proudly displayed on their Instagram. In a screenshot of her DM's with the bakery, an employee is asking Katie to send references so they could discuss a price range. At no point does the bakery employee say whether or not this could also determine if the request is within their wheelhouse.
Katie sends photos of two different cakes. In one photo, there is a rainbow topper she would like the bakery to replicate. In the other, a different cake has adorable mushrooms on its side. Essentially she wants to take these things and Voltron them into one cake. "It's not an outlandish request, according to their Instagram," says Katie.
Article continues below advertisement
On top of the cake, Katie asked they write the word BAKEUP which is the name of her fiancée's business. Because she assumes these folks know what they are doing, Katie says she "trusts their judgment for everything else." I rule my cakes with an iron fist and wouldn't trust anyone's judgment.
Article continues below advertisement
Although she didn't share the bakery's Instagram, I can tell from the examples Katie sent that what she wanted should have been easy. What she got was truly something out of my third grade art class. If the baker was wearing an oversized men's buttoned up shirt while making this cake, I wouldn't be surprised. Who doesn't love an old dad dress shirt masquerading as a smock?
Article continues below advertisement
Before revealing the cursed cake, Katie drops off the price. Per the DM's a "custom 6 inch [cake] is $100 minimum. It goes up from there, depending on add-ons." Ultimately, the cake cost $150 and Katie happily paid. After all, this is a joyous occasion for a loved one.
We;;, the cake is a disaster, and part of me feels sorry for the bakery, though I have no reason to. Not only does it barely resemble the examples Katie sent, but there are holes in it and the mushrooms have been replaced with very mess starlike shapes. Have you ever tried writing with your non-dominate hand? It's that, but make and decorate an entire cake.
Article continues below advertisement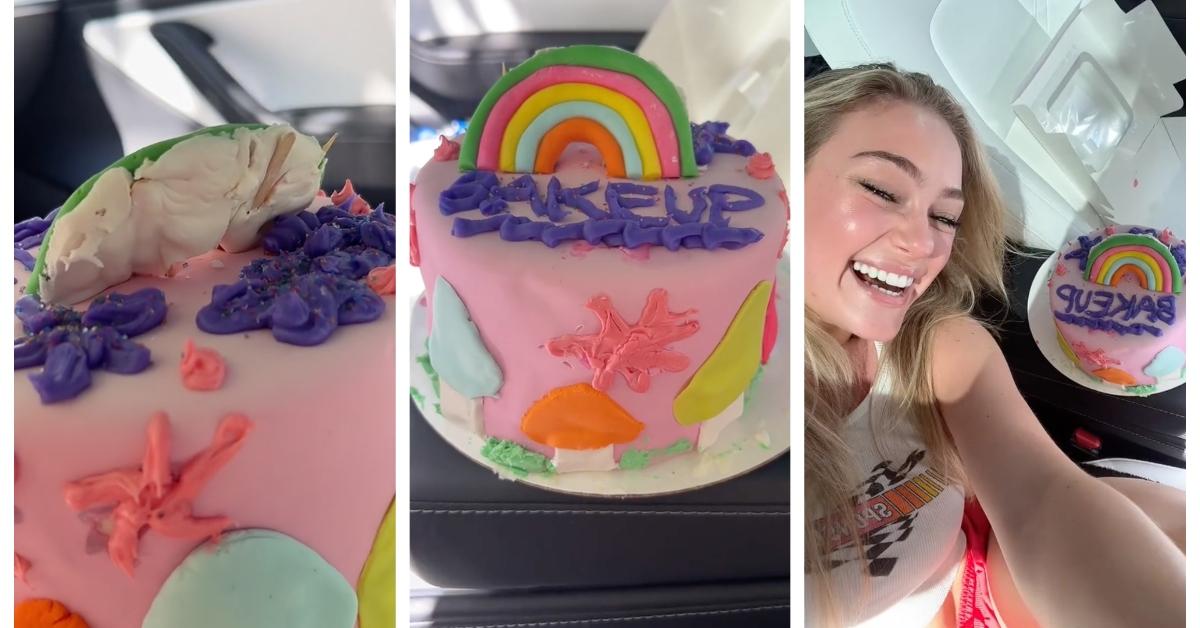 Sadly we never got a followup TikTok, because all I want to see is her fiancée's face when this cake is revealed. I love a good story, and this is one of those bangers they'll probably be telling for years to come. It could become the dinner party anecdote. "Babe, tell them about the time you ordered a custom-made cake for me and they sent you home with a child's Play-Doh sculpture."
Article continues below advertisement
Katie popped into the comments once or twice, but I didn't see anything about what happened next. "What should I do now? Do I reach back out oorrrrr?" she asked. One person suggested she tell her partner she made the cake herself, but Katie said she wasn't sure she could actually give it to them.
Almost everyone told Katie she should have gotten her money back. Alas, we may never know what happened after Cakegate. Was it banished to an alternate dimension — or did they follow the debunked ramblings of Marie Antoinette, who didn't actually say, "Let them eat cake"? One thing I do know is I am absolutely dying to have some cake now.