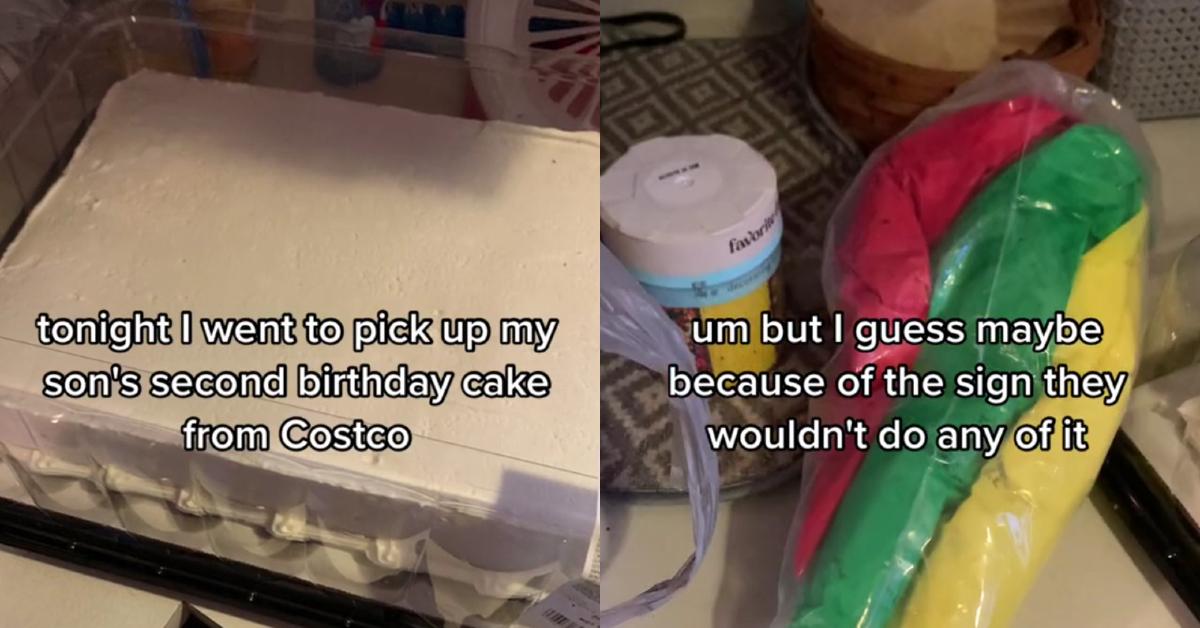 Costco Doesn't Decorate 2-Year-Old's Birthday Cake, Gives Mom Icing to Do Herself
A Costco customer said that they requested a custom cake for their son's second birthday, but they ended up getting a blank one instead.
Whenever you're planning a party for someone especially someone you really care about, like your kid, you try to do your best to ensure that everything goes off without a hitch.
Article continues below advertisement
If you've got friends or family members who are bringing balloons or a pin-the-tail-on-the-donkey or some cups and plates, you're going to follow up with them to make sure they're doing their due diligence.
If your kid wants a specific toy or gift, you might go through a Jingle All the Way level of struggle to ensure that they get their hands on that special something by the time they blow out the candles on their cake.
Article continues below advertisement
And speaking of the cake, well, if they've got a favorite cartoon, video game, animal, or theme that they dig, you're going to probably pick a design/decoration that's in line with what they love. And ordering one is usually a straightforward process: you use whatever system the store you're buying it from employs and you pick it up when it's ready.
While there has been some gnarly cake fails uploaded to the annals of the internet, one mother ended up being on the receiving end of one where it seems like whoever made her cake wasn't even trying. Either that or they just got the order completely wrong.
Article continues below advertisement
TikToker Katelyn Ross (@katelanterman) says that instead of putting the design she requested on her son's birthday cake, a Costco bakery just sent her a huge blank cake...with no design on it. Just vanilla frosting. She relays the story with a series of photos showing off the "fail" in a viral TikTok.
Article continues below advertisement
"Tonight I went to pick up my son's second birthday cake from Costco and I got a blank cake instead. Of course, no decorators work in the evening which was when I came to pick this up so no one there knows why it was blank, the best I can assume was because it's a Sesame Street themed birthday party, but I know they can't do licensed things."

Article continues below advertisement
Kate continued, while showing off what her initial design request for the cake was "So all I asked for was a little street sign...I asked for some 1, 2, 3,s, a, b, c's on it and a top board and a bottom border. But I guess maybe because of the sign they wouldn't do any of it."
She said that a Costco employee ended up giving her a few tubes of different colored decorating frosting for her to make the design herself. "The person there gave me a couple colors to take home and the manager offered $5 off for this inconvenience. Which I didn't even bother finding him when we checked out."
Article continues below advertisement
Kate's clip then transitions to the finished product of the cake which she presumably decorated herself: it shows the original design and a brightly-colored cake done up in a Sesame Street style theme with her son's name written on a green street sign.

Article continues below advertisement
"I took it home, I don't like my handwriting I've done cake stuff in the past before but so this was the best I could do, but I guess because of the sign they wouldn't do it is my assumption."
Kate goes on to say that she just couldn't understand why the employees at the store wouldn't do any of the work that she requested. Why they wouldn't attempt at least some of the decorations on the cake instead of just handing her off a blank one and basically telling her to do it herself?
Article continues below advertisement
"What confuses me the most is why they wouldn't do the bare minimum of at least Happy Birthday Teddy and the border colors, like they just left it blank white instead."

Article continues below advertisement
Kate added in the video's caption that she purchased all of her party food at Costco and while she will continue to shop at the retailer because she's a big fan, that she will not be purchasing a cake from them in the future.
Some commenters who replied to her video remarked that the reason why her cake wasn't made to her specifications is because Costco doesn't do custom orders that aren't a part of their "look book" however there are outlets online that say stores do, but that 2-3 days of lead time are needed in advance.