Man Replaces Fiancé's Wedding Dress With One His Mother Picked Out
A woman claims in a viral Reddit post that her fiancé went behind her back to return the wedding dress she picked just to placate his mom.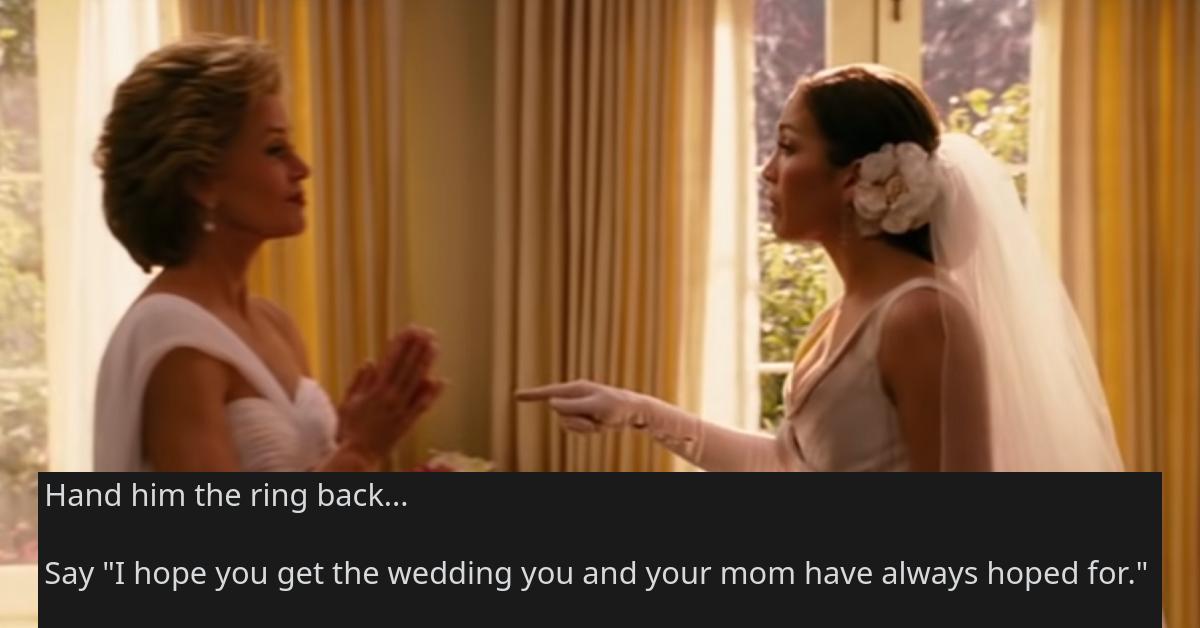 Mother-in-law jokes are a hackneyed comic trope straight out of the lazy 1980s stand-up comic handbook, but there's a reason why movies, TV shows, plays, and stories from nearly every culture have lampooned in-laws: it's because they ruin marriages.
Well, not all of them, but there are some startling statistics that suggest married couples whose in-laws are very involved in their lives have a higher divorce rate.
Article continues below advertisement
A piece published by Women's Health claims spouses with tight-knit relationships to their in-laws are 20 percent more likely to divorce.
And although this Redditor didn't bring up ending things with her fiancé ahead of their wedding, despite her future mother-in-law's meddling, she does have a serious issue that could lead to further friction between them down the line.

Article continues below advertisement
And it all began with her wedding dress. A user on the popular AITA sub asked if she was in the wrong for having an adverse reaction to her groom-to-be returning the wedding dress she picked out and paid for herself, then exchanging it for one his mother preferred.
According to OP, the dress wasn't the only thing that wedding detail they disagreed on. Her story is frustrating, especially when she mentions early on that her fiancé seemed more inclined to agree with his mother than his future wife.
"I hate to admit that wedding planning has been an absolute nightmare," she writes, "His mom wasn't willing to agree on most things, and my fiancé said that since he's her only son then I should respect and appreciate this 'vision' she has for the wedding and how it should be."
Article continues below advertisement

"She insisted to come along for wedding dress shopping. I took her with me and my mom and friends. I was so lucky to have found what I was looking for. but she picked a dress that she liked so much and said that 'she always pictured her son's bride in it' mom and friends thought this line was creepy."
Article continues below advertisement
OP thanked her mother-in-law for her opinion, but said she would pick the dress that she had always envisioned herself wearing to her wedding. The bride added that the gown her MIL picked was "somewhat creepy" and not the vibe she wanted.
Predictably, the groom's mother wasn't too happy about the bride's resistance to her dress vision. "She got all p---- because of it apparently, then must've told my fiancé because he came home in the evening ranting about how I made his mom upset and 'turned down' her help in choosing the wedding dress and excluded her from the process. I asked 'what process?' duh it's just a wedding dress...my wedding dress so I really didn't get how she should get a say at all!."
Article continues below advertisement

"He got upset and said that this attitude of mine isn't working on him or his mom. He said that I should consider the dress his mom wanted me to buy especially knowing that 'both dresses weren't that much different anyway' like she said but I told him yes they were different...like so much different."
Article continues below advertisement
OP thought the matter was settled. After all, she is the one who will be wearing the gown. Yet, she was shocked to come home and discover her fiancé had swapped out the dress she picked out for the one his mother liked.
As you can imagine, that didn't go over very well. OP was peeved beyond belief at her soon-to-be-husband.
"Yesterday I came home and found out that he had returned my wedding dress and replaced it with the one his mom wanted. I called him and he was straightforward about what he did and why he did it. I lost it and started screaming at him. He asked me to calm down and really give this dress 'a chance.' I refused to even listen I screamed at him without giving him a chance to speak."
Article continues below advertisement
"He got home and we had an argument. I then went to stay with one of my friends and he kept calling and calling then texting saying that I overreacted and it's his wedding too so it wasn't cool how I screamed at him. He insisted I give this dress a chance. He went on and on about how his mom has a 'vision' and good intentions and just wants what best for me as her future daughter-in-law."

Article continues below advertisement
OP wanted to know if she was in the wrong for screaming at her fiancé, but feels like it's a bit wild that the family she's about to marry into is trying to guilt her into wearing a dress she doesn't like.
Throngs of Redditors thought that this was a huge red flag, with several saying it's a good thing they showed their true colors before they were officially married.

What do you think? Is this a bad sign of things to come and should OP just call off the wedding altogether? Is this a healthy dynamic to be in? Or do you think that there's a possibility someone's telling tall tales in order to get fake internet points on Reddit?
Assuming the story is true, how would you react? Personally, I think they probably should get married if they're getting this heated over a dress.