Woman Who Accidentally Booked a "Special Massage" Has TikTok Dying
A woman went viral on TikTok after sharing her story of booking a massage only to find out on the table it came with an added "perk."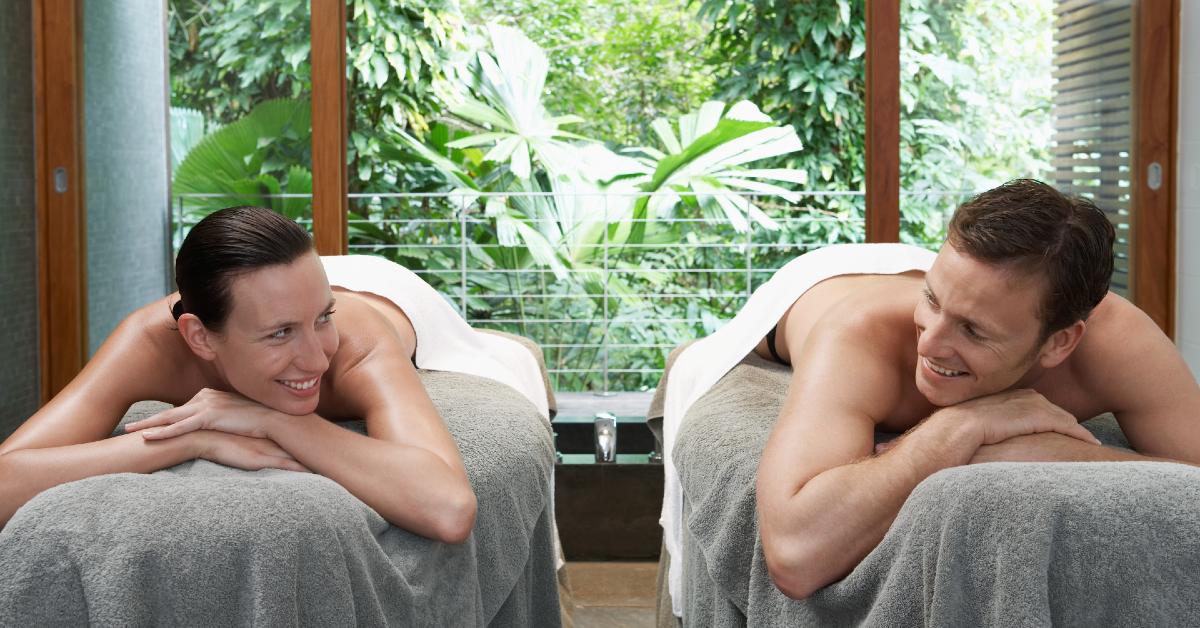 Hilarious mix-ups are a great basis for any funny story. Whether you're watching a sitcom, checking out a movie, or yakking it up with your friends over some food and drinks, everyone loves a classic mix-up, especially when it involves a bit of embarrassment. Which is exactly what happened to TikToker Maggie McGaugh, who posts under the handle @maggiemccaugh on the popular social media platform.
Article continues below advertisement
"Today I went to get a massage, not knowing I was going to a 'happy endings' massage. Let's talk about it. First off, I booked it at 9 p.m. They answered the phone at 9 p.m., which should've been a red flag, but I continued. I pull up, it doesn't look great but, hey, whatever. So I walk in. There are no doors, only curtains, which I'm a little nervous about."
Despite several red flags, she proceeded... with caution. "I definitely got hidden video camera vibes, so I even looked around for cameras and proceeded with the massage," she said. "Now if you've ever gotten a massage you know they always tell you to get undressed to your comfort level," she continued. "So I always leave my underwear on."
Article continues below advertisement
But when the masseuse enters the room, Maggie says she "really quickly rips my underwear down to my knees, and I was like 'what's happening?' Very uncomfortable. But to make matters worse she folds back the sheet that's already very small, so I'm completely exposed...booty up."
Article continues below advertisement

Like many people who suddenly find themselves in uncomfortable situations, Maggie had no idea what to do: "I freeze in this instance, I'm not gonna lie. I am absolutely confused, like I don't want to be rude if this is normal."
Article continues below advertisement

Things only escalated from there. "She then sits on my thighs. I reach down and pull my underwear back up and I was like, 'no, thank you, umm, I'm, just, just my shoulders please.' The poor woman was very confused as to why I was not into this. The massage was great once we established our boundaries."
Article continues below advertisement

She concluded her story by saying, "I will say that I did not know you could search the internet for a list of these places to avoid them, because I will say the happy ending for me was leaving and the not so happy ending was realizing that they were on that website and that I had indeed booked myself a happy ending massage."
Article continues below advertisement

So basically, with a little more research, Maggie would have learned it was that kind of massage parlor. The masseuse was only giving Maggie what she thought she ordered.
Article continues below advertisement

Some TikTokers found it hard to believe anyone would accidentally book themselves a massage of this nature, but according to one user's response to Maggie's clip, it's understandable how this mix up could happen.
Article continues below advertisement

They asked: "Was it by chance called 'classic massage'" to which Maggie replied, "there are like a billion places HOW did you guess this???"
As it turns out, the other TikTok user had a personal connection to this place through her ex. "My ex-husband was a frequent flyer there since we lived across the street. Went there once & felt so violated. I can see why they know him by name."
Article continues below advertisement

Maggie clarified in the comments section that, although she called the establishment at 9 p.m., her appointment time was actually for 10 a.m. the next day. Talk about a rude awakening.
How would have you reacted?