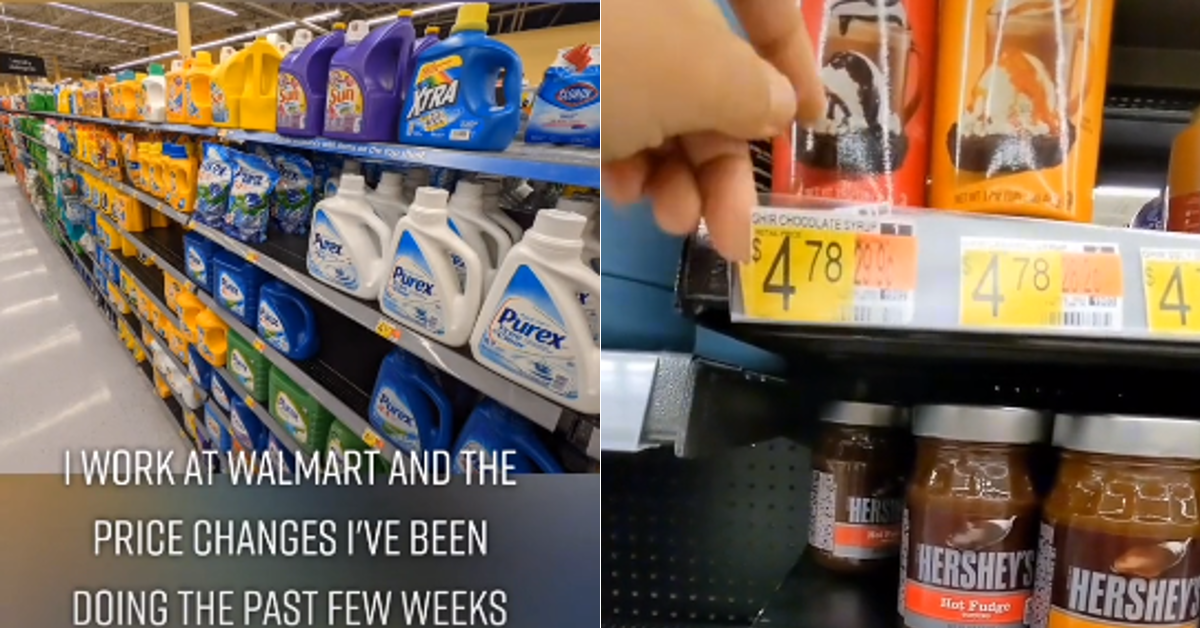 Walmart Employee Reveals Price Increases on Everyday Items in Viral TikTok, Sparking Debate
Shopping for a household to keep one's family healthy, happy, and well taken care of is no easy feat, especially in America where depending on where you live and how much money you earn, the odds can be stacked against you. Despite the fact that citizens pay a ton in property, product, and income taxes, not to mention the odd fine here and there, we're still hit with a healthcare system that sucks when compared to the rest of the developed world and an ever-rising cost of living.
Article continues below advertisement
So you do what you can to balance your finances and know what purchases to make when and at what time. When certain bills and fees will be taken out of your account and where to cut corners.
One place where it's hard to cut corners, however, is food and household products. While vacations and expensive dinners/lunches can definitely take a toll on your bank account, maintaining a home is way cheaper by comparison.
The cost of making coffee at home for example as opposed to buying it every time you go out, even if you got yourself one of those fancy Nespresso machines with their expensive pods, is still going to be a fraction of the cost than if you were to go to Starbucks or Dunkin' Donuts (not to mention it's going to taste a heck of a lot better, too.)
But what happens when the cost of these "staples" ends up increasing, while your pay relatively stays the same. What then?
Article continues below advertisement
That's the question being debated by throngs of TikTok users who watched a Walmart employee's viral clip uploaded under the handle @be.tru.b.you.
In the video, they can be seen changing the price tags for a variety of different products on Walmart shelves.
Article continues below advertisement

A text overlay for the video reads: "The price changes I've been doing the past few weeks are crazy."
So what's the definition of crazy? Well, the increase in charges for products like paper plates and chocolate syrup were about $2 more per item.
Article continues below advertisement

There were a lot of users who claimed that corporations are blaming the price hikes on supply chain issues in the wake of the COVID-19 pandemic. Something that a lot of consumers are accusing car manufacturers of doing with the chip shortage in order to charge egregious prices for new and used vehicles.
Article continues below advertisement

Cries of "price gouging" rattled off in the comments section but it's important to note that there's a difference between genuine supply chain issues and actual price-gouging, which, depending on the circumstances, can be very illegal and an offense punishable by law.
Article continues below advertisement

Article continues below advertisement

Price gouging is defined as thus: "when a seller increases the prices of goods, services, or commodities to a level much higher than is considered reasonable or fair. Usually, this event occurs after a demand or supply shock. Common examples include price increases of basic necessities after natural disasters."
Article continues below advertisement

So are these Walmart price hikes actually a case of price gouging? Or is it just an issue of supply chains causing inflation in product pricing?