"Paid to Shop for Someone" — Woman Gushes About Being Paid $17 an Hour as a Walmart Picker
A Walmart employee who said that they make $17 per hour as a personal shopper gushed about their job in a viral clip.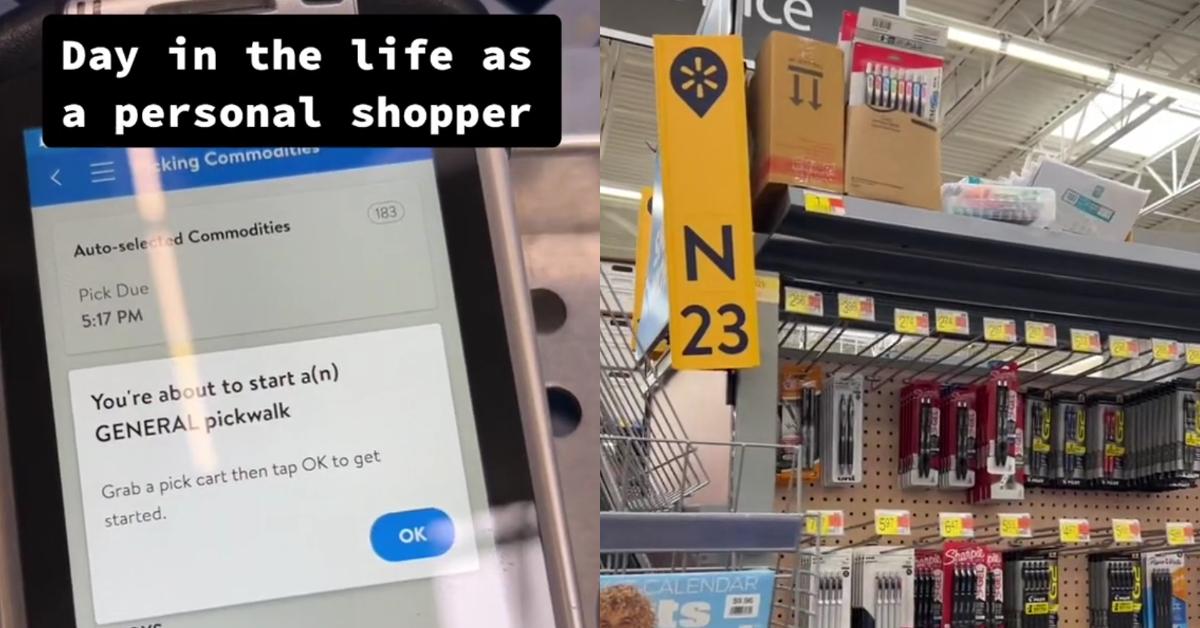 Working in retail can be a pretty grueling job, especially in a highly-trafficked and popular franchise like Walmart.
Since the omnipresent brand makes a lot of its profits through the sheer volume of its sales on lower-priced items, that means there are constantly products circulating through the store.
Article continues below advertisement
The chain has also been increasing its revenue through e-commerce. In fact, in Q1 of 2023, Walmart as a brand has been able to boost its online sales by 27%.
Part of that strategy includes "personal shopping" options at the store. The concept is simple: a Walmart employee will take customer orders and place them in respective baskets. Folks can conveniently pick the items they'd like hand-picked from the Walmart store so they can be ready to go when they arrive.
Article continues below advertisement
And a TikToker named Khy (@khyraleeann) showed what it's like being a Personal Shopper for Walmart in a trending clip on the popular social media platform that's accrued over 2,400 likes (as of this writing.)
Article continues below advertisement
The clip begins with Khy showing off a device she uses to scan and fulfill personal shopping orders in the store. "This is my day in the life as a personal shopper," she says at the beginning of the clip.
"We get paid $17 an hour, yes, $17 to literally shop for people. It's so easy. So anyway, you find the aisle, you find the item, boom, scan into the tote number."
Article continues below advertisement
She demonstrates how this is done after locating a pack of pens from an aisle, scanning the barcode on back of its packaging, and then tossing it into a tote labeled "2."

Article continues below advertisement
She goes on to say that this is basically the job in a nutshell: "Anyways you literally do this over and and over so the one I have was like fourteen items which is nothing like that's gonna take less than fifteen minutes, probably will take like 10 minutes for real."
"It just depends on where the stuff is." Khy then shows off another aspect of her job: labeling items with corresponding stickers that provide a little more context on the nature of the product, i.e. if it's "heavy" or "fragile."
Article continues below advertisement
Once she was done with her cart, Khy then shows the next step of the personal shopping process: she left the completed cart filled with items in another section of the store, bringing it one step closer to the customer's hands.

Article continues below advertisement
At the end of the clip she showed another personal shopping order she received, which begins in the "frozen" section. Khy says that retrieving items from this part of the store is the "easiest" area to work as a personal shopper in.
According to different commenters who responded to Khy's video, they received varying salary grades for performing the same job. Some folks said that they earned $14 per hour, while someone else said that they were getting the same amount as Khy.
Article continues below advertisement

Article continues below advertisement
There were others who said that the job isn't as easy as Khy makes it out to be in her video, stating that there are times when they are inundated with orders to fulfill and are running on crunch time.
But there were also those who said that they loved the experience of being a personal shopper and found their time as one just as chill as Khy's.
What do you think? Have you ever worked as a personal shopper? What was your experience like?