Dad Scams Free Banana Sundaes From 14-Year-Old Shop Associate — and She Ends up Paying
The story of a dad scamming free banana sundaes from a 14-year-old ice cream shop employee has the internet going, well, bananas. Details ahead.
Article continues below advertisement
As the creator, Marissa, explained, the store offered a weekly promotion where customers could bring their own fruit and get half off their banana sundae.
One day, a dad with two kids brought in four bananas. What happened next had thousands of commenters, well, going bananas.
Here's how the dad scammed the teen out of two banana sundaes — and more.
As Marissa detailed in her viral video, years ago she was asked to make two sundaes, with two bananas in each sundae, for a dad and his two kids. As the creator asserted, "that's kinda a lot of banana."
But far be it from her to judge!
Article continues below advertisement
Upon making the banana-loaded ice cream treats, Marissa told the dad, "That will be $5," and according to her, the dad said, "Nice try but it's Thursday."
The everyday price is $5.
This is when the dad says that since he brought two bananas for each sundae, and it's 50 percent off per banana, "That means we don't pay anything."
Article continues below advertisement
At this point, the creator says she told the increasingly-angry dad, "I don't really think that's how it works," to which the dad allegedly snidely remarked, "You don't think that's how math works?"
Article continues below advertisement
Marissa then shares with her TikTok followers that as it turns out, she was only 14 years old when this incident happened, and afraid of confrontation. Um, especially with an adult!
Despite her young age, the dad didn't back down, and badgered her with some fuzzy math questions.
"What's ten minus 50 percent, times two?" he asked. "It's zero — that's the answer."
Article continues below advertisement
Marissa then detailed how she timidly told the dad that even if that's how it worked, "I still think it would be $2.50."
At this point, the dad is "getting red in the face," and his kids are crying, so according to Marissa, this is when she says they can have the sundaes and "have a nice evening."
The 14-year-old ice cream shop associate ended up giving away more than two free banana sundaes.
Sadly, this isn't even the end of the story, because later when the store associate was reconciling with her manager, it came to light that they were $5 short.
"So I ended up paying for their sundaes with my own money — and at the time I was making $5.15 an hour," she explained.
Article continues below advertisement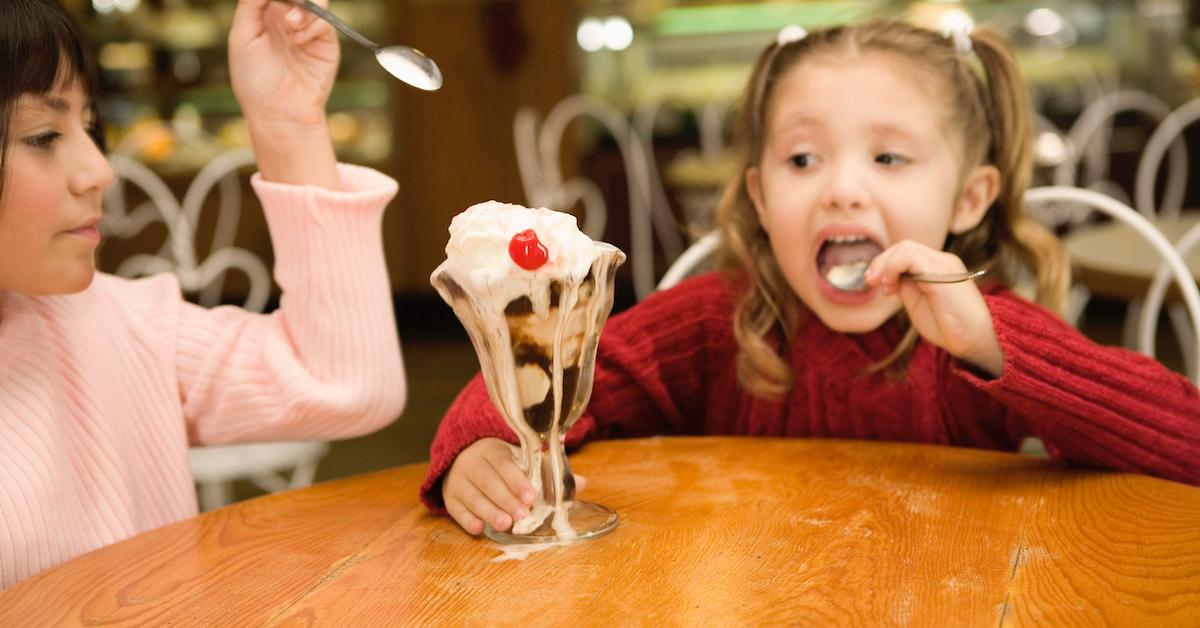 "I really hope those little kids enjoyed their sundaes and that they grew up to be absolutely nothing like their father," Marissa ultimately said, at which point commenters treated this creator to some divine retribution.
Article continues below advertisement
Indeed, over 3,800 comments had poured in at time of writing.
"Based on his logic, if he brought six bananas, you'd have to pay him?" one incredulous follower asked.
Many commenters called the incident "embarrassing" for the dad, since all he did was "win" against a child. The creator popped back into the comments to lament how adults talk down to kids, and since they get away with it, it "just keeps happening."
Ultimately no one sided with the dad, which is about as surprising as everyone in the world loving ice cream.