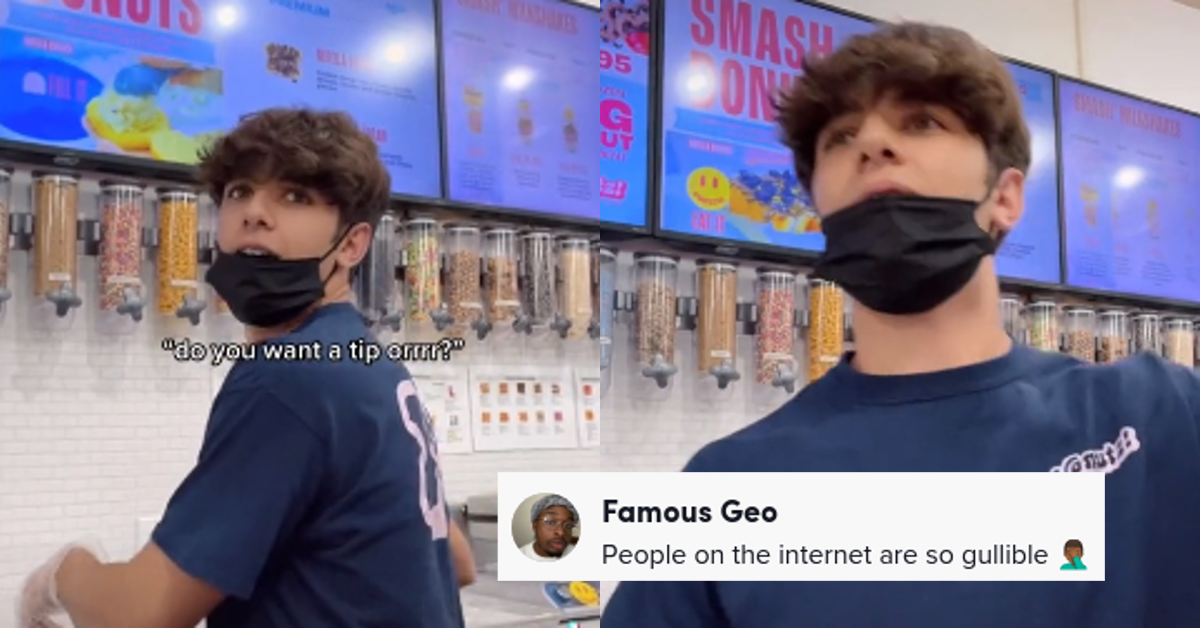 Donut Shop Worker "Accidentally" Records Customer "Bullying" Him, But People Think It's Staged for Views
A viral TikTok that appears to show a customer baiting a customer with a tip and refusing to pay has got some users on the platform suspicious.
It's no secret that there are throngs of people trying to blow up on TikTok, and they will do whatever it is they can in order to make that happen. Sometimes all it takes is for one viral video to spread like wildfire. For others, its persistent uploads slowly build up their follower base.
The thing about the platform is that even though it's difficult to predict who or what's going to be popular, there are some niches one can try to become a part of and some rough rubrics to follow.
Article continues below advertisement
For instance, there seem to be a lot of different folks who create TikToks about their jobs. Like this one guy who works for Cold Stone who managed to garner over 11 million followers by recording how he makes his ice cream creations while working for the dessert franchise. Not bad for someone who's working and getting paid while...getting paid, right?
So it would make sense that others would try similar recipes for success, or that users on the platform would be interested in seeing other food service employees go about their day.
Like Angelo Bahu who apparently works at a cool-looking Donut spot called Yonutz Fantastical Donuts and Ice Cream. Angelo recently uploaded a TikTok of an irate customer who was acting incredibly mean.
Article continues below advertisement
A little...too mean some TikTokers theorized. Angelo says that they were recording themselves while at work to make some TikToks for the platform when a customer expressed the young man was taking too long to complete an order.
Article continues below advertisement
"I gotta be home, let's go." The customer says off-camera. Bahu then informs the donut buyer that he's going as quickly as he can, to which the customer responds with, "You want a tip or? You gotta hurry up, gotta get your tip."
Article continues below advertisement

To make matters worse, the customer outright refuses to give Angelo the money for the donut order after receiving the desserts, which does seem a bit strange. "No we're good," the individual off-camera tells TikToker.
Article continues below advertisement

Angelo posted a follow-up video afterward where the customer tells him, "You can call your boss my wallet's not coming out of my pocket. Simple as that."
Article continues below advertisement

In-text superimposed over the video, Angelo wrote, "He wouldn't pay cus I took too long." The interaction escalates when the customer tells Angelo that he could basically pay for the donuts from his tip jar, dumping the money all over the counter.
Article continues below advertisement

Angelo said that he actually likes working at Yonutz and the customer in question was an irregularity: usually the folks he gets to visit the store are much nicer.
There were tons of TikTokers who felt bad for Angelo and couldn't believe how rude the customer was, however, there were some who thought that the entire incident was staged.
Article continues below advertisement

If it was staged, it would make sense: there are plenty of viral clips on the platform that focuses on the outrage people feel towards rude customers or folks who treat service workers with disrespect.
Article continues below advertisement

Couple that with Angelo being a young, enthusiastic kid having fun at work and having to deal with an irate and mean customer, and it has all the makings of a viral video.
Both of his clips about the incident received millions of views a piece.
Article continues below advertisement

Angelo went on to say that the customer ultimately paid for the donuts. What do you think? Are the clips legit? Or is Angelo just trying to become TikTok famous?