Mom Shares Honest Birthday Party Invite and Calls for End to "Pinterest Perfect Parties"
The invitation is simple and to the point and shows how some parents are tired of the Pinterest mom pressure when it comes to planning parties.
When you're a parent, you sometimes dread getting a birthday party invitation. Not because you don't want to take your kid to yet another loud, hectic, and sometimes all-day event. But because sometimes, the way other parents throw parties leaves much to be desired from your own kid, whose expectations are risen ten-fold as a result of a petting zoo, cotton candy stand, and taco food truck all at one party.
Article continues below advertisement
So when one mom, whose username is @not.just.nat, shared on TikTok an invitation she received for a birthday for one of her son's friends, it was a breath of fresh air. The invitation was typed up in what I can only assume was Word or even Google Docs. And it says the five-year-old's birthday party is "brought to you by Pinterest fails and the dollar store, so please, set your expectations appropriately."
A mom shares a birthday invite she received for her son's kindergarten classmate.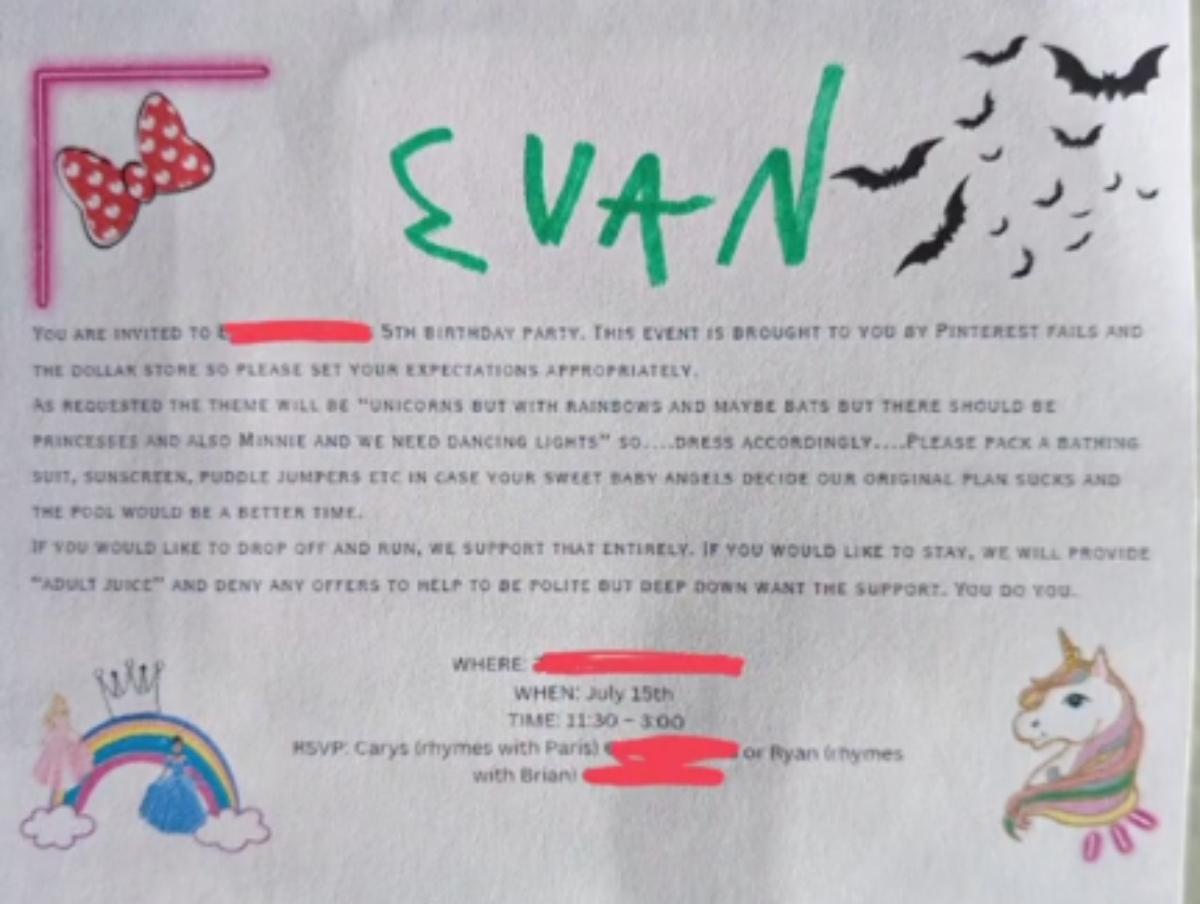 Let's take a closer look at the invitation that could (hopefully) become a trend for us overworked and underpaid (at least when it comes to sleep as a currency) moms.
The invitation goes on to announce the theme, which isn't a strict theme at all. It includes unicorns, "maybe bats," but also princesses and other interests of the kid whose party is sure to entertain all without their parents spending hundreds of dollars.
Article continues below advertisement
The birthday invite is welcome change compared to what parents are used to.
I can say with confidence that I have spent thousands of dollars over the years for my kids' parties in an effort to make each experience more exciting than the last. But honestly? This creative approach that still caters to my kids' interests could be the way things go the next time I'm faced with planning either of my kids' parties.
Article continues below advertisement
The invitation also lays out a clear backup plan (a pool) and offers parents the option to "drop off and run" or stay at the party and enjoy some "adult juice."
It's the sort of birthday party invocation that includes all of the pertinent details. But, most importantly, it shows that the parents just want everyone to have a good time without any pressure from anyone.
I can't tell you how many times I've dealt with bloody noses from kids whose parents just left them at my kids' birthday parties. OK, maybe it was one time, but that's one time too many.
Article continues below advertisement
The amount of times I was assured that the kids could "take care of themselves" and I was left babysitting the kids of virtual strangers while also hosting my kid's party is far more than I care to count. And that was after I curated a party that left me wondering if I would make my next mortgage payment. Just kidding on that last one, I swear.
Article continues below advertisement
But at least with this invitation, the parents are forced to tell you either way what they plan to do with their offspring. You know exactly what you're getting in terms of the guidelines of the party and there's no pressure for anyone.

Article continues below advertisement
Other parents chimed in with agreement at getting rid of the "Pinterest perfect" parties.
In case you were wondering, TikTok seems to agree with this trend. Well, I hope it becomes a trend. Can it please become a trend? One user wrote that they're "glad a parent is finally lowering the standards / expectations" of kids' birthday parties.
Another comment said, "This is the best invitation I've ever seen. I would go to this party in a second." And a TikTok user agreed, "This is incredible. It's what we're all thinking when hosting kids' parties." And honestly? Same.
Article continues below advertisement

Unfortunately, if you need to know how it all went (because I definitely do), the Tiktok user explained that the party isn't until July 2023. So, she has yet to share an official update about the non-Pinterest and totally relatable kids' party. However, she did share that she is officially calling for an end to the "highly curated" and "highly perfected" kids' parties.