Walmart Customers Criticized for Treatment of Employee Who Ask Them to Show a Receipt
A couple is receiving criticism for the way they handled not showing a receipt to a Walmart employee who locked them in the store.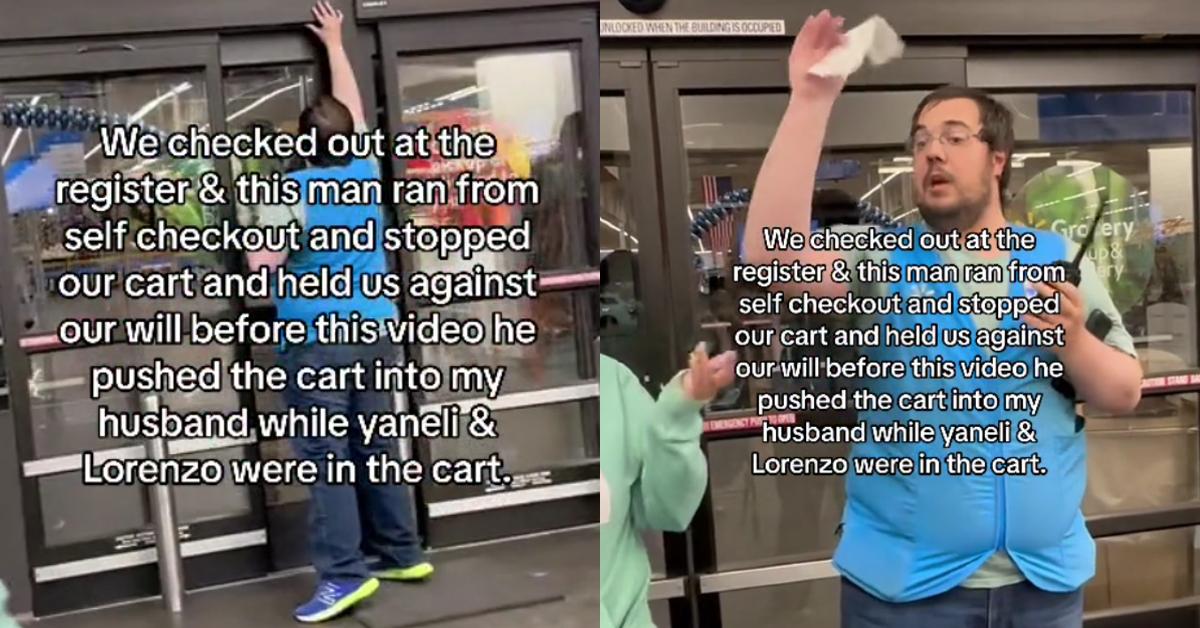 If you've ever shopped at Walmart, then you've probably been "greeted" by an employee standing by the exit door asking to check your receipt.
Article continues below advertisement
However, there are a number of shoppers who've expressed that they aren't down with this practice and outright refuse to let workers look at the sheet of paper proving they made a legitimate purchase at their store.
Article continues below advertisement
And it may seem like these customers, at least legally, are well within their rights to decline to show employees their proof of purchase. According to The Hive Law, it is illegal for a Walmart worker to detain a customer if they refuse to provide a receipt.
But the store is also well within its rights to ban customers from shopping there if they don't cooperate with their receipt-showing policies.
But it's that whole bit about receipt demands being illegal which could be the reason behind why this particular Walmart shopper, @lifeewithjackiee, who goes by Twin Momma on the popular social media platform, was laughing in a video with her husband when they were locked inside of a Walmart store.
Article continues below advertisement
The worked-up employee can be seen pleading with them to show their receipt as a man recording the interaction, presumably the TikToker's "husband" that she refers to in the caption for the video,
Article continues below advertisement
They ask the shoppers to please stop and present their receipt as they rush over to the exit store and then physically close it shut. The employee appears to reach to the top of the door to "lock" it, keeping the customers inside.
The man behind the camera can be heard laughing throughout the duration of the interaction, telling the employee "you're gonna get sued, you're about to get sued" as the worker places a call on his walkie for management assistance at the front of the store.
Article continues below advertisement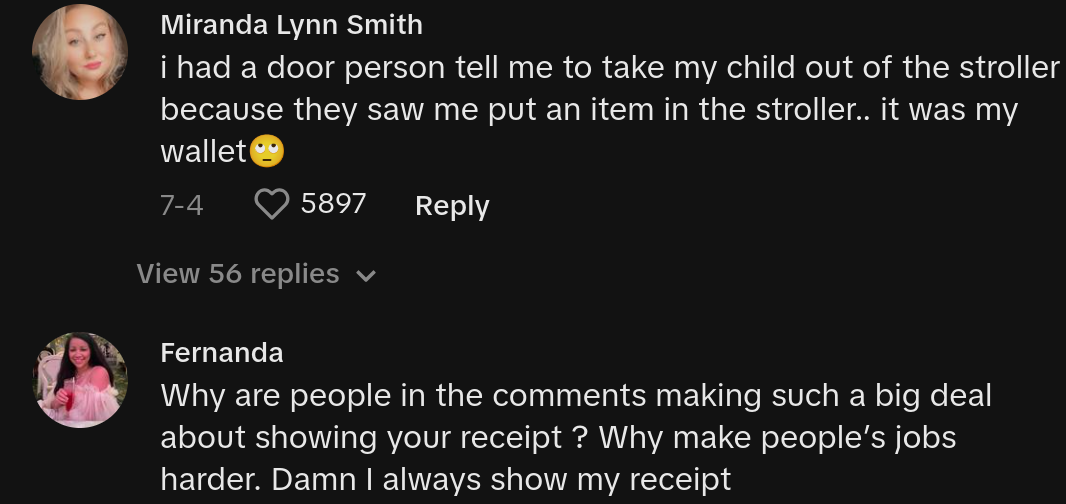 The video sports a text overlay that provides further context on the interaction, reading: "We checked out at the register & this man ran from self-checkout and stopped our cart and held us against our will before this video he pushed the cart into my husband while yaneli & Lorenzo were in the cart."
Article continues below advertisement
"Look at him, look at him, look at him," the person recording the video can be heard laughing as the employee struggles to lock the exit door.
"Okay, I'm getting paid today," the customer off-camera says, laughing.
"I just need to see your receipt," the worker says, standing in front of the door, as the mom who posted the clip to her account smiles into the camera.
Article continues below advertisement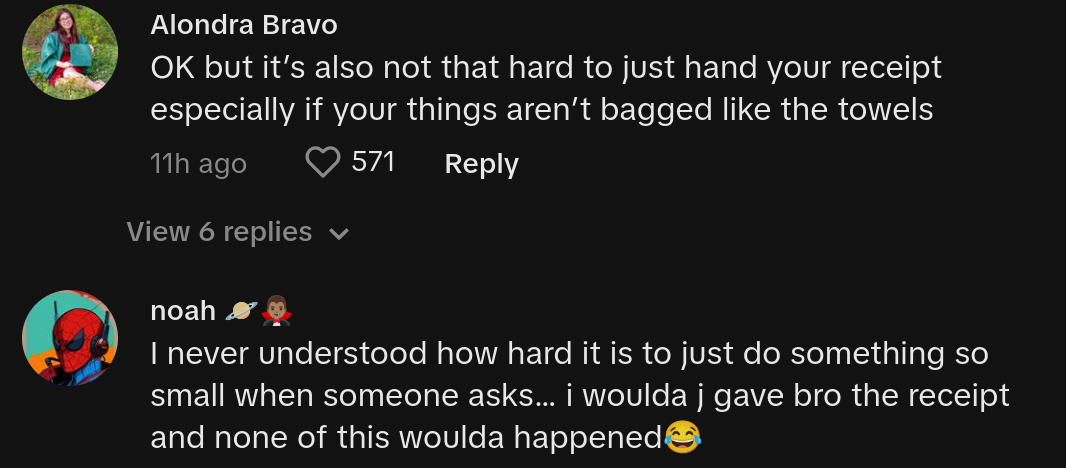 Her husband says, "Show him the receipt, it's good enough for class action. Show him the receipt," he tells her. "Show him."
"That's all I need to see," the employee says.
"We'll show it to you, but we'll sue you for putting your hands where my f---- daughter's-"
Article continues below advertisement
The worker says, "I did not touch your daughter."
"No, no, no you're gonna lose your job and everything buddy. You really wanna lose your job? For Walmart?" the man asks the worker, who is still standing in front of the door.
"Show him how dumb he is," the customer says. "Look at you you're shaking and you touched my cart with my daughter in it," the man says to the employee, who relays a message to management while staring at the receipt.
Article continues below advertisement

"Look at you, you're a complete f----- idiot." They then berate him for touching items in their cart calling him "disgusting" in the process. "You're a complete idiot," the husband says again.
Article continues below advertisement
Upon checking the receipt he allows them to exit the store, "Have fun protecting a million-dollar corporation. What an idiot," the man says again as he exits the store with his wife.
The TikToker writes in a caption for the video: "he didn't give us a chance to show our receipt, when he just instantly grabs our cart and pushes it into my husband, so yes I got in front because our daughter who's disabled is in the cart while he's grabbing our cart left and right, my kids were also scared. Three people walked out saying this man has been problematic with everyone."
Article continues below advertisement

While there were several commenters who replied that Walmart isn't allowed to detain shoppers for not showing their receipts, a sentiment that has been echoed by legal resources online, many others criticized the couple for giving the employee a hard time, with one individual writing that it was clear the man has an "intellectual delay."
Others said that they couldn't understand why some folks make showing their receipt such a "big deal."
What do you think of the situation? Are you fed up with showing your receipt upon checkout, or do you simply not care enough to make a big stink out of it?