Here's a List of All the 'WandaVision' Sitcom References
Loving 'WandaVision' but want to learn more about its inspiration? Check out this list of every episode's sitcom references.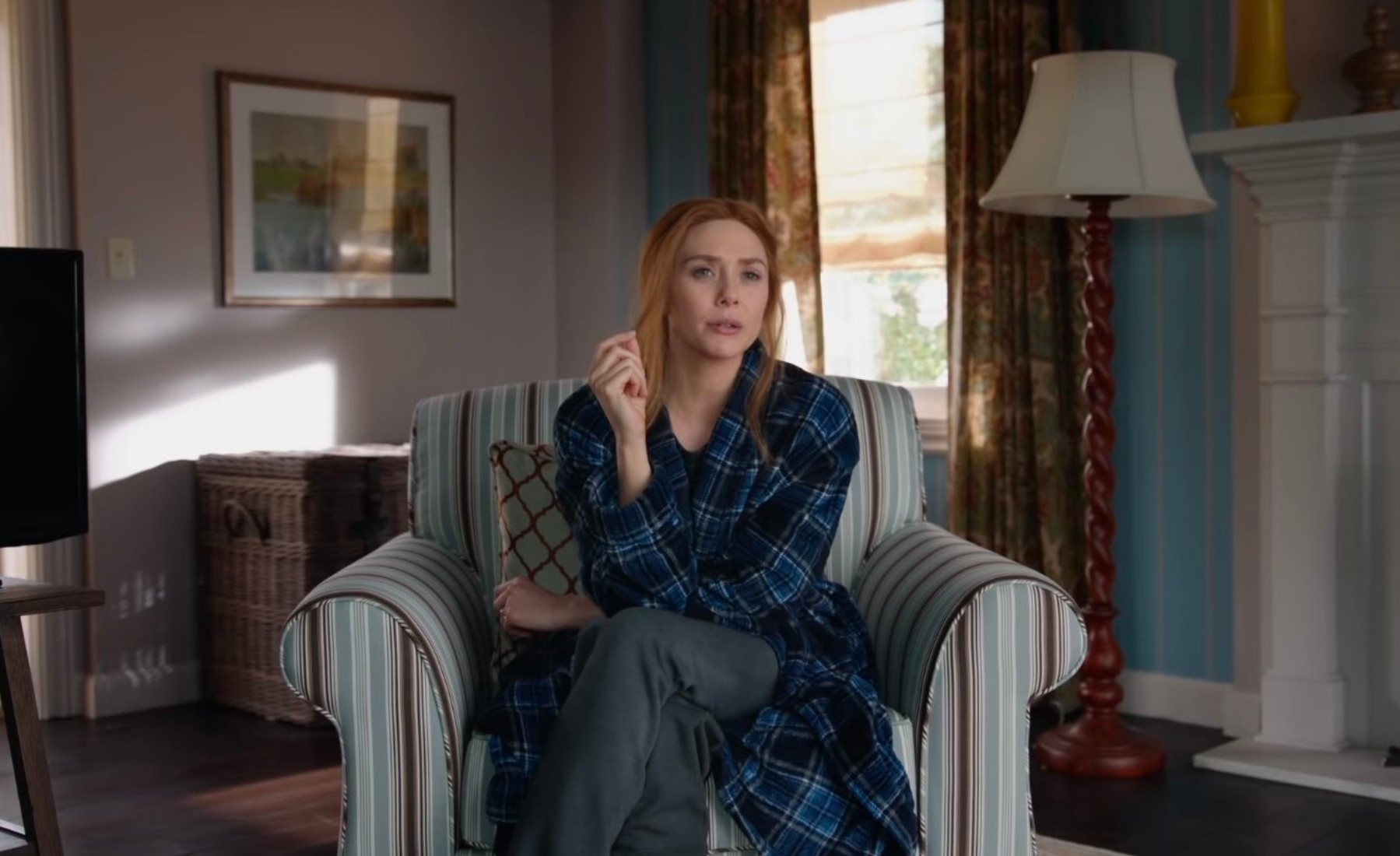 Disney Plus's hit series WandaVision is part Marvel thriller and part sitcom goldmine. Each episode is filled with Easter eggs for Marvel comics (like Wanda's comics-accurate Scarlet Witch costume) and sitcom references from the era each episode is meant to represent. Read on for a rundown of the references that have appeared in WandaVision. A word of warning, though, this article contains some light spoilers for the series.
Article continues below advertisement
Episode 1: "Filmed Before a Live Studio Audience" and Episode 2: "Don't Touch That Dial"
Episodes 1 and 2 were the first introduction that audiences had to WandaVision, as they debuted on Disney Plus together. The most prominent reference of these two episodes was The Dick Van Dyke Show. In fact, the layout of Wanda and Vision's home very strongly resembles the classic sitcom's, particularly the landing by the front door and the shuttered windows between the living room and kitchen.
I Love Lucy of course also makes an appearance. Wanda and Vision's twin beds are a direct homage to Lucy and Ricky's beds. From the '30s to the '50s, it was a major no-no for shows to have couples appear in the same bed. As a result, Lucy and Ricky's twin beds frequently made an appearance on their show.
Article continues below advertisement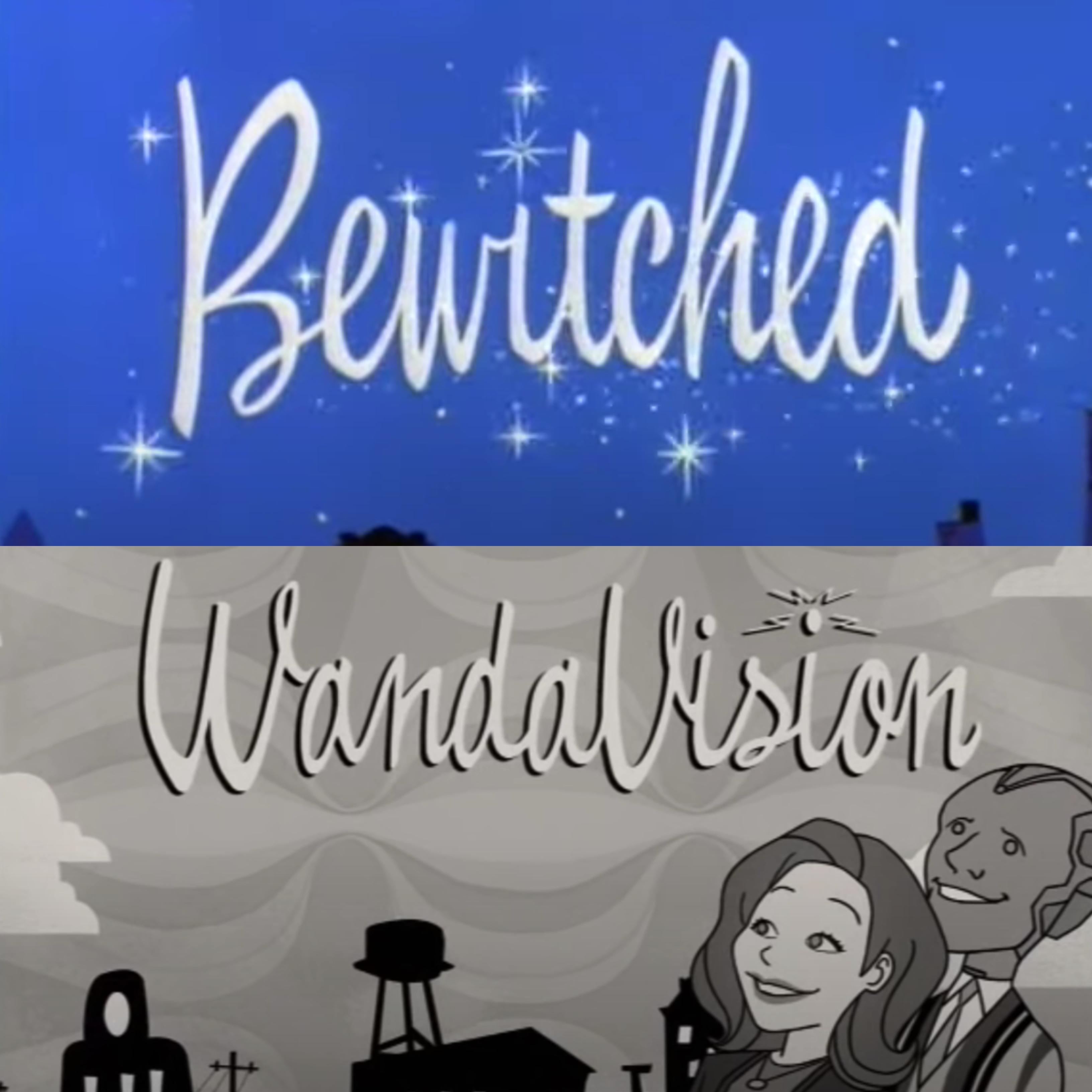 It would also be hard to ignore the Bewitched (and a little bit of I Dream of Jeannie) in the first few episodes, particularly in the second episode where the witch protagonist has to discreetly use her magic to help her husband. Episode 2 really is basically a Bewitched plot. The intro strongly alludes to the beloved series as well.
Article continues below advertisement
Episode 3: "Now in Color"
The third episode of the Marvel series leans heavily on The Brady Bunch, which is perfectly fitting for the episode in which Wanda and Vision start their family. The opening titles even feature a grid of the same style as the Brady opening. The credits also draw on The Courtship of Eddie's Father, The Mary Tyler Moore Show, and The Partridge Family. The couple's house has ditched the Dick Van Dyke style and is now reminiscent of the Brady household, in particular the wooden staircase.
Although it doesn't actually quite fit the time period anymore, Wanda's pregnancy was still a nod to I Love Lucy, one of the first series to write a pregnancy into the show. Although Lucille Ball wasn't allowed to say that she was pregnant on the show (too racy), she was eventually allowed to have her character experience pregnancy at the same time as she was pregnant in real life with her second child.
Article continues below advertisement
Back when she was pregnant with her first, during the show's original pilot, she had to hide under a gigantic coat, just like Wanda did. The trope of hiding pregnancies, as Wanda does, particularly when Geraldine comes to visit, has been done in sitcoms and dramas alike.
Article continues below advertisement
Though a more subtle reference than The Brady Bunch, the ending of Episode 3 features a haunting rendition of "Daydream Believer," a Monkees song, who had their show in the '60s. The show itself was meta, considering The Monkees were a real band in the real world too. The song plays as we are thrown back into the real world with Geraldine.
Article continues below advertisement
Episode 4: "We Interrupt This Program"
As it takes place in reality, sitcoms reference don't really appear in Episode 4.
Episode 5: "On a Very Special Episode..."
The fifth episode of the series takes us into the '80s and through the early '90s, where the intro draws a lot of inspiration from Full House, Family Ties, and Growing Pains. The house again changes, with the exterior reminiscent of Step by Step and the inside more similar to Family Ties.
Article continues below advertisement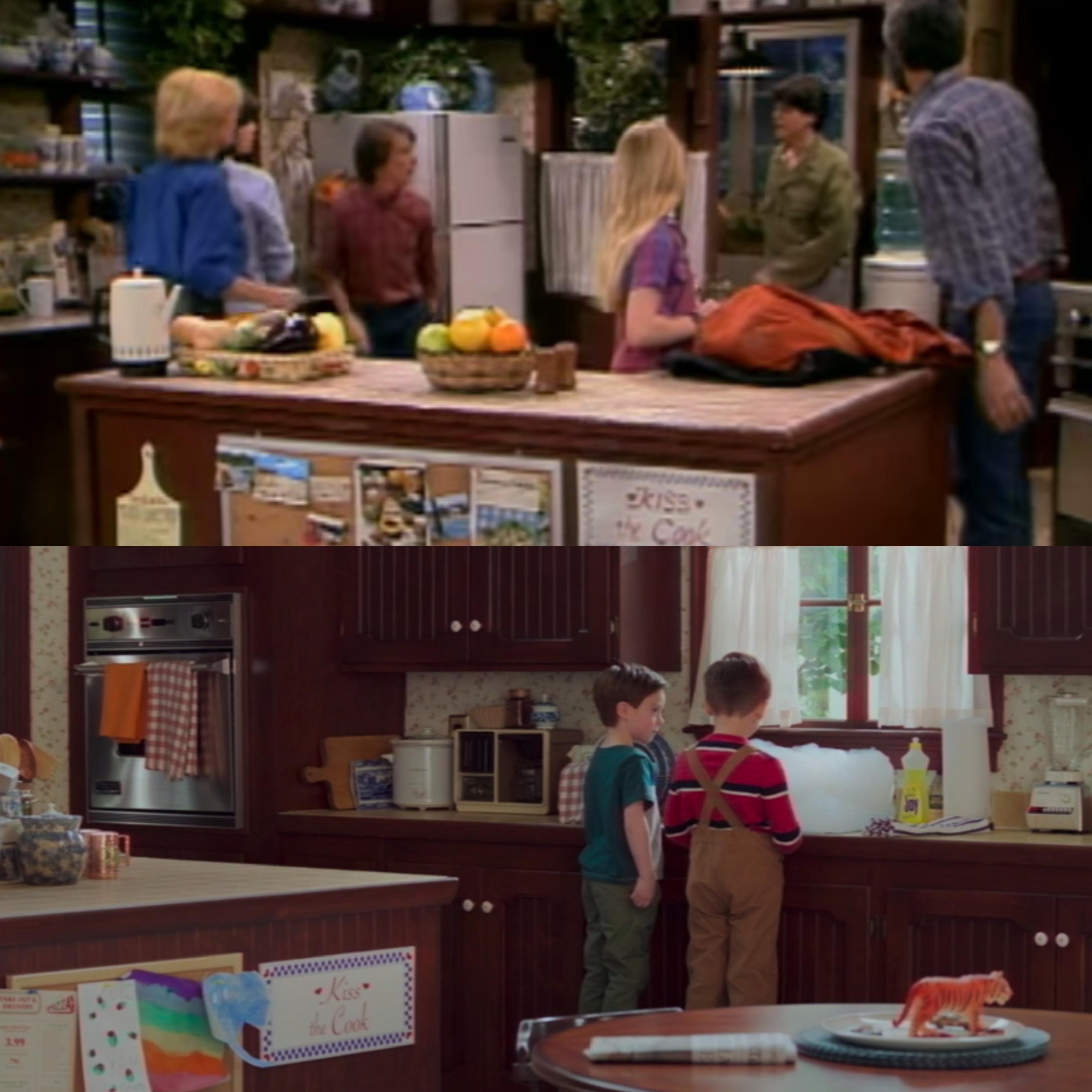 The rapid aging of Billy and Tommy is also a bit of a trope, though it would be difficult to pinpoint how it started. When it comes to sitcoms, kids have a tendency of aging at strange rates, usually due to recasts.
Article continues below advertisement
Remember when the original Becky from Roseanne left ... and then came back ... and then left again? Or on Boy Meets World when Lily Nicksay's Morgan disappeared and then Lindsay Ridgeway's Morgan reappeared after coming downstairs from the "longest timeout ever"? Or also on Boy Meet World when a just recently born Joshua is suddenly walking and talking in the series finale? And over on Family Ties, Andy Keaton strangely aged four years between one season.
Episode 6: "All-New Halloween Spooktacular!"
The intro from Episode 6 is very, very Malcolm in the Middle. Tommy and Billy's fourth wall breaking is another strong reference to the Frankie Muniz-led series. The concept of having a holiday special is a sitcom trope in and of itself, and classic Halloween specials can be found within Malcolm and the Middle, Roseanne, Boy Meets World, and so many more.
Article continues below advertisement
Pietro also fulfills the trope of the cool uncle in Episode 6. The cool uncle trope has been done in shows like Full House (John Stamos' Uncle Jesse of course), Family Ties (Uncle Ned, played by Tom Hanks, was cool, though he had demons), Two and a Half Men (Charlie Sheen's Uncle Charlie), and Everybody Loves Raymond (Brad Garrett's Uncle Robert).
Article continues below advertisement
Episode 7: "Breaking the Fourth Wall"
The title of Episode 7 is particularly appropriate considering the episode functions as a love letter to the mockumentary style. Although this style of film has been around for quite some time, with the first appearance being in the 1960s, it was greatly popularized in the 1980s due to This Is Spinal Tap and further brought into vogue thanks to Christopher Guest's many faux-documentaries of the 1990s and 2000s.
Although the intro for this episode is most reminiscent of The Office (with Agatha Harkness's later intro being closer to The Munsters), most of the episode is more similar to Modern Family, complete with confessionals that lead to "behind-the-scenes" clips that show what viewers previously missed. However, the major reason that Episode 7 is more Modern Family than anything else is because Wanda is basically doing a Claire Dunphy impersonation throughout.
Article continues below advertisement
Wanda appears more jaded, stressed, and high-strung than ever before, but much like Claire does when she's exhausted by her husband and kids, she puts on a very strained smile. The need for a break is something that Claire feels a lot throughout Modern Family, and Episode 7 finds Wanda desperately attempting some self-care while pretending that everything is fine.
Article continues below advertisement
However, The Office still has a presence in WandaVision. Aside from the intro, how could any Office fan miss when Vision gives the Jim Halpert look to the camera while he's in the stolen food truck?
Episode 8: "Previously On"
There were less subtle references in Episode 8 as it was mainly meant to give more of an explanation on what was going on. We see that Wanda's father once used to bring home TV show box sets for his kids, including The Dick Van Dyke Show, Who's the Boss?, The Addams Family, I Love Lucy, Bewitched, Malcolm in the Middle, and I Dream of Jeannie.
Article continues below advertisement
We see that her favorite episode of The Dick Van Dyke Show is "It May Look Like a Walnut," which is perfectly fitting as Rob feels as though he is losing his mind in the episode, and it turns out that his reality may not be all that real, much like the world Wanda finds herself in.
In the WandaVision episode, we also see Hal fall under a porch roof on an episode of Malcolm in the Middle Wanda once watched with Vision, and Vision has a similar issue in WandaVision. Vision also once practiced diaper changing on a Kitty Karry-All, the beloved doll that gets lost in the episode of The Brady Bunch featured in Episode 8.
Article continues below advertisement
Fun fact: There's a little error that exists in Episode 8. We see that Wanda's father has a Malcolm in the Middle box set, but the twins' parents died when they were 10. Since they were born in 1989, they would have been 10 in 1999. Malcolm in the Middle didn't come out until 2000, and the box set wouldn't come out until years later. Of course, since it's just a memory, it's possible Wanda unconsciously just changed over time. It happens to all of us.
Episode 9: "The Series Finale"
Sitcom references? In that heartbreaking episode? Yeah, sorry, none to be found here!