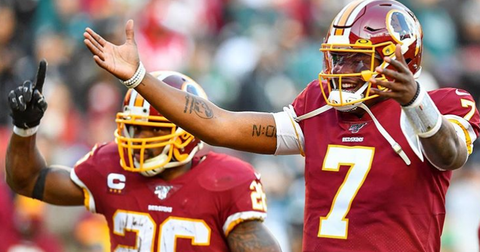 The Washington Redskins Are Now Actively Looking for New Name Ideas
By Mustafa Gatollari

Jul. 13 2020, Published 10:58 a.m. ET
The Washington Redskins have been criticized for quite some time now, as the team's name is heavily rooted in racist terminology. The phrase "Redskin" was a pejorative term that originated in the 18th century and was applied to Native Americans.
The club, however, was founded during a time when the usage of insensitive terms was par for the course for businesses and advertisements. Now the football team is fielding new name ideas.
Article continues below advertisement
What are the new name ideas for the Washington Redskins?
The franchise tweeted an official statement on July 3, 2020 that a new name for the team would be announced: "In light of recent events around our country and feedback from our community, the Washington Redskins are announcing the team will undergo a thorough review of the team's name. This review formalizes the initial discussions the team has been having with the league in recent weeks."
Article continues below advertisement
The statement went on to reference the team's owner, Dan Snyder, who previously said he'd never consider changing the franchise's name. However, recent blowback from different sponsors like Bud Light, FedEx, and Nike, along with retailers like Target stating they would pull Redskins merchandise from its stores, has put the team in a delicate position.
So what are the new name ideas for the Redskins?
The team hasn't released a list of potential names yet, but there are several folks who believe there are some frontrunners, and other op-ed contributors have made cases for some alternate names that are pretty great, too.
The Warriors
According to Joyce A. Fourth Clemons who was quoted in a Washington Post article, this name has patriotic implications.
Article continues below advertisement
The Warriors would "honor...our military, past and present. 'W' is a block letter signifying strength. Color it in with the stripes and the stars of our flag."
Red Stars
In the same piece, Joe Havers makes a solid argument for the above moniker: "...the team logo could incorporate the three red stars of the D.C. flag. This name would be a more appropriate representation of the team's home and, win or lose, the team would always be stars."
"Redwolves" gaining serious traction in Washington. DL Jonathan Allen hyped the name on Twitch, Compton did below and the fan petition supporting it just passed 3,500 signatures. Redwolves are an endangered species native to SE US, as well as a past support squad for Navy SEALs. https://t.co/f6Pj0A0FBv

— Sam Fortier (@Sam4TR) July 10, 2020
Article continues below advertisement
Redwolves
On the Redskins' Twitter account it seems that fans of the team have a clearly favorite name and it seems to do a great balancing act of still keeping a portion of the long-running franchise's identity intact, while calling attention to an endangered species of the Southeastern United States, while also honoring the legacy of a U.S. Navy SEALs support squad. It's a darn good hat-trick.
Plus, think of all the awesome three-wolf-moon T-shirts the franchise could sell with this new name. Now, hear me out: instead of moons they're howling at footballs, or football-shaped moons. There's so much to be done with this potential new name.
Article continues below advertisement
Ok, which is it? Washington's new nickname

— Chick Hernandez (@MrChickSports) July 10, 2020
A recent Twitter poll from golfing announcer Chick Hernandez also asked fans if they liked Redwolves better than Redtails, Warriors, and Defenders.
It seems like Redwolves was the clear favorite.
Article continues below advertisement
RedWolves, i love it, i can see me and my boys howling after every big play #HTTRW

— Dirty Reds (@DirtyReds1) July 11, 2020
How long has the Washington Redskins had their name?
Whatever name the franchise settles on, it'll be the first time in 88 years that the team name has changed, the Redskins were founded in 1932 in Boston, Mass.
What do you think? Are you digging the Redwolves name? Or do you want something a little more whimsical, like the Washington Wombats, or Waltzers? Or better yet, Walkens? Christopher Walken-themed merchandise, awesome dance routines... I know what name I'm voting for.