"What Should We Do?" — Woman Spots Guest Wearing White at Wedding, Questions How to Confront Them
A woman shared how she handled wedding guests who decided to wear white to a reception, sparking debate on clothing etiquette.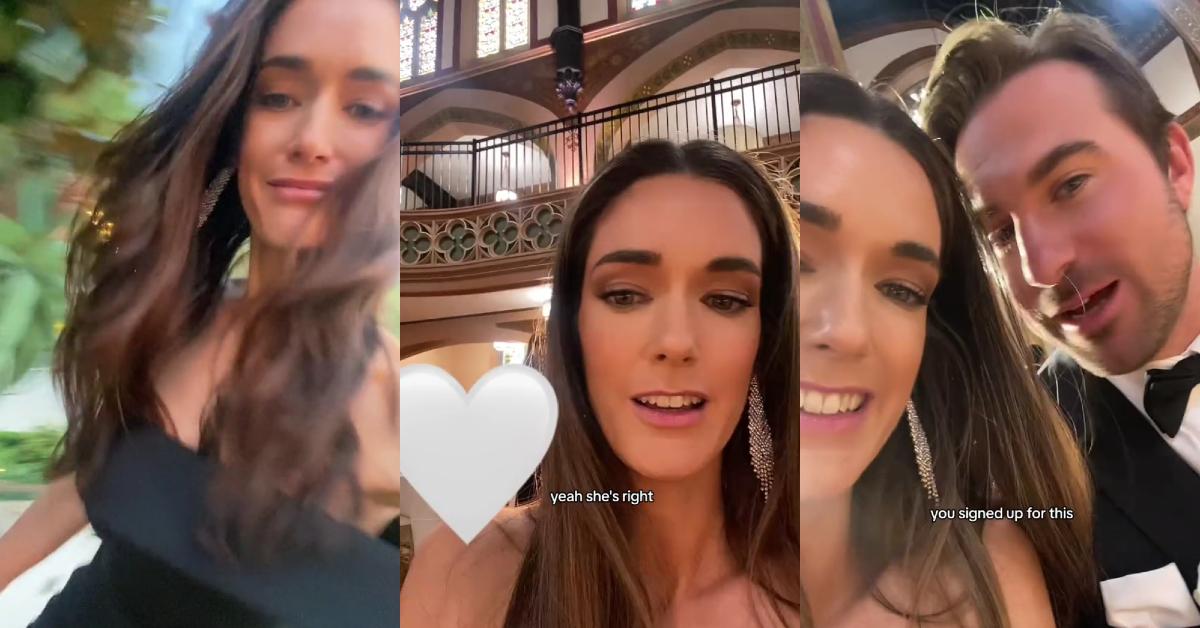 Weddings come with a lot of rules and regulations. There's what's considered an appropriate amount of money to put in an envelope for the wedding, which is largely decided by the venue and type of occasion the person is throwing: how much you give at a low-key affair put together in a Knights of Columbus hall is probably not going to be the same amount you hand over at a hoity-toity place with an open bar and cocktail hour that looks like a feast thrown by the Lannisters.
Article continues below advertisement
While different people have different views on what proper wedding etiquette is in certain situations, and these modes of decorum vary greatly from culture to culture, there's one presiding rule that's probably commonplace no matter which part of the world you're in: and it's that no one should try and show-up the bride.
For traditional "Western" style weddings, that includes not wearing white to a wedding, as this is usually a color that's reserved exclusively for the lady in question who is getting married for her special day.
Article continues below advertisement
It's a faux pas that was called out by HR coach Amy (@hackyourhr), who appears to have outed someone at a wedding who was wearing a white jacket in a viral clip that elicited a number of strong reactions from folks on both her TikTok and Instagram accounts. Later on, it appears she noticed another person wearing a white jumpsuit.
But first, she described how she tackled the jacket situation.
Article continues below advertisement
In this first video, she says: "You go to a wedding and you see someone wearing white, like a floor-length white cream jacket, find the photographer tell them that you know the bride will care, and then the photographer will tell them to take their coat off."
She went on to say, "I literally just did it and the bride will thank me. You are an ally to the bride," she says, before pulling her camera further away, showing off the black gown she wore to the wedding.
Article continues below advertisement
Amy proudly detailed how she was able to ensure that the woman wearing the white jacket wouldn't have the opportunity to potentially mess up any of the wedding photos the bride paid their photographer to take, highlighting her "ally" status by ensuring that the guest would have the white/cream colored jacket removed.
But a second video from the same wedding presented a much different obstacle.
Article continues below advertisement
Amy says in the second clip, "So if you post a TikTok about someone wearing white at a wedding and then someone wears a white jumpsuit, five people come up to you and ask what you're gonna do about it."
A man she was recording the video, another wedding guest told her that she "signed up for this," for posting the previous TikTok referencing the guest in a white coat.
Article continues below advertisement
Amy directs the camera's lens towards the white jumpsuit wedding guest in question who was standing behind them. She blocks out the guest with a white heart emoji before the video cuts out.

Article continues below advertisement
Judging from Amy's follow-up videos, it doesn't appear that she provided any further context as to how she handled the white jumpsuit wearer at the reception, however, there were several folks in the comments section who agreed that under no circumstances is it okay for someone to rock white at a wedding.
There was one person who said that the wedding planner they used for their own celebration got hands-on with folks who couldn't take clothing color cues, but it was for a different couple: "My wedding planner escorted someone wearing white out the side door and asked them to change to re-enter the wedding Luckily not my wedding!"
Article continues below advertisement
Another person seemed to agree with Amy's initial plan of letting the wedding photographer handle the matter: "My vote is tell the photographer and let them handle it"
Which seemed to be a sentiment someone else shared as well: "I'd ask them about their choice. Maybe someone has a shawl or a jacket to minimize? Express your concern and notify the photographer."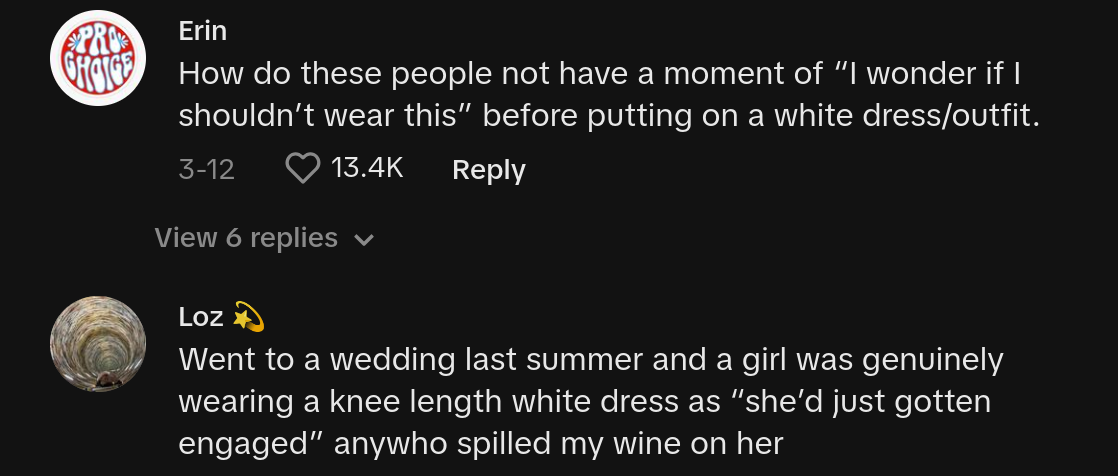 Article continues below advertisement
However, there were other folks who didn't seem to think it mattered: "Not mah problem. I got s--- for wearing red. Apparently, red = you slept with the groom? I had no idea. I was post-pardum. It was all that fit"
Someone else wrote: "Are there rules about this? Genuine question, I had no idea lol"
What do you think? Is it a well-known fact that white is reserved for the bride and the bride alone? Or do people take their wedding days more seriously than they should, and that if they're happy with the person that they're marrying, little things like this wouldn't really upset them all that much?