Calories Are a Myth! Here Are the Weirdest Donuts You Can Buy in Celebration of National Donut Day
Calories just don't count on National Donut Day. Here are some of America's weirdest donut flavors in celebration of the "holiday."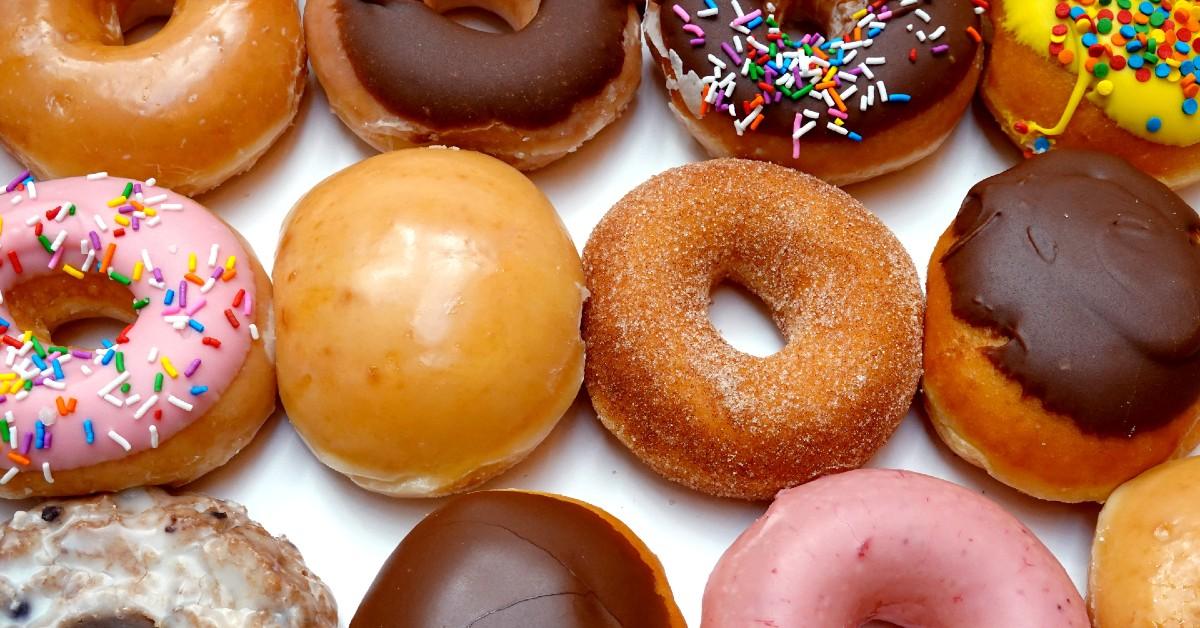 Homer Simpson is truly living his best life because June 3, 2022, is National Donut Day, y'all! It's a day that deserves a thorough celebration, as there's nothing that unites America more than deep-fried dough topped with sugar. This is not a day to celebrate arteries or cholesterol levels. We'll save that for National Eat Your Vegetables Day.
Article continues below advertisement
National Donut Day began in Chicago circa 1938 when the Salvation Army honored women who risked their lives to deliver sweets to thousands of soldiers in the midst of WWI, per Cision PR Newswire. Fittingly, these uplifting ladies were deemed "donut lassies."
Today, however, National Donut Day is about fun deals and stuffing our faces with colorful saccharine circles. In honor of this blessed day, we present to you a list of some of the weirdest and most questionable donut flavors out there. Rather than glazed donuts topped with crazy ingredients like Canadian bacon or simply used as hamburger buns, this list focuses on uniquely flavored donuts. Which ones would you try?
Everything Bagel Doughnut With Whipped Cream Cheese From B. Doughnut
Who said donuts had to be sweet? There are no rules! La Plata, Maryland-based donut shop B. Doughnut is home to the "Everything Bagel Doughnut," which is "hand-dipped in everything bagel seasoning" and "filled with whipped cream cheese." It's a savory dream come true.
It comes in three varieties: one with chives, one with lox, and one with bacon. We're not sure about a concoction involving fish and a sugary pastry, but we'll try anything once!
Article continues below advertisement
Voodoo Bubble From Voodoo Doughnut
Described as a "raised ring with vanilla frosting, bubble gum dust, and a piece of bubble gum," this bubble-licious treat will take you back to your childhood days kicking dirt on the baseball field. Specifically, the Voodoo Doughnut chain uses Dubble Bubble gum.
Article continues below advertisement
Ring of Fire From Voodoo Doughnut
Are you brave enough to enter the ring of fire? Another gem from Voodoo Doughnut, the Ring of Fire is "devil's food cake with cinnamon sugar, cayenne pepper, and a dried red chili pepper," which is essentially plopped on top to make the treat more intimidating.
The trendy chain cheekily wrote of the pastry on Instagram, saying "he's charming, dark, and has an undeniable charisma." Don't get us started on his little cowboy hat.
Article continues below advertisement
Blueberry Bourbon Basil From Blue Star Donuts
This guy may look like a regular ol' frosted donut, but it's got a scrumptious alcoholic twist. This baby "combines fresh sweet blueberries, fresh fragrant basil, and a good local bourbon (added for a hint of caramel depth)," as detailed by the California- and Oregon-based shop.
Blue Star explained that basil adds a "refreshing balance" to the pastry's obvious sweetness. We'll be sipping on a bourbon sour while munching on this one.
Article continues below advertisement
The Red Nosed Goat From Glazed Gourmet
Perhaps you've never thought to put cheese anywhere near your donuts. Well, Charleston, S.C., shop Glazed Gourmet Doughnuts offers a goat cheese pastry perfect for holiday time. The Red Nosed Goat is stuffed with cranberry jam, coated with a creamy goat cheese glaze, and topped with candied rosemary. You'll have to wait a few months for this one, but it'll be worth it.
If you can't wait, check out their Beet Salad donut, which is filled with stunning magenta beet custard, boasts an orange goat cheese glaze, and has candied fennel sprinkled on top.