Wendy's "Crybaby" Records Employees to Try and Shame Them Into Giving Free Food
A Wendy's customer is being called a "Male Karen" after freaking out in a drive-thru and recording the interaction on TikTok.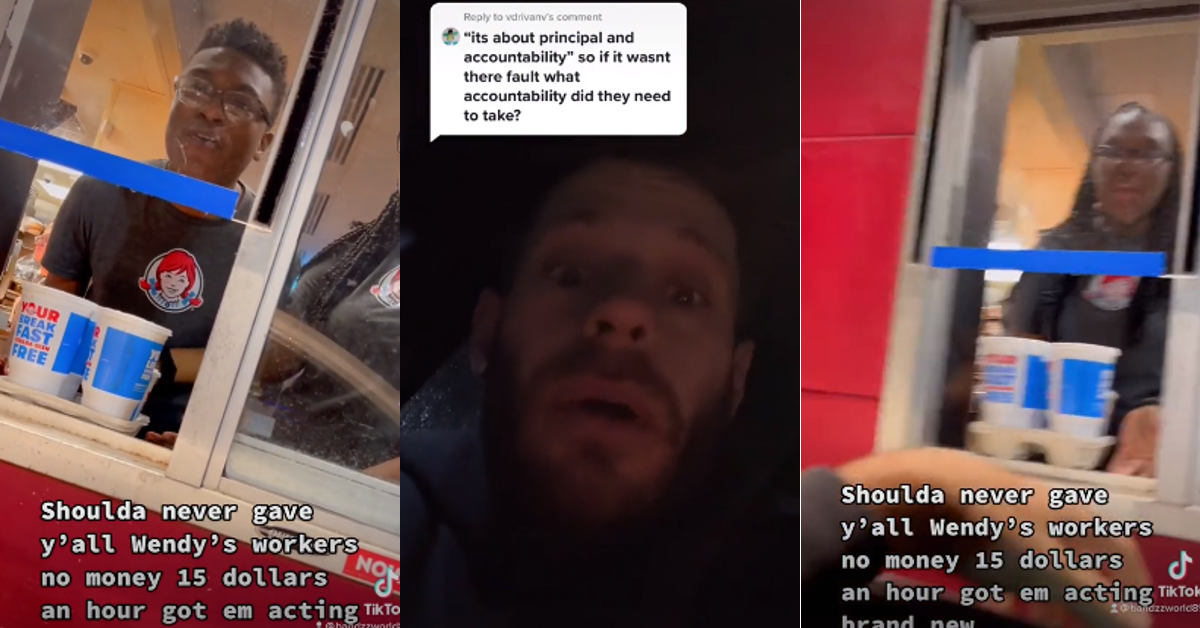 It's a bit insane to think of how worked up people get over things that really shouldn't matter to them. Imagine if the folks who were freaking out in a Starbucks over only getting two pumps of salted caramel syrup in their latte took that same type of passion to their careers, dreams, and ambitions? We'd probably have a lot fewer meltdowns over nonsense and a lot more people making actual meaningful contributions to society by doing what they love.
Article continues below advertisement
However, it doesn't look like low-level freakouts are going to end anytime soon, and for whatever reason, people love to air their grievances to food service workers, whether it's inside the restaurant or the drive-thru.
And while there are plenty of arguments to be made that the indignation a customer experiences is entirely valid if they were mistreated by someone in any way, more often than not, witnesses to these altercations usually seem split down the middle.
Which is what happened with TikToker @bandzzworld89, who many folks are calling a "male Karen." In one of the videos uploaded by the account, the man can be seen arguing with Wendy's employees. A caption over the clip reads: "Shoulda never gave y'all Wendy's workers no money. $15 dollars per hour got them acting brand-new."
Article continues below advertisement
Double negatives aside, it appears that the uploader in question was very upset about the fact that he had to wait an inordinate amount of time in the drive-thru.
In the clip, he can be seen arguing with two Wendy's employees over payment for his order.
Article continues below advertisement
The TikToker, who appears to go by Nick, wasn't aware of the fact that the Wendy's in question had a card-reader that was down, forcing customers to pay cash only. He ended up waiting 30 minutes in the drive-thru for his food, only to discover that he couldn't pay for the meal because the location was cash only.
Article continues below advertisement
Nick was visibly frustrated and expected his food to be comped for free. After all, it was already made and he hadn't had the best drive-thru experience.
After some back and forth between employees and Nick in the video that saw the drive-thru window opening and closing multiple times, the drinks are sent flying through the window by the male Wendy's employee in the clip.
Article continues below advertisement

In the comments, some people criticized Nick for wanting free food. Some said that despite having zero context, that they were "already on the side of the workers."
Others wrote, "why go to someone's job and make it more difficult."
Article continues below advertisement

User @lecheisbad wrote, "Bro expected free food. And cried when they said no."
A multitude of users echoed the "Karen" sentiment, expressing how dumbfounded they were that a person freaking out at a fast food worker would somehow garner sympathy from peeps on the internet.
Article continues below advertisement

What do you think? Was Nick in the wrong for not being cool with the fact that he couldn't pay with a card after waiting 30 minutes in the drive-thru? Or do you think he had a right to be angry, and that taking it out on fast food employees and then recording the interaction for TikTok was petty, lame, and super uncool?
Or should he have been informed of the location being cash only earlier?