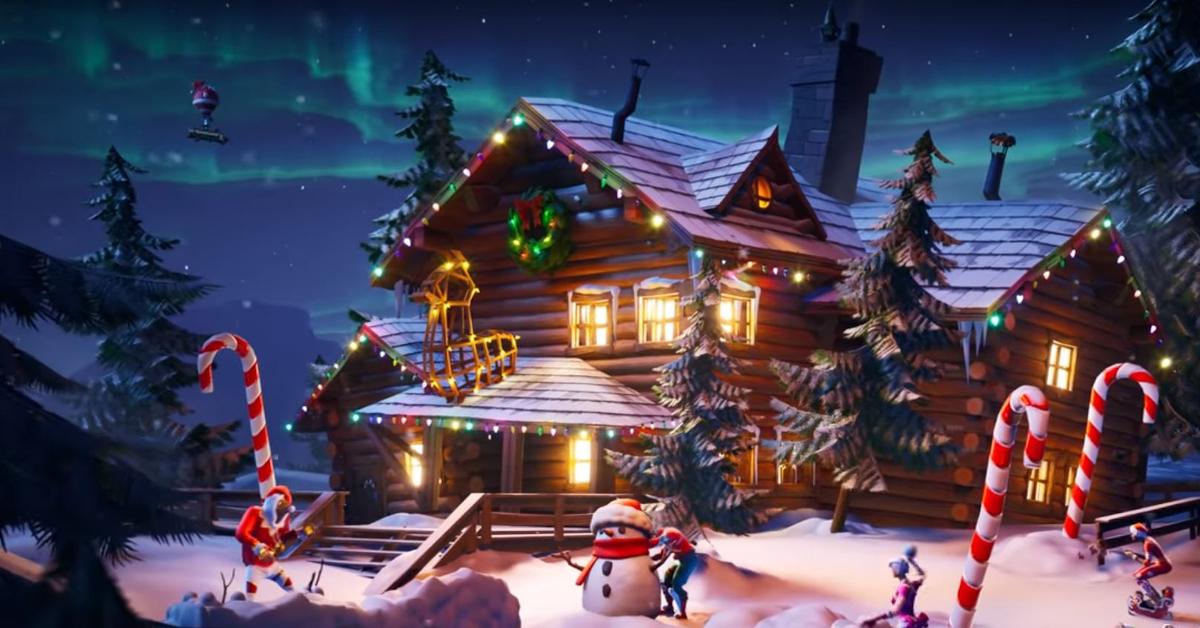 Here Are All of the Presents You Can Nab in 'Fortnite' Winterfest
Fortnite has certainly seen its fair share of changes and cool extras in the past year. With a complete shutdown caused by an in-game black hole event that had players hanging out in space until a new map and new look debuted, it's safe to say that there's a lot of new territory for gamers to explore in the Battle Royale phenomenon.
Epic games has a knack for creating intriguing events, like this year's Winterfest.
So what are all the presents players can expect to find in Fortnite Winterfest?
Article continues below advertisement
Of course, it wouldn't be a proper Winterfest without goodies for gamers, and Epic provided a lot of them for Fortnite-ers everywhere. The biggest addition that Winterfest brings is the Cabin. Players who log in to the game each day can take a stroll on over to the building and get one free gift. If you want to get another, you have to wait 24 hours and visit the cabin again.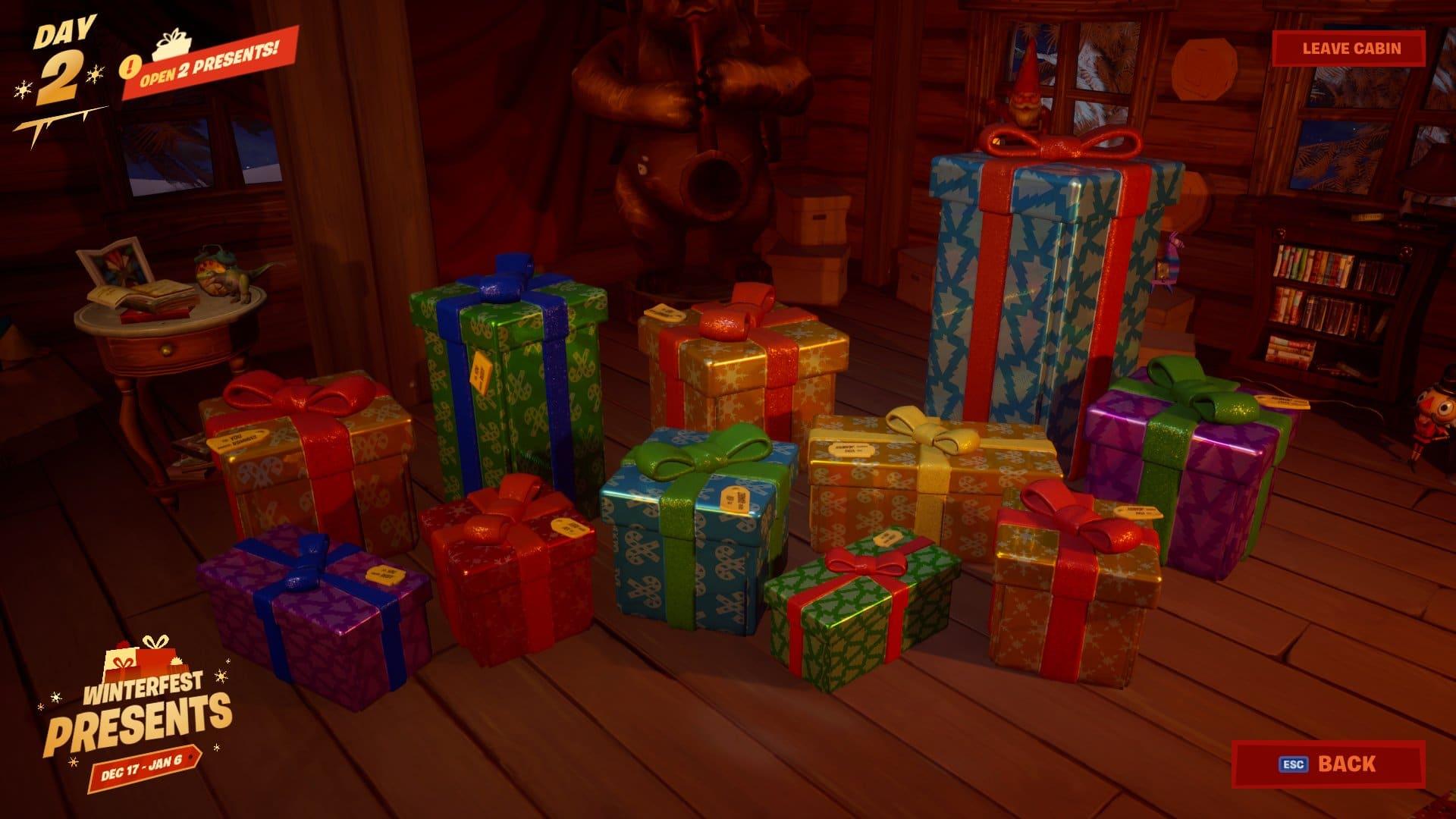 Article continues below advertisement
To get your free gift, all you need to do is walk on over to the wrapped presents and select one. What's cool is that you can shake the boxes to get an idea as to what's inside. Epic has said that they're gifting gamers two different skins, two new gliders, two pickaxes, two wraps, one emote, and a special surprise.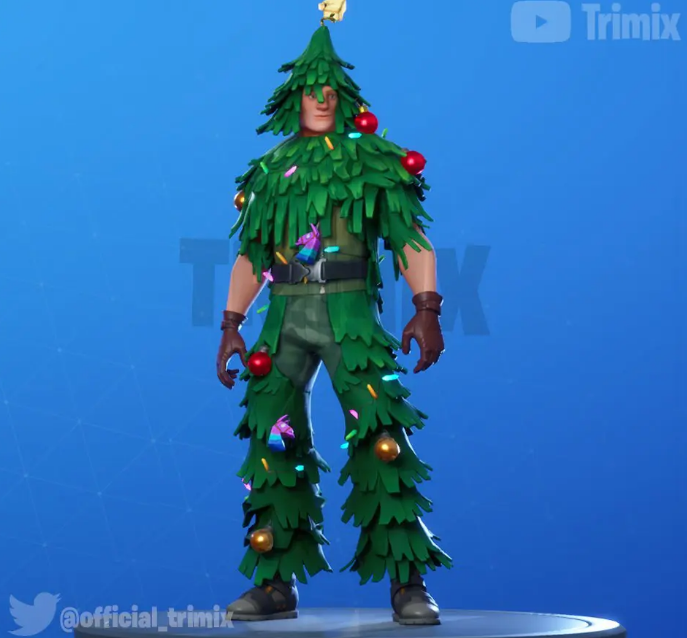 Article continues below advertisement
Here's the total list of the Fortnite Winterfest presents:
Ornament Soldier Skin
Woolly Mammoth Skin
Treefall Glider
Millennium Falcon Glider
Shortbread Slicers Pickaxe
Peppermint Pick Pickaxe
New Year 2020 Wrap
Well Wrapped Wrap
Snowshaker Emote
The Sith Back Bling
Holley and Divey Contrail
Merry Chipmas Music
The Great Crackup Loading Screen
Merry Beastmas Loading Screen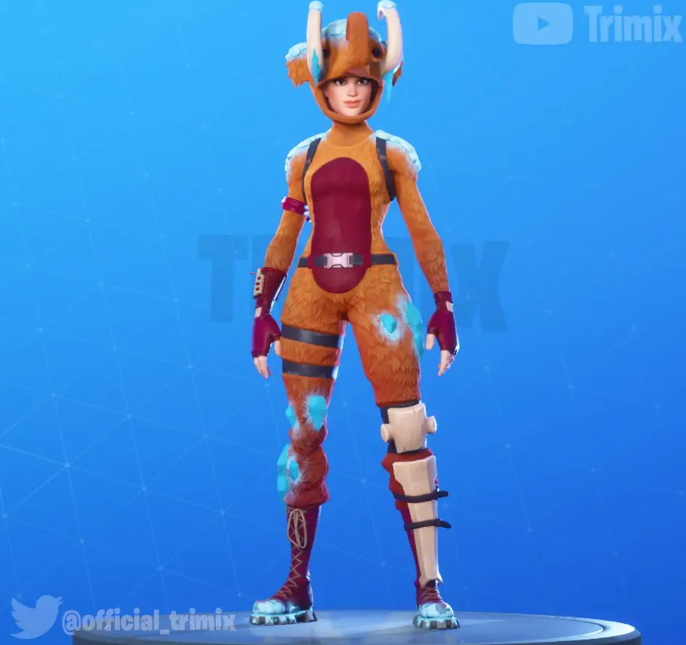 Article continues below advertisement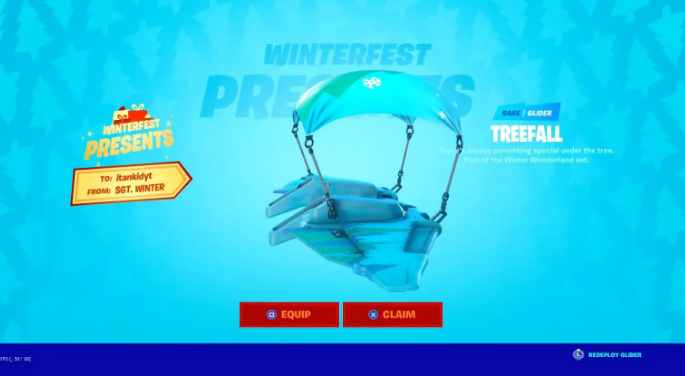 While players haven't been able to unwrap all of these gifts, it turns out that data miners were able to decipher the program files of the game and uncover what new files were added to the game's code. They were able to get images of pretty much all of the presents, except for the Merry Beastmas Loading Screen.
Article continues below advertisement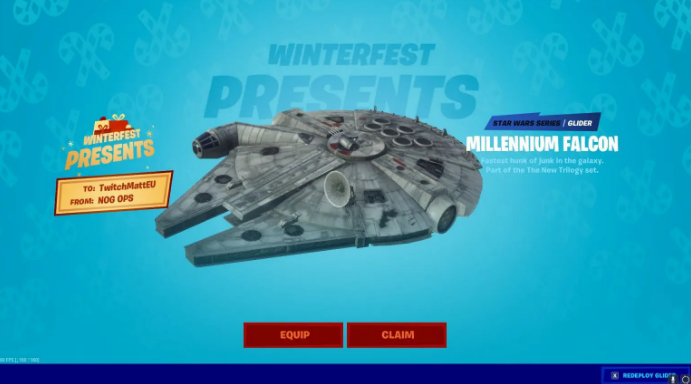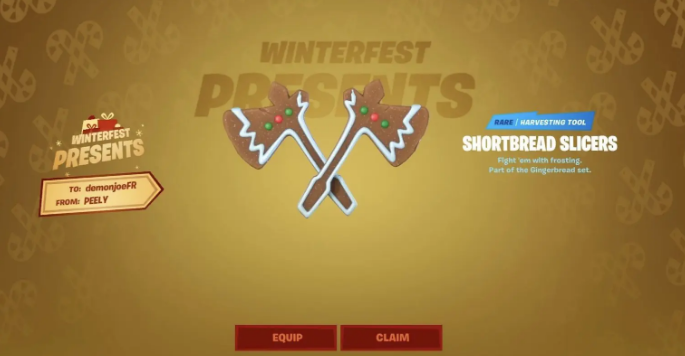 Article continues below advertisement
@official_trimix shared the images of the data mined files on their Twitter account, which includes short descriptions of the items, like the Millennium Falcon being dubbed "the fastest hunk of junk in the galaxy" and gamers being urged to "Fight 'em with frosting" with the shortbread slicers.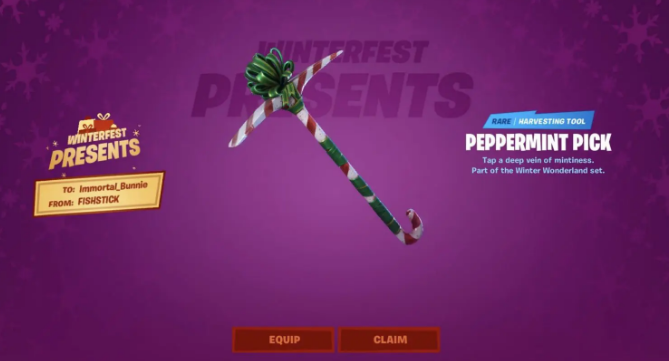 Article continues below advertisement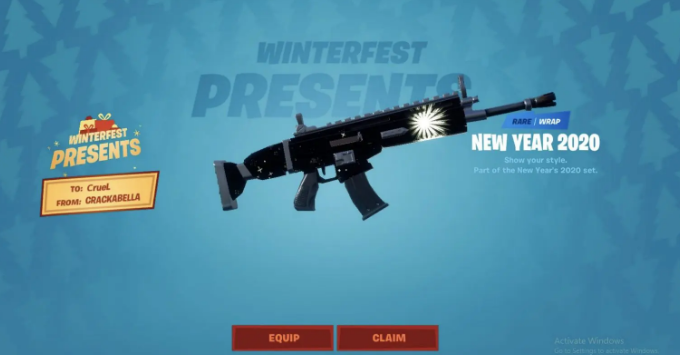 The in-game feed promised that the Winterfest event would be available on Dec. 17, but it appears that an unexplained delay occurred, because it wasn't until the 18th that fans were able to get in on all the Yuletide, Fortnite action.
Article continues below advertisement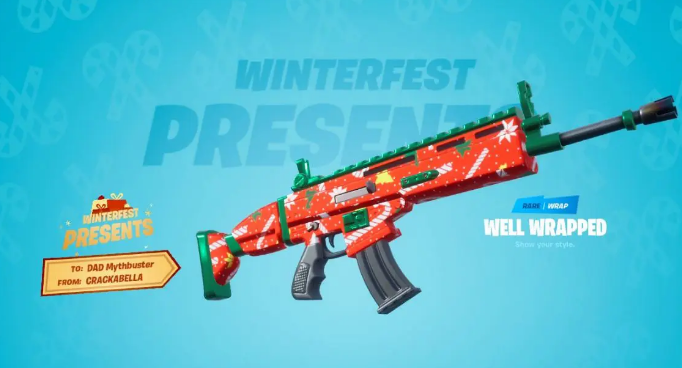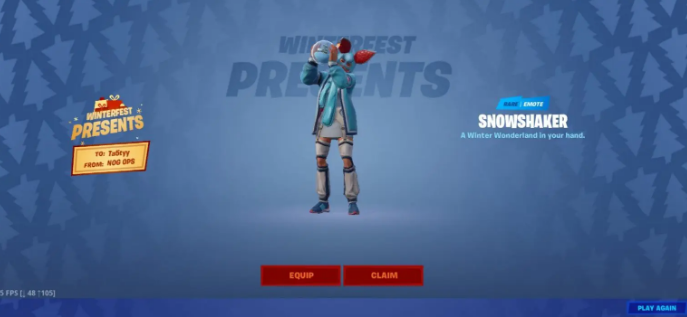 Article continues below advertisement
You're probably wondering why the Sith-styled back bling is a gift in the Winterfest Christmas event, and that's probably due to the fact that, one, The Rise of Skywalker is coming out right around Christmas time and two, Fortnite had its very own Star Wars event recently with a ton of surprises.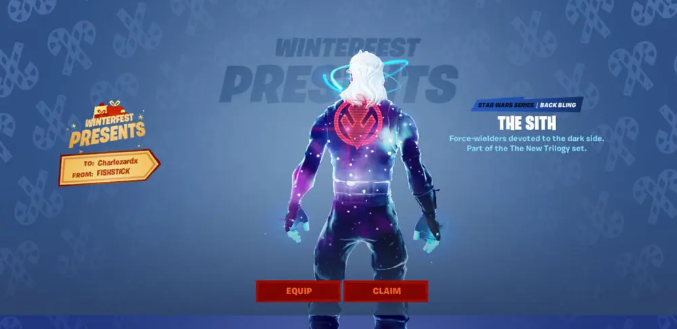 Article continues below advertisement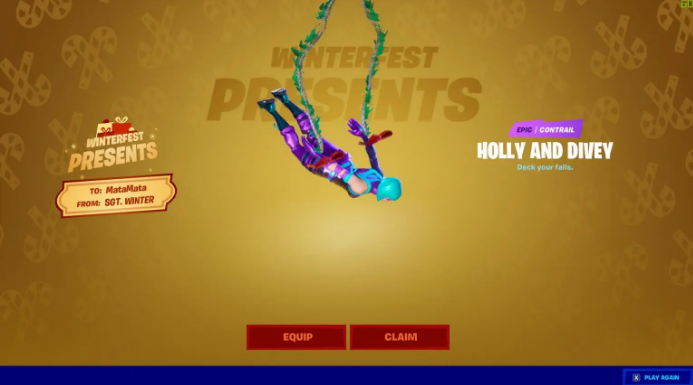 Not only did the Millennium Falcon fly around the island, but when it landed, out popped the avatar of J.J. Abrams who was Fortnite-ified, where he addressed gamers to not only promote the new Star Wars movie but explain the nature of the event to them, as well as show a sneak peek of the film to everyone in attendance.
Article continues below advertisement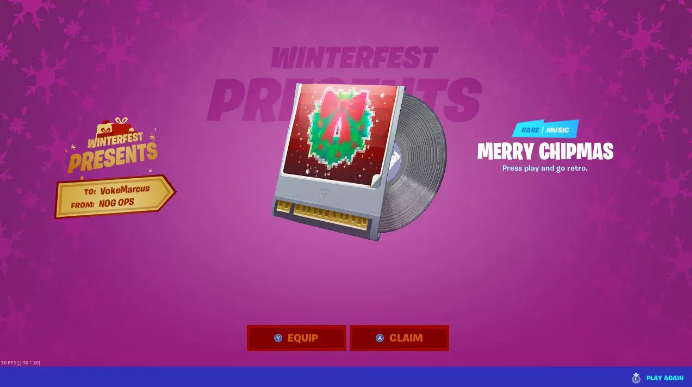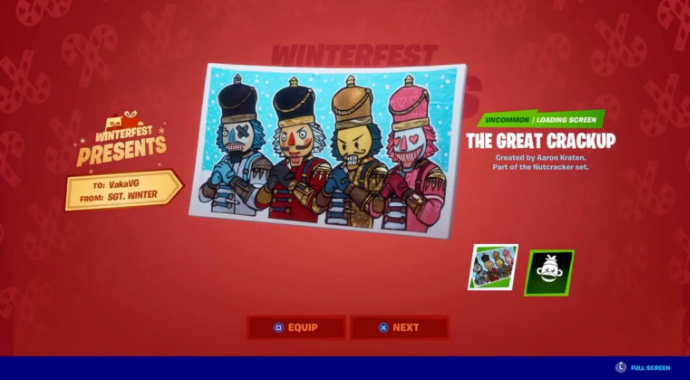 Are you excited to get every present possible in Winterfest? Are you lusting after the mysterious "Merry Beastmas" loading screen? Do you care about custom loading screens? I just wanna be a giant Gingerbread man with Gingerbread everything in Fortnite, from now until forever. And I'm going to call myself the GingerDEAD Man. I'm brilliant.