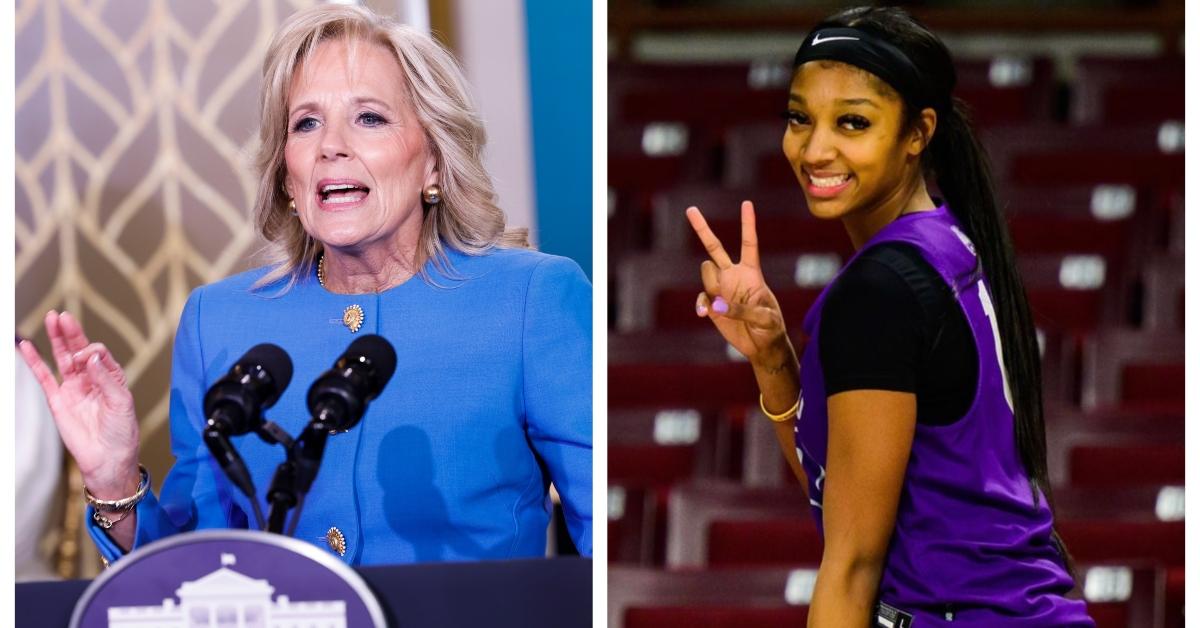 LSU's Angel Reese Is Not Accepting First Lady Jill Biden's Apology and We Love to See It
What did Jill Biden say to Angel Reese after she helped the LSU Lady Tigers become 2023 NCAA basketball champions? Let's get into it.
What should have been an amazing win for the Louisiana State University Lady Tigers sadly became a semi-scandal. The team just secured their status as 2023 NCAA basketball champs, but all eyes were focused on LSU forward Angel Reese, who was on the receiving end of some rampant Twitter racism. During the final game against Iowa, Angel put her hand against her face while looking at Iowa's Caitlin Clark and pointing to her ring finger. What did this mean?
Article continues below advertisement
It was meant to suggest Angel would be taking home the ring, but it was also a reference to a similar move Caitlin did during Iowa's Elite Eight victory over Louisville. Caitlin was applauded for her competitive taunting, while Angel was condemned. Because Angel is Black, the criticism of her move came across as pretty racist. Then, First Lady Jill Biden stepped in and made things worse. What did Jill Biden say? Let's get into it.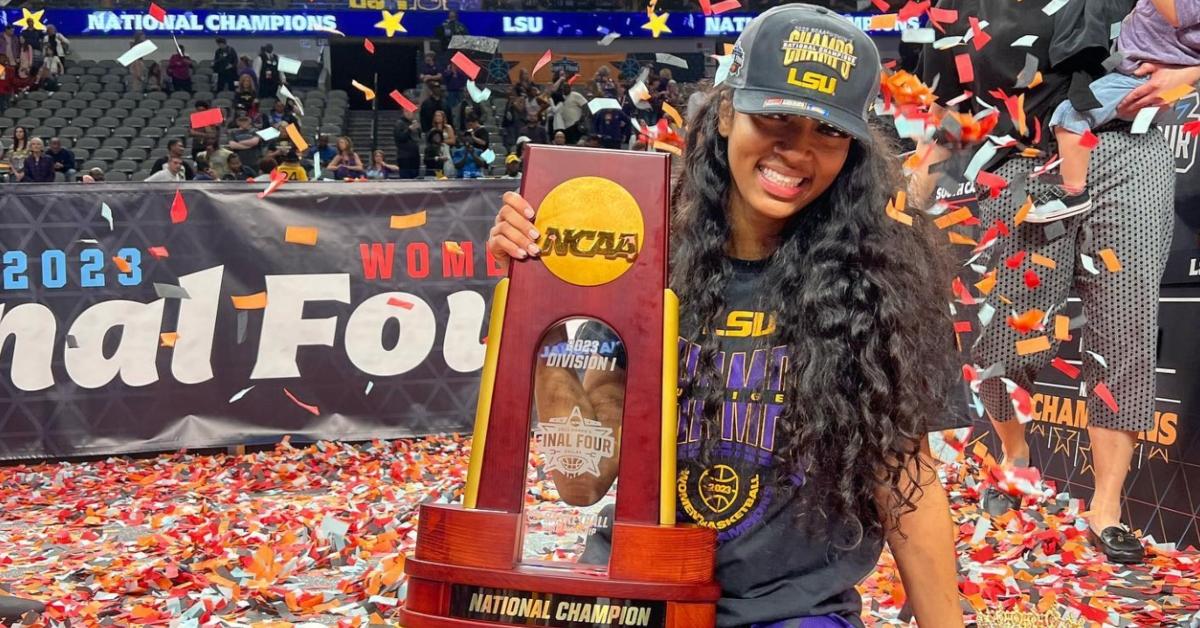 Article continues below advertisement
What did First Lady Jill Biden say to Angel Reese and the LSU Lady Tigers?
Evidently someone moved a rock in a long-forgotten forest so some of social media's worst people could crawl out long enough to be very racist. After seeing Angel do exactly what Caitlin did, useless corners of the internet couldn't type out their bigotry fast enough.
If you enter "Angel Reese" and "classless" into the Twitter search bar you'll be met with a sea of Tweets denouncing her actions, but not Caitlin's. Some people didn't bother hiding behind coded words, and simply referred to Angel's actions as "ghetto." Thankfully, Angel had plenty of supporters. "We literally just watched Angel Reese get called a 'classless piece of s--t' for doing the same thing a white player did, and not only that — the white player was infantilized and treated as if she was being harmed," tweeted one user.
Article continues below advertisement
To add insult to injury, First Lady Jill Biden went ahead and stuck her foot in her mouth. It's tradition for the NCAA champions to get an invite to the White House, and Jill Biden decided this was the moment to break tradiion. "I know we'll have the champions come to the White House; we always do," she said in a statement. "So, we hope LSU will come. But, you know, I'm going to tell Joe I think Iowa should come, too, because they played such a good game." This clearly came from a good place, but was tone deaf.
Article continues below advertisement
Angel retweeted an ESPN story that included Jill Biden's offer, and captioned it with "A JOKE." Following that, social media had much to say about Dr. Biden's suggestion. Dr. Shola Mos-Shogbamimu, author of "This is Why I Resist," tweeted, "No, FLOTUS. If Iowa won, you wouldn't invite LSU. The way whiteness centers itself is exhausting. LSU won the NCAA title, don't take glory from them by inviting Iowa/Caitlin Clark. Especially after the racist pile on Angel Reese. I like you Jill, but this ain't it."
Angel Reese turned down the Bidens' invitation to the White House.
After the much-deserved uproar, Vanessa Valdivia, Jill Biden's press secretary, tweeted out a half-apology which walked back what the First Lady said. "The First Lady loved watching the NCAA women's basketball championship game alongside young student athletes and admires how far women have advanced in sports since the passing of Title IX," wrote Vanessa.
Article continues below advertisement
She then tacked on, "Her comments in Colorado were intended to applaud the historic game and all women athletes. She looks forward to celebrating the LSU Tigers on their championship win at the White House." Not only did Jill Biden not apologize directly to the LSU Lady Tigers, but she didn't even send something out from her own social media accounts. Naturally there was pushback about this as well, and rightfully so.
Article continues below advertisement
"You aren't processing how deeply insulting the comment was, and how much it dragged up the feeling in Black women that we are never enough," said Pam Keith, Esq. in a tweet. "LSU didn't just win. It stomped Iowa. And what Jill said is basically: Whereas the WH visit is supposed to reward champions, because these champions are Black women, this time, let's reward something else altogether." She went on to say this was a "casual moving of the goal posts that would NEVER be contemplated for anyone else but Black women."
While guesting on the I AM ATHLETE podcast, Angel reacted to what First Lady Jill Biden said. "I just know if the roles were reversed, it wouldn't be the same," said Angel. "If we were to lose, we would not be getting invited to the White House." What also upset Angel is the fact that as a woman, regardless of her race, Jill Biden should show support for other women.
Article continues below advertisement
Angel commented on her ability to use her large platform to respond to this and mentioned how supportive so many people have been. They are also not letting Jill Biden off the hook. "Nobody is giving her grace right now," explained Angel. As far as Jill Biden's updated invitation for just LSU, Angel is not interested.
"I don't accept the apology. I said what I said. You can't go back on certain things that you say. You felt that they should've come because of sportsmanship, right? They can have that spot. We'll go to the Obamas'. We'll see Michelle. We'll see Barack."