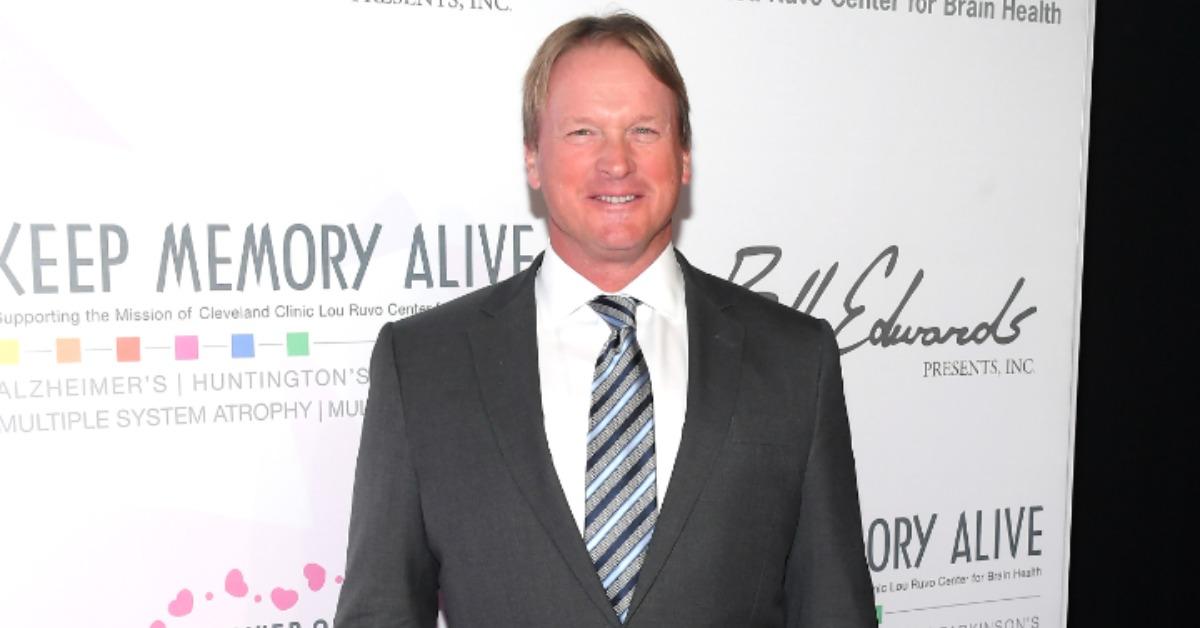 Raiders Coach Jon Gruden Is Under Fire for Controversial Comments He Made via Email
As an NFL coach, football commentator, and general sports aficionado, Jon Gruden is pretty used to being in the spotlight for one reason or another. However, the most recent reason why he is making news is far from ideal and a big departure from his work in the world of football.
Article continues below advertisement
The Raiders coach is catching quite a bit of backlash for a series of controversial comments he made via email over the last decade, and the repercussions seem to be leaving his career in jeopardy. So, what exactly did Jon Gruden say? Keep reading to find out.
Article continues below advertisement
What did Jon Gruden Say? His emails contain damning evidence against him.
According to a report from The New York Times, Jon, who has worked with the NFL for over two decades, sent a series of controversial emails between 2010 and 2018 that contained racist, sexist, homophobic, and transphobic language.
Some of the highlights from his correspondence include a 2011 email to Washington Football Team president Bruce Allen. In that, Jon called NFLPA executive director DeMaurice Smith, "Dumborris Smith," and further mentioned that "he had lips the size of Michelin tires."
Per The New York Times, Jon also said things such as calling NFL commissioner Roger Goodell a "f----t" and a "clueless anti-football p---y." Furthermore, he apparently used homophobic terms to describe various NFL owners, coaches, and reporters.
He was also alleged to have exchanged photos with former Washington Football Team president Bruce Allen of women wearing only bikini bottoms, two of which were former Washington cheerleaders.
Article continues below advertisement
Jon also targeted the LGBTQ+ community in other ways, including emails about Michael Sam, an openly gay NFL player. He slammed Roger for allegedly pressuring former St. Louis Rams coach Jeff Fisher to draft "q----s" on his team, referring to the 2014 NFL draft where Michael was selected to join the Rams in the seventh round of picks.
Article continues below advertisement
Was Jon Gruden fired over his conduct? He resigned before the league could punish him.
Amid the controversy surrounding his emails, Jon resigned as the Raiders' head coach on Oct. 11, 2021. In his statement, Jon claimed that he didn't want his actions to be a "distraction" to the team, claimed he didn't mean "to hurt anyone," and thanked the organization and its fans.
The former coach was in the middle of the fourth year of his 10-year, $100 million contract with the team.
The situation surrounding Jon is only one part of a larger investigation into numerous allegations of a toxic environment perpetrated by the Washington football organization. Per Sports Illustrated, Lisa Friel, special counsel for the investigation into the organization, mentioned that the conclusive results showed that "the culture of the club was very toxic and fell far short of the NFL's values." However, a written transcript was never provided as the information was deemed sensitive.
Now, there are calls for the rest of the information ascertained in the investigation to be shared. Given the sheer amount of evidence presented against Jon alone, many fans and sports commentators are looking to see what other key players involved with the team took part in the aforementioned toxicity. Nonetheless, the NFL and representatives for the organization have not commented on making the other aspects of the investigation public as of yet.