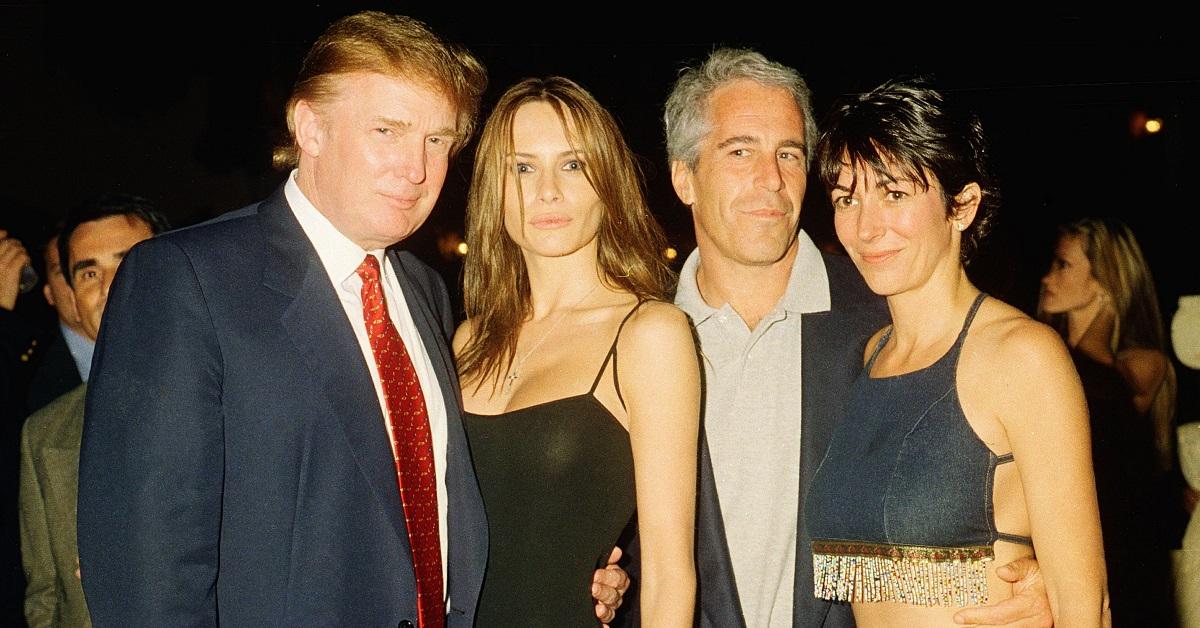 Donald Trump Offered Well Wishes to Former Epstein Associate Ghislaine Maxwell
Although she's facing federal charges, President Trump took some time during his press conference on July 21 to offer warm wishes to Ghislaine Maxwell. Maxwell was arrested in July 2020 in New Hampshire and is currently being held in a federal jail in Brooklyn without bail. She is facing charges for helping Jeffrey Epstein recruit, groom, and sexually abuse young girls.
Article continues below advertisement
What exactly did Donald Trump say about Ghislaine Maxwell?
In his press conference, which was ostensibly an update on the coronavirus, Trump was asked by a reporter whether he expected Maxwell to go public with the names of powerful men who have been accused of taking part in Epstein's alleged sex trafficking ring. In response to the question, Trump said he was unsure. "I don't know," the president said. "I haven't really been following it too much. I just wish her well, frankly."
Article continues below advertisement
Trump continued, explaining that he had met Maxwell several times in his life prior to becoming president.
"I've met her numerous times over the years, especially since I lived in Palm Beach, and I guess they lived in Palm Beach," Trump continued. "But I wish her well, whatever it is." Trump was referring to Mar-a-Lago, a resort he owns in Palm Beach.
Trump's comments about Maxwell brought attention to his connection to Epstein.
Trump's comments, which were heavily scrutinized in the aftermath of the press conference, brought a renewed focus on his previous ties to Jeffrey Epstein. The two have been photographed together numerous times over the years. After Epstein was arrested on sex trafficking charges in the summer of 2019, Trump sought to distance himself from Epstein. At the time, Trump said he knew Epstein "like everybody in Palm Beach knew him."
Article continues below advertisement
"I had a falling-out with him. I haven't spoken to him in 15 years. I was not a fan of his, that I can tell you," the president continued. Epstein was charged in a federal indictment with sexually exploiting and abusing dozens of young girls, both in Palm Springs and at his mansion in New York. A month after he was arrested, Epstein hanged himself in federal jail. In the wake of his death, federal prosecutors have promised to continue investigating his associates, including Maxwell.
Article continues below advertisement
Trump had previously praised Epstein.
Although Trump's opinion of Epstein seems to have soured recently, in a 2002 interview with New York Magazine, he described Epstein as a "terrific guy" who he'd known for 15 years. "He's a lot of fun to be with," Trump said at the time. "It is even said that he likes beautiful women as much as I do, and many of them are on the younger side."
Although Epstein never paid dues at Mar-a-Lago, The New York Times reports that he was frequently spotted there with the president in the 1990s and 2000s. The two men also attended many dinner parties together in Manhattan, and were often seen together in photos and on video. In one video taken in Florida in 1992, the two can be seen talking with one another while they're surrounded by NFL cheerleaders.