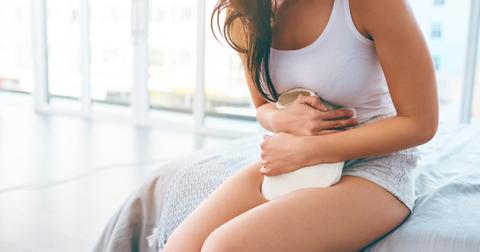 TikTok's Disturbing Trend About Periods Proves Our Sex Ed Is Terrible
By Gina Vaynshteyn

Jun. 25 2020, Published 5:29 p.m. ET
Another day, another TikTok trend that may make you question everything about life/light yourself on fire. Recently, girls have been uploading TikToks that explain why they get their periods. Instead of de-stigmatizing menstruation, or having an open conversation about it (which would be awesome!), these TikTok users seem to be trolling young boys who aren't aware of the function of period and period cycles.
Article continues below advertisement
In the TikToks, the creators claim that every month, they have to cut off tiny bits of their penis, and that's why they have their period.
Article continues below advertisement
Um, what do girls cut off every month exactly?
Girls are saying they either cut off their penis every month, or small parts of their penis. If you're wondering if this is true: It's not. A period is when the uterus lining sheds, something that happens when a person isn't pregnant, or hasn't gone through menopause. To get more technical, a cisgender woman owns a vulva, not a penis — so there's definitely no penis to "cut off."
What's concerning is that the popularity of this trend is a pretty clear indication that our sexual education system is failing us. A lot of people are currently googling what girls cut off every month, and tweeting about it as well.
Article continues below advertisement
So this Tik tok trend where girls say they cut off their penis every month (I guess meaning their period?) idkkkk I'm like frfr confused

— Brayyy (@braybrayleee) June 25, 2020
Ok I'm tired of the secrets! Yes, girls grow a small penis every month and we have to cut it off! The bleeding from it is our period. We gotta stop hiding and normalize this!

— Fefe (@honeybunfe) June 21, 2020
Article continues below advertisement
My favorite trend is girls on TikTok convincing guys that they have to cut off the tip of their penis every month during their periods

— Jared (@OmgJaredStop) June 21, 2020
And no, the clitoris doesn't grow every month and need a trim.
Article continues below advertisement
yeah, our cl*toris basically grows once a month (aka a mini penis), and we cut it off and that's what our period is. that's why we bleed and are so moody. like I can't believe we aren't taught this https://t.co/3oqI8Gx3nr

— sam ▽ (@stillpinnock) June 24, 2020
And to get even more technical, people don't have to identify as girls to have periods, period. What we should be saying (JK Rowling, lookin' at you): People with vulvas can get periods. Sometimes, if periods are irregular, or if that person is experiencing health issues, they might not even get their period every month (or at all). One of the best ways to better understand gender identity, check out the Gender Unicorn.
Article continues below advertisement
There are other resources out there to help you learn more about periods, gender identity, and more (Planned Parenthood is a great online resource to start with!). Although it's kind of scary TikTok is misleading an important conversation around menstruation, at least it's calling attention to the gaps we're clearly experiencing with sex ed in the U.S.