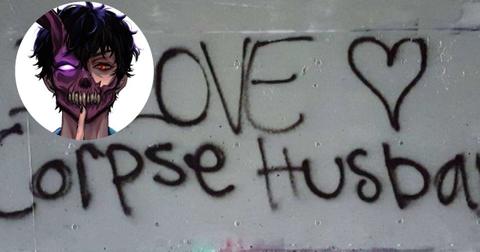 So, Will We Ever See Corpse Husband's Face?
By Devan McGuinness

Updated
Social media has changed people's lives. It's made individuals from all over the world famous without going the traditional route, which was the norm several years ago. Now, all someone needs is a social platform of choice and a unique idea or just good timing — and that's how fame begins.
Article continues below advertisement
Take a popular YouTuber for example: He's never shown his face, no one knows his real name, and yet a few tweets from him causes a hashtags to trend in the U.S. So, what does Corpse Husband look like? And who is he?
Who is Corpse Husband?
In 2015, an anonymous YouTuber signed up and started posting videos to the platform in the growing horror narration channels. Located in San Diego, he chose to keep himself anonymous, and it sort of just helped the mystery that surrounded him.
Article continues below advertisement
Over the years, he's released new videos on YouTube and his popularity has skyrocketed. He boasts over 1.5 million subscribers on the video sharing platform and has since expanded his popularity on other social platforms like Instagram and Twitter. He's even released music.
Article continues below advertisement
In October 2020, he expanded his social reach to the super popular video game Among Us. This allows him to keep his anonymity and it plays well into his horror genre, given the purpose of the game. People love the mystery about who he is, and Corpse Husband likes to keep them all guessing as well.
Article continues below advertisement
What does Corpse Husband look like?
Since he first hit social media five years ago, Corpse Husband has been able to keep what he looks like a secret. He never shows his face in his videos or social media profiles. However, he's been hinting at disclosing his true identity.
In October 2019, he teased a reveal on Twitter, sharing a clip from the children's movie Shrek, when Princess Fiona was saved by the ogre and she was trying to convince him to remove his helmet and reveal his identity.
"When I face reveal," he shared at the time.
Article continues below advertisement
All in all, though, it seems unlikely that Corpse Husband is willing to give up his anonymity, as it seems to have factored into his formula for success. Fans will just have to be satisfied with the few times he's allowed his body to be shown on screen.
Article continues below advertisement
And, if you're thinking you're going to be able to track him down somehow, we have some bad news for you. In an interview with fellow YouTuber Anthony Padilla, Corpse said, "There is not a single picture of me from before YouTube with my entire face in it." Even in his real life, he says, he hides the fact that he is Corpse Husband. So, for all any of us know, we've already met him and we'd just have no idea.
He also admits to some hesitation in wanting to show what he looks like now, as fans have built up an image of who he is in their heads for several years. He doesn't believe that what he does look like would ever be able to live up to expectations.
It seems that Corpse Husband is content to remain a mystery.