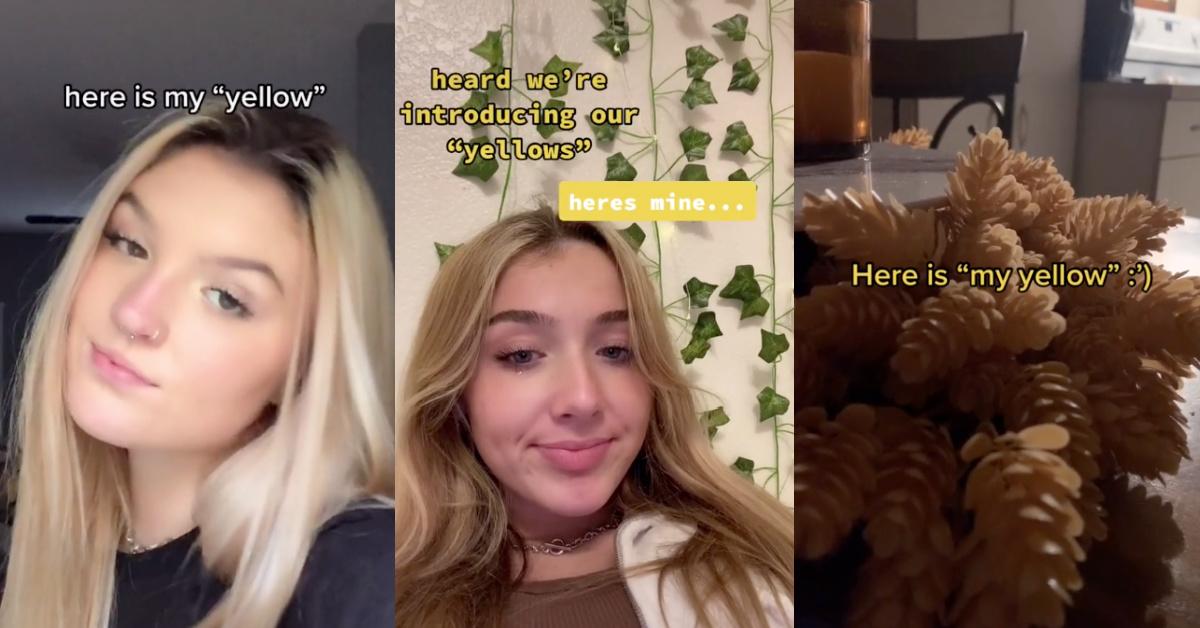 People Are Sharing Their "Yellows" on TikTok — Here's What That Means
We honestly would have never guessed that colors would play such a big role on TikTok. From checking the whiteness of your teeth to changing up your hair color just for fun, there are plenty of TikTok trends that all seem to be centered around color.
Article continues below advertisement
And so, when we saw people were posting videos saying "this is my yellow," we assumed at first that it was a reference to another color filter or something like that. But it isn't! Here's what "my yellow" actually means on TikTok — it's pretty sweet!
Article continues below advertisement
What does "my yellow" mean on TikTok?
If you scroll through the #myyellow tag on TikTok, it won't take long to realize what the trend refers to. Basically, people are referring to the love of their life as their "yellow." A lot of the videos use a remixed version of Coldplay's song "Yellow," specifically these lyrics:
Your skin
Oh yeah, your skin and bones
Turn into something beautiful
You know
You know I love you so
You know I love you so
Article continues below advertisement
Some people are taking the prompt quite literally and showing photos and video clips of their significant others. The videos typically start with a picture or clip of the creator with text that says "This my yellow," then transition to a sweet slideshow of their significant other. The photos might show the two of them together, screenshots of text conversations, or just straight-up photos of their boo looking cute.
Article continues below advertisement
It doesn't matter how single and/or cold-hearted you are — you have to admit that seeing people share their love for the people in their lives is pretty darn touching. That being said, if you find yourself just rolling your eyes at all of the adorableness, don't give up on the "my yellow" trend completely!
Article continues below advertisement
Some people are participating in the trend a little differently, using the term "my yellow" to refer to their pets, friends, siblings, parents, or other important individuals. Basically, your "yellow" can be anyone who you love a whole lot. Heck, you could even be your own "yellow!" There aren't any rules against loving yourself!
The last time the color yellow went viral on TikTok, people were using it to gauge the whiteness of their teeth. (Basically, you can use the color selector filter, select the color yellow, and see if the filter picks up any yellowness in your smile). Honestly, though, we love this trend way more.
Article continues below advertisement
There are plenty of trends — both on TikTok and on other corners of the internet — that center around making fun of people or pulling pranks. And we'll be the first ones to admit that we love a good prank every now and again. Still, it's nice to see a trend go viral that's just all about loving people and sharing that love you have for them. So far, videos using the #yellow tag have more than 1.4 million views, so it seems like there are plenty of people out there who feel the same way.