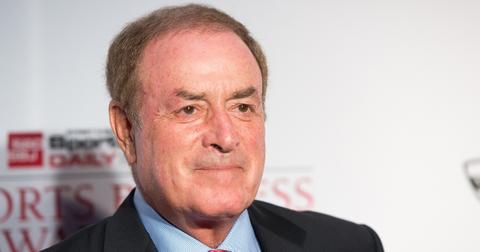 Al Michaels Was Missing From Sunday Night Football — Did He Retire?
By Mustafa Gatollari

Updated
There's a lot more to watching your favorite sport than just seeing the athletic action play out on screen — there are tons of other little touches that contribute to the experience, like singing your team's fight song, getting game-day ready with the jerseys, putting out your favorite snacks, and avidly monitoring your fantasy football league. Then there's the familiarity of the commentators — which is why so many people are wondering what happened to Al Michaels.
Article continues below advertisement
What happened to Al Michaels on the Sunday Night Football broadcast?
The veteran commentator has been a broadcast employee since 1976, spending a whopping 30 years with ABC before transitioning over to NBC, but before he was calling pigskin contests, he was working in TV in a very different capacity. His first-ever television gig was with Chuck Barris productions where he helped pick potential female contestants for The Dating Game before transitioning to sports.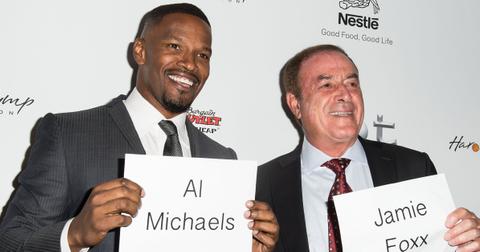 Article continues below advertisement
He actually worked public relations for the Los Angeles Lakers and gave radio color commentary for the club's games with Chuck Hearn. But he only provided his services for four games before his contract was terminated. He then went to KHVH-TV in Honolulu, Hawaii where he called a variety of different games. In 1969, he was named the state's "Sportscaster of the Year" before coming back to the mainland to call MLB contests.
It wasn't until 1986 that he began calling Monday Night Football games and over the years, he became a familiar voice and face for ABC Sports. In the mid-2000s, he transitioned to NBC Sports, even working for ESPN on several occasions as well. Al Michaels' voice was one sports fans from various leagues had become familiar with at this point and chances are if you watched professional American sports, then you've heard his play-by-play several times.
Article continues below advertisement
Where is Al Michaels on Sunday Night football?
Fans noticed that the longtime commentator was missing from the commentating team on Sunday Night Football and they wanted to know where he was. Folks began worrying if his contract was terminated or if he retired from his longtime gig. But as it turns out, this wasn't the case. Al was simply taking a "bye week" during the Saints/Packers game that saw the Wisconsin-based team improve their 2020 season record to 3-0.
Article continues below advertisement
Mike Tirico worked instead with Jac Collinsworth for the play-by-play of the game due to the adjusted nature of Al's new appearances for the network. NBC plans to ultimately have Mike Tirico replace Al Michaels in phases, and there are several key games he will take up commentating duties for the longtime football personality.
Article continues below advertisement
Al worked with the network in an effort to cut down the amount of traveling he'd do for games and reportedly helped formulate the "bye weeks" schedule.
As per his interview with the New York Post: "This is a great schedule for me. A lot of West Coast games and a couple of byes during the season to cut down on some travel, which is welcome for me. I was part of formulating the plan. I'm all in."
Article continues below advertisement
Yardbarker did pick up something regarding the timing of the Al Michael's "disappearance" from Sunday Night Football, and it has a lot to do with his contract with NBC: it expires after next season. So it seems like the network is planning to replace Al for Tirico moving forward.