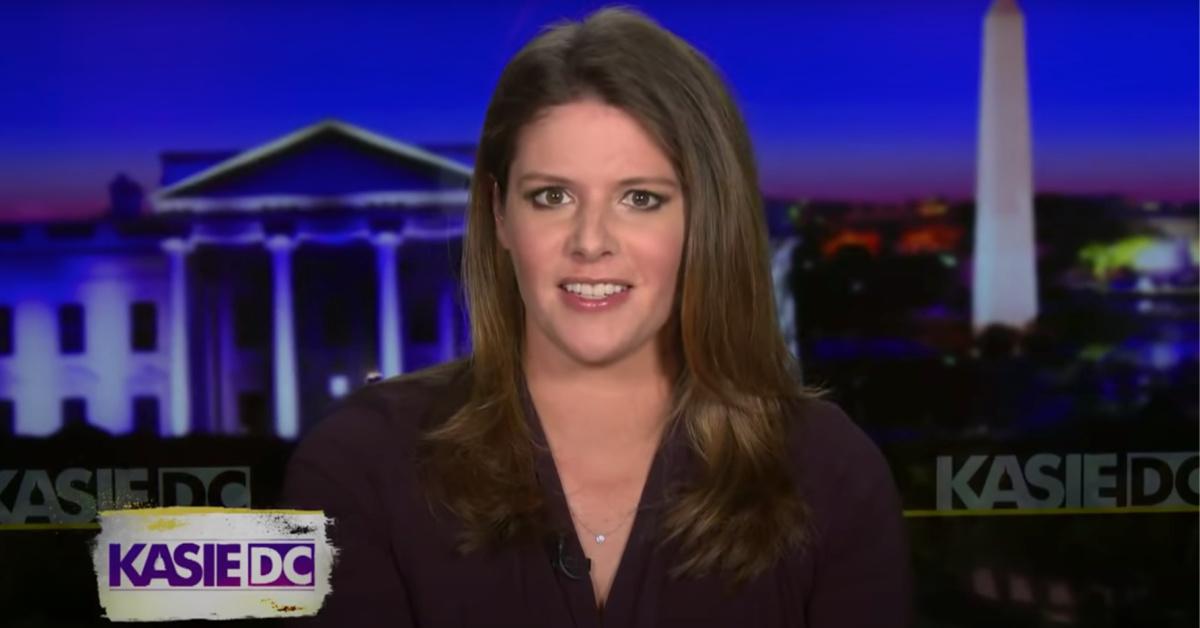 'Kasie DC' Is Officially Over, but Kasie Hunt Isn't Leaving MSNBC
By Abi Travis

Sep. 14 2020, Updated 1:38 p.m. ET
Another big change is in the works for Kasie Hunt, host of MSNBC's Kasie DC (arguably one of the cleverest TV show titles ever, right?). On Thursday, Sep. 10, Kasie announced on Twitter that Kasie DC would air its last show the following Sunday night.
Article continues below advertisement
But don't worry! Fans of Kasie need not be alarmed. They might have to adjust their alarms, however, as Kasie is moving to a new time slot that's basically the complete opposite of the one she's held for the past few years. Here's what happened to Kasie DC.
Article continues below advertisement
What happened to 'Kasie DC'?
Kasie DC premiered on MSNBC October 2017. It aired Sunday evenings and was hosted by none other than Kasie Hunt, who at that point, was best known as NBC News' Capitol Hill correspondent. The show covered news and politics and offered viewers a chance to get a head start on the week's headlines. Now, just a few years later, Kasie is transitioning to a new time slot. A much, much earlier time slot.
Kasie has announced that she will now be the host of Way Too Early with Kasie Hunt. If you're wondering how it got that name, well, it airs five days a week at 5 a.m. In other words, way too early. With Kasie DC, Kasie gave people a head start on the week's headlines. Now, she'll be giving them a head start every morning. Very early in the morning. It's sure to be quite the adjustment!
Article continues below advertisement
Way Too Early originally premiered back in 2009 and was hosted by Willie Geist. The show ended in 2016, so Kasie's move is also something of a revival. She'll ring in her first episode bright and early in the morning on Monday, Sep. 21.
Article continues below advertisement
Why is 'Kasie DC' ending?
As far as why the network decided to bring Kasie's Sunday night show to an end, it's all about the ratings — isn't it always? According to Variety, MSNBC's weekend rejiggering is part of an effort to provide more live coverage on Saturdays and Sundays rather than simply relying on documentary programming. MSNBC will be rolling out two new weekend evening shows: American Voices (hosted by Alicia Menendez) and The Week (hosted by Joshua Johnson). 
A statement from MSNBC says that American Voices "will focus on the biggest political stories of the week while elevating news on under-reported issues with underrepresented voices that require a national platform," while The Week "will connect everyday people, newsmakers and trailblazers for candid conversations about each week's big stories, thinking through the challenges we all face and prepping viewers for the days ahead."
Kasie appears to be very excited about her move. On Twitter, she said she's "beyond thrilled" about the news, while also expressing how much she'll miss her Sunday night team. "I'll really miss our amazing viewers @KasieDC on Sunday nights — and I will especially miss working with a fantastic team that has put in so much work on weekends to put on a show that we could all be so proud of," she wrote. It'll definitely be an adjustment, but Kasie is clearly up for the challenge.