Joy Reid's Recent Comments Drew Ire From Both Sides of the Aisle
After Joy Reid's Sep. 1 episode of 'The ReidOut,' she faced criticisms from Reps Omar and Tlaib and, somewhat surprisingly, from Donald Trump.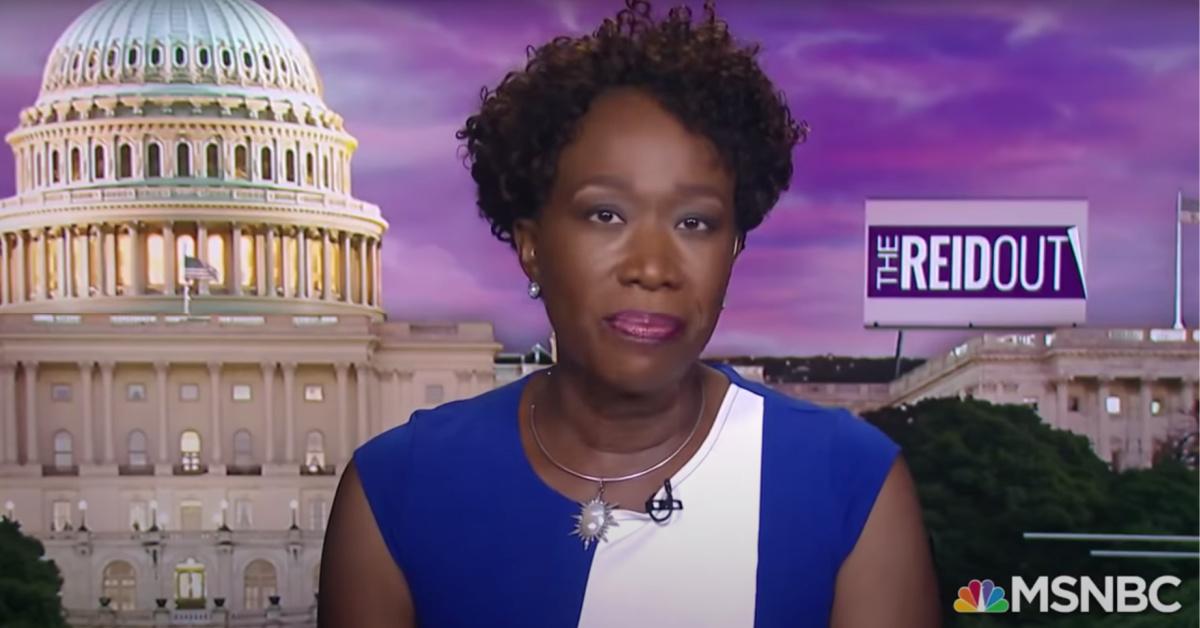 It's been only a few short weeks since Joy Reid took over the coveted 7 p.m. slot on MSNBC, but she's already dealt with plenty of criticisms and controversy. Most recently, her comments made on Tuesday, Sep. 1 regarding the violence committed by Trump supporters have landed her in hot water.
Article continues below advertisement
Somewhat interestingly, Reid's comments have been met with criticisms from President Trump himself, but also from Rep. Ilhan Omar and Rep. Rashida Tlaib. It's not often that people from both sides of the aisle find the same comments objectionable, and it's even less common for Trump to agree with Representatives Omar and Tlaib (or appear to agree with them, anyway). What happened here, exactly?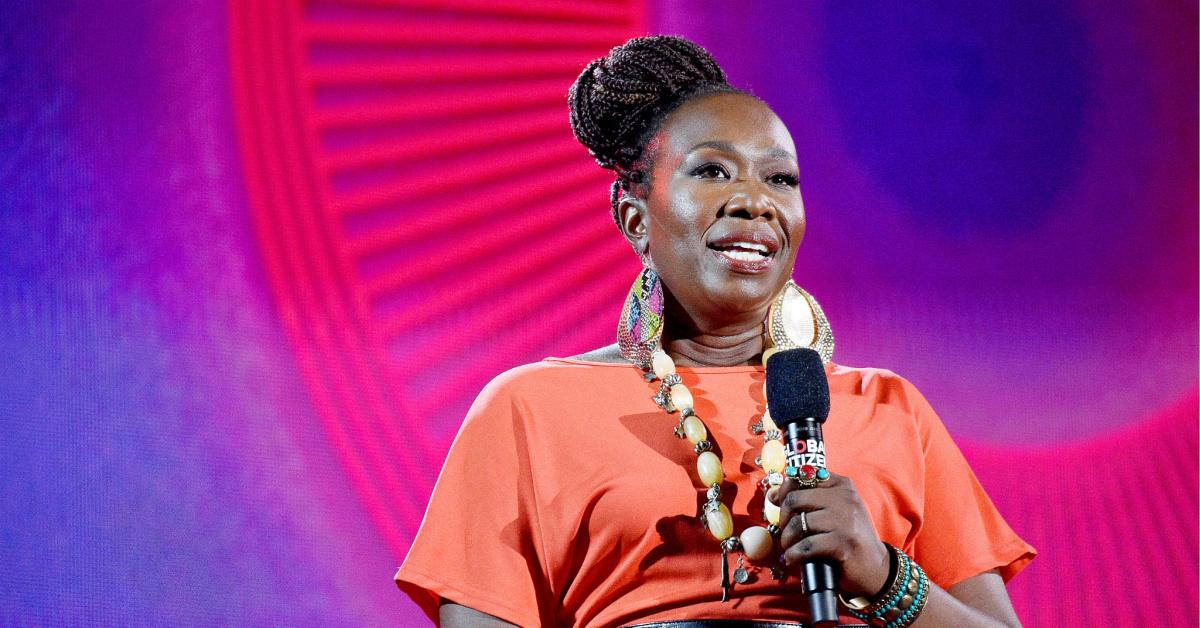 Article continues below advertisement
What happened to Joy Reid from MSNBC?
As we've already mentioned, Reid's most recent controversial statements occurred during the Tuesday, Sep. 1 episode of her show, The ReidOut. She started by mentioning that Trump recently "liked" a tweet praising Kyle Rittenhouse, who is accused of killing two Black Lives Matter protestors in Kenosha, Wis. Reid also stated that Trump would not condemn the violent actions of his supporters, including shooting paintball guns and pepper-spraying protestors in Portland, Ore.
Reid argued that Trump's actions (or lack thereof) are attempts to "radicalize" his supporters. Then she likened that to "how we talk about the way Muslims act" — this is where Reps Omar and Tlaib took issue with her comments.
Article continues below advertisement
"When leaders — let's say in the Muslim world — talk a lot of violent talk and encourage their supporters to be willing to commit violence, including on their own bodies, in order to win against whoever they decide is the enemy, we in the US media describe that as they are radicalizing these people, particularly when they're radicalizing young people," Reid said on the show. "That's how we talk about the way Muslims act. When you see what Donald Trump is doing, is that any different from what we describe as radicalizing people?"
Article continues below advertisement
Not long after the broadcast concluded, Rep. Omar took to Twitter to express her disappointment in Reid's comments. "Honestly, this [kind] of casual Islamophobia is hurtful and dangerous," she wrote. "We deserve better and an apology for the painful moment for so many Muslims around our country should be forthcoming."
Rep. Tlaib echoed these sentiments in her own tweet, saying, "Words matter and these words feed into the harmful anti-Muslim rhetoric & actions that we continue to see in this country. It is even more painful to hear it from someone I admire. We deserve an apology."
Article continues below advertisement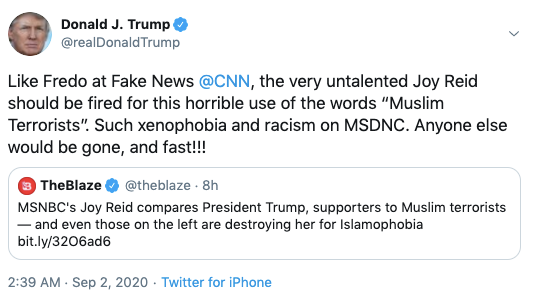 And then Donald Trump decided to wade into the controversy. He did not — as one might expect at this point — double down on his apparent regard for accused killer Kyle Rittenhouse. Rather, he said that the "very untalented" Reid should be fired for "xenophobia and racism," essentially appearing to agree with Reps Omar and Tlaib.
Article continues below advertisement
Given Trump's own Islamophobic rhetoric and legislation over the course of his presidency, one could probably assume that his reaction to Reid's comments might have more do to with the fact that she was criticizing him rather than that she was making harmful comments about Muslim people. Still, what's that saying about broken, Islamophobic clocks being right twice a day?
Article continues below advertisement
(It's also worth pointing out that both Tlaib and Omar simply asked for an apology for Reid's comments, while the president called for her to be fired and called her untalented. It will certainly be interesting to see how he handles Islamophobic comments made by someone from, say, Fox News. Perhaps he'll call for them to be fired as well. You know, to be consistent.)
This isn't the first controversy Joy Reid has been involved in.
Reid's transition to the 7 p.m. MSNBC slot has not been incredibly smooth. Shortly after she made the move, there was renewed criticism surrounding blog posts she wrote more than a decade ago which contained homophobic content.
Article continues below advertisement
Although Reid initially denied that she had written the controversial blog posts, she eventually apologized for their contents, saying, "There are things I deeply regret and am embarrassed by, things I would have said differently and issues where my position has changed. Today I'm sincerely apologizing again."
This time around, Reid certainly can't deny having made the incendiary comments — there's video recording of her making them. So far, she has not offered an apology for likening Trump's perceived radicalization of his supporters to the way some people talk about Muslims radicalizing their own followers. We'll have to stay tuned to see whether an apology may be coming.