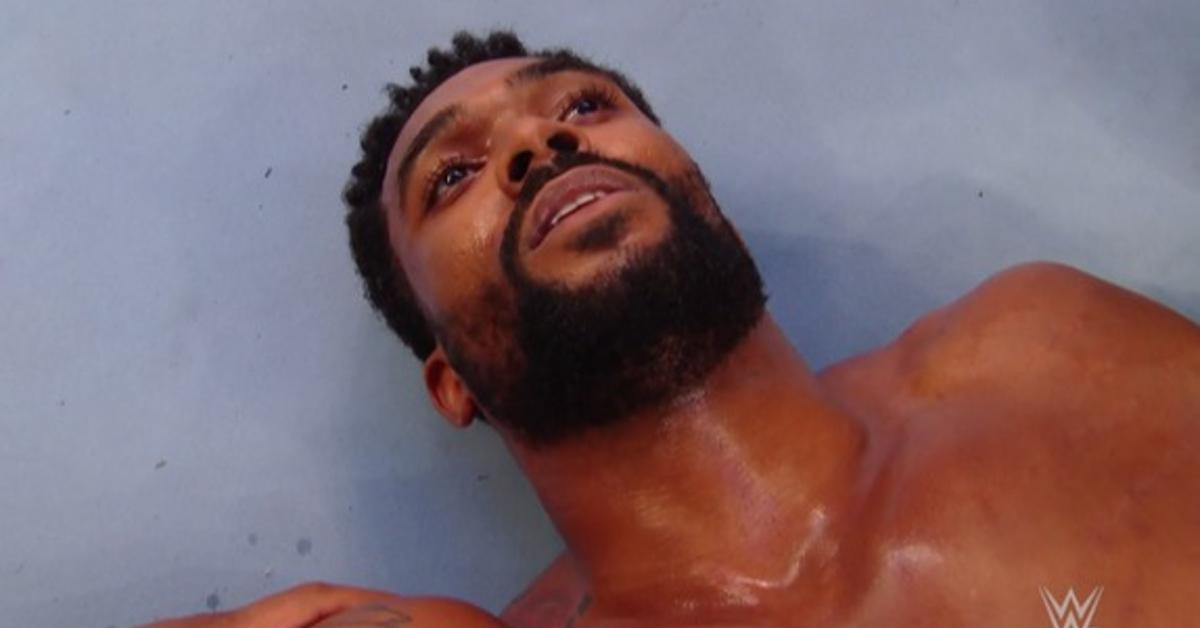 Fans Are Worried About Montez Ford After He Collapsed During a Match
What happened to Montez Ford? He simply collapsed toward the end of a recent 'RAW' match. But is he legitimately hurt? Get an update on him here.
Since WWE matches are taped now (a side effect of the COVID-19 pandemic), showrunners have been able to get really creative with some of their bouts and segments. They've also been able to save viewers from catching glimpses of accidental injuries that have put certain superstars on ice until they can recover and get back in action, like Kairi Sane who was subjected to a highly controversial stair smash courtesy of Nia Jax. But is what happened to Montez Ford a legitimate injury?
Article continues below advertisement
The Street Profits' Montez Ford caused Angelo Dawkins to lose his match inadvertently.
While Dawkins, the other half of The Street Profits tag team was tussling with Angel Garza in the ring, Montez was standing ringside watching the action and giving typical tag team partner support. That is, until he mysteriously collapsed, worrying Angelo so much that it ended up costing him the match. Afterwards, Angelo checked up on Montez to see what was wrong while the cameras rolled on all of the drama.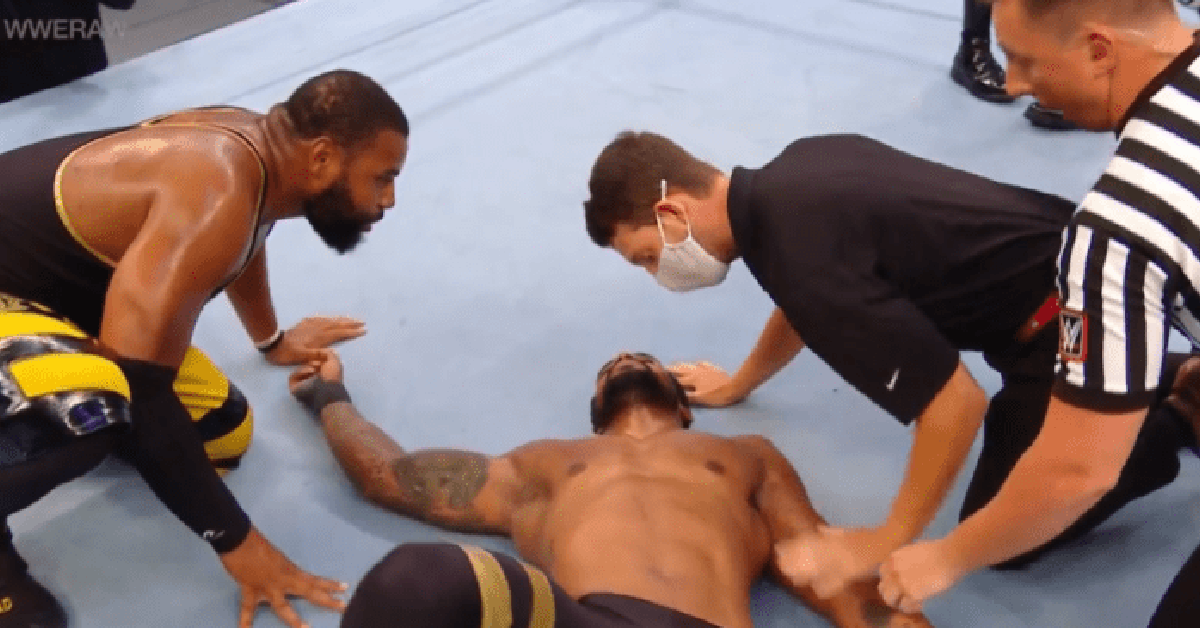 Article continues below advertisement
So is what happened to Montez Ford legit?
Probably not. Seeing as how the WWE has previously edited out legitimate injuries during this time period, it's safe to assume that whatever happened to Montez Ford is just a part of a greater storyline. Especially because after he got up and proceeded to continue with his own match against Andrade, Montez collapsed yet again, this time in the middle of a bout. Just like Angelo, Montez lost his match, but the greatest question remains: What storyline is the WWE queuing up for the duo?
If you've watched professional wrestling long enough, then "toying" with tag teams is nothing new. There are out-of-nowhere betrayals from one member or another, miscommunications that cause strains between the once great friends, and tests to see whether or not one member of the team could be a standalone star. This may be what the WWE's trying to do with the Street Profits.
Article continues below advertisement
What we do know is that whatever narrative the writer's room is planning for the two men has something to do with poison. Yes, during a backstage clip, Angelo said that the doctors told him Montez had been poisoned. This caused Bianca Belair to confront Vega and ask her if she tried poisoning Montez, and this led to tensions between the two wrestlers.
Article continues below advertisement
The Street Profits are set to defend their Tag Team titles against Andrade and Garza at Summerslam on Aug. 23, so expect this story to evolve in some pretty twisted ways until then. Will it ultimately result in drawing the Street Profits apart? Or closer together?
The latest WWE 'RAW' episode also saw some other developments.
Randy Orton came face to face to champ Drew McIntyre after calling out the Scotsman in a brutally honest monologue for a match at SummerSlam. Shane McMahon also returned to RAW to introduce a new segment in the Monday night pro-wrestling extravaganza: Underground. If you're a fan of "no holds barred" '80s action movies or Fight Club, then this should be right up your alley.
Article continues below advertisement
"Underground" is meant to look visceral, with quick cutaways and a black ring without ropes so it looks more like a kumite platform with the "fighters" still performing pro-wrestling moves. However, a lot of action is strikes and slams. You won't see high-flying acrobatics here, just tournament-style, bare knuckle sports entertainment.