WWE's Nikki Cross Pulled From 'Clash of Champions' at the Last Minute — Here's Why
Nikki Cross was scheduled to compete for the WWE Women's Championship. What happened? At the last minute, she didn't receive medical clearance.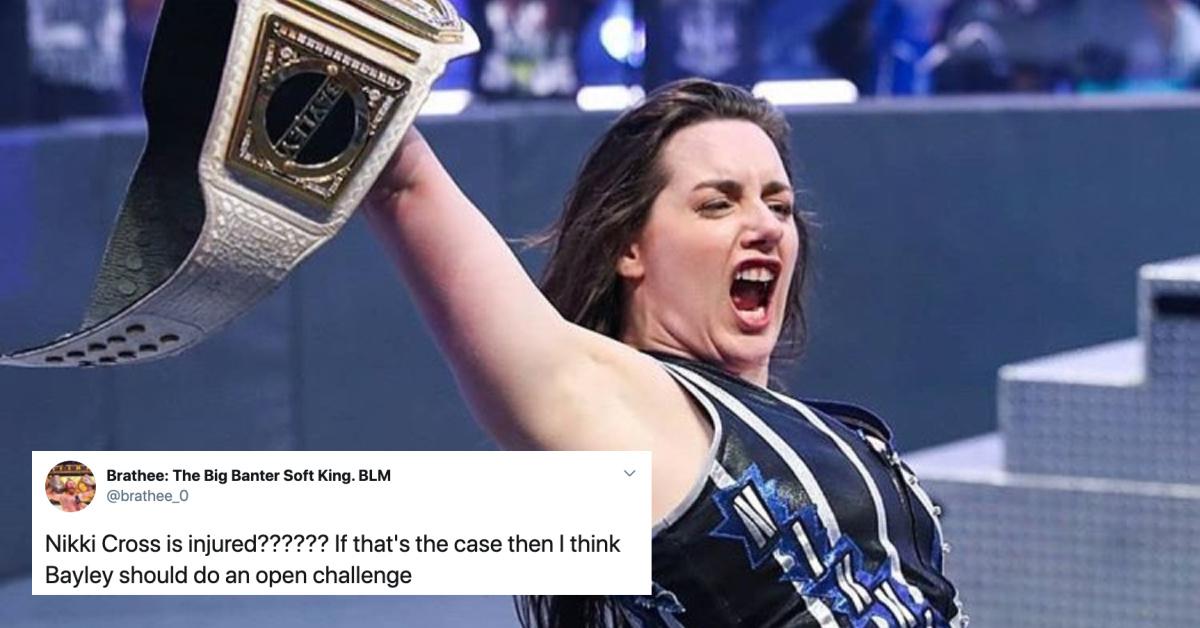 Sunday, Sept. 27 marked WWE's Clash of Champions: Gold Rush pay-per-view. Unfortunately, some of the champions (and potential champions) were unable to appear on the show for a variety of reasons, and in many cases, fans didn't find out about the card changes until right before the PPV aired. Wrestler Nikki Cross was one WWE Superstar who was unexpectedly pulled from Clash of Champions — here's what happened.
Article continues below advertisement
What happened to Nikki Cross?
Nikki being removed from the PPV was definitely a huge blow. She had been scheduled to compete with Bayley for the WWE SmackDown Women's Championship. After Nikki's seemingly interminable losing streak, many had high hopes that her Clash of Champions: Gold Rush appearance would result in her finally taking home the belt. Alas, Nikki was unable to compete at all.
Article continues below advertisement
Announcements leading up to the PPV said that Nikki Cross had not been medically cleared for the show. No further details were provided regarding the reasons for her lack of medical clearance. Not being medically cleared could indicate that Nikki suffered an injury, but there hasn't been any announcement of any such injury in Nikki's case. The general consensus seems to be that a positive COVID-19 test is much more likely to be the reason for Nikki's removal from Clash of Champions.
Nikki Cross wasn't the only Superstar to not receive medical clearance.
Shayna Baszler and Nia Jax were also removed from the show at the last minute, despite Shayna having shared a picture of her PPV gear on Instagram mere hours before the show. This lends even more credence to the theory that Nikki, Shayna, and Nia may have tested positive for COVID-19, though we of course won't know for certain until and unless WWE or the wrestlers address those rumors directly.
Article continues below advertisement
WWE released a statement regarding the card changes but didn't provide much additional information: "Bayley will address the SmackDown Women's Championship situation tonight on WWE Clash of Champions with her opponent unable to compete," the statement read.
Article continues below advertisement
"Nikki Cross, who was scheduled to challenge for the title, is not medically cleared. Additionally, Shayna Baszler & Nia Jax are not medically cleared and will not defend the WWE Women's Tag Team Championship against The Riott Squad tonight. The situation surrounding the titles will be addressed tomorrow night on Raw."
Article continues below advertisement
Although fans were unable to see Nikki compete with Bayley the match wasn't a total loss. Bayley went to cut an in-ring promo, explaining that her match with Nikki had been canceled and asking to be announced as the winner by default. Instead, Raw Women's Champion Asuka entered the ring for an impromptu title match. All things considered, it was a pretty good replacement for the scheduled match.
Hopefully, Nikki (along with Nia and Shayna) recover from their medical issues quickly and are able to get back into the ring without too much delay.
The best way to prevent contracting or spreading the coronavirus is with thorough hand washing and social distancing. If you feel you may be experiencing symptoms of the coronavirus, which include persistent cough (usually dry), fever, shortness of breath, and fatigue, please call your doctor before going to get tested. For comprehensive resources and updates, visit the CDC website. If you are experiencing anxiety about the virus, seek out mental health support from your provider or visit NAMI.org.