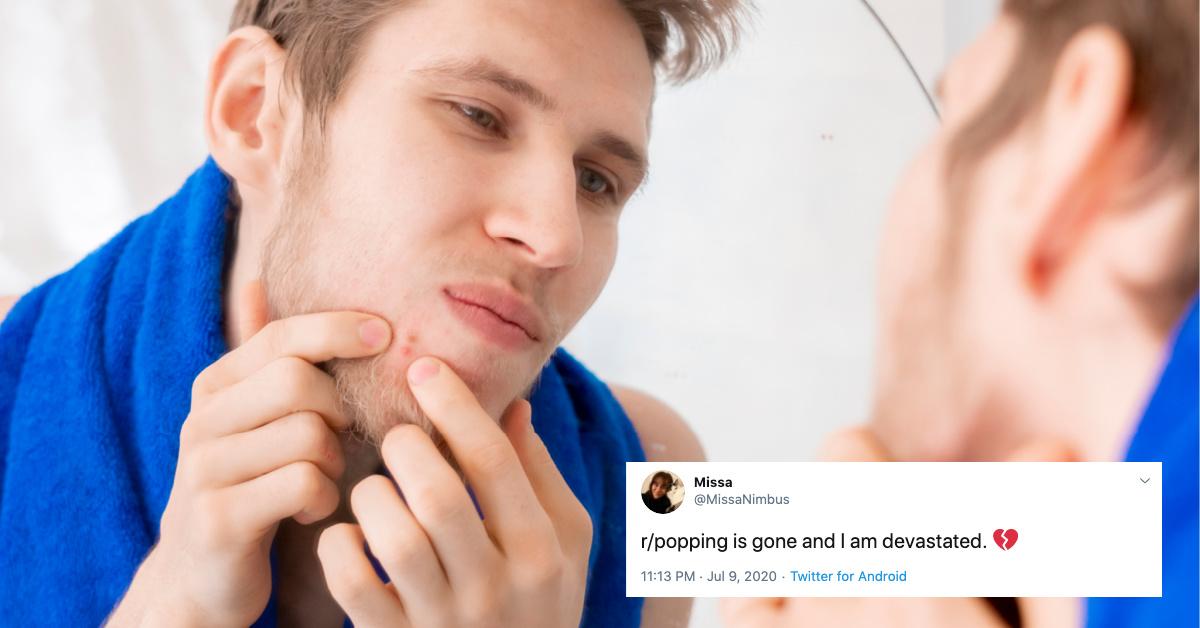 What Happened to the Super Gross (Yet Super Addictive) Pimple-Popping Subreddit?
OK, look. Human bodies are kind of gross. They're also amazing and capable of incredible things! But let's not pretend they're not capable of some incredibly gross things, too. What's even weirder is that some people, for reasons even they can't explain, are low-key obsessed with the grosser parts of human bodies. Things like pimples. And blackheads. And cysts. And, uh, popping them.
Article continues below advertisement
For years now, hundreds of thousands of those people with questionable interests had r/popping — a subforum on Reddit filled with videos of people popping pimples. However, if you go to r/popping now for your daily fix of grossly satisfying content, you'll be unable to get in. What happened to r/popping? Here's what we know.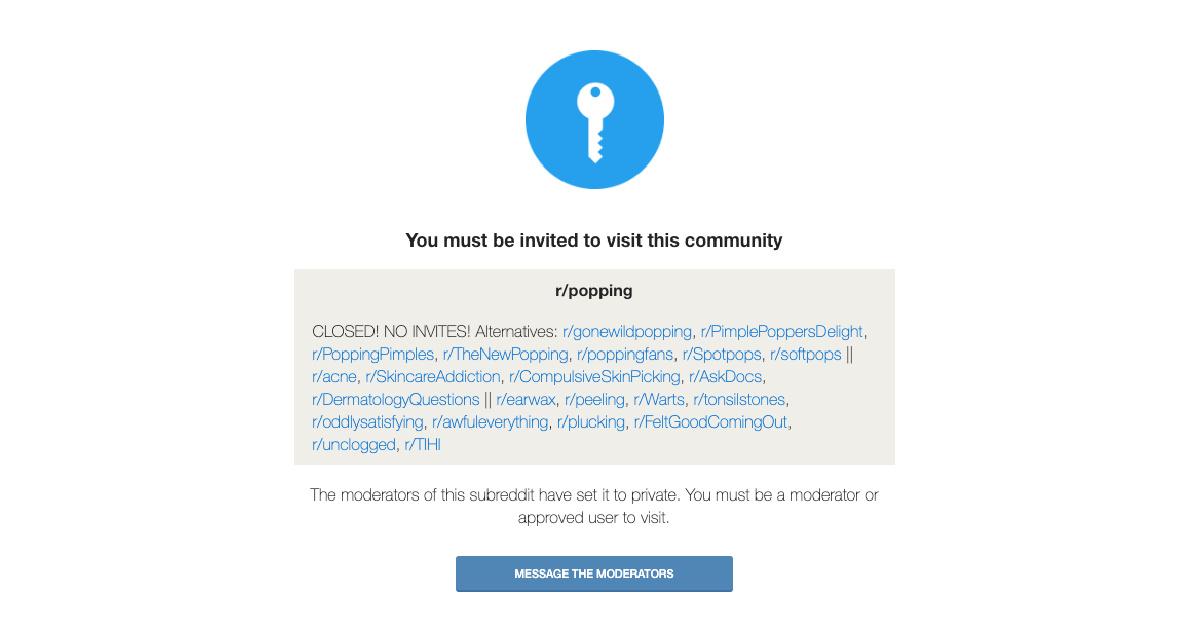 Article continues below advertisement
What happened to r/popping?
Recently, Reddit banned approximately 2,000 problematic subreddits from its community. Prior to this wide-sweeping ban, the forum-based site was relatively lenient about the content users post, though some subreddits (forums with specific themes or topics) made it difficult to encourage free speech without endangering users and other people. Finally, Reddit CEO Steve Huffman dropped the ban hammer and eliminated a huge swath of subreddits.
But that's not what happened with r/popping. The recent subreddit bans were due to violations of Reddit's new policies regarding hate speech and user antagonization. R/popping is gross, but it doesn't break any Reddit rules. That might offer some comfort to r/popping fans, but we're still left wondering — if the subreddit wasn't banned, what actually happened?
Article continues below advertisement
It all comes down to moderator drama.
Every subreddit has mods — people who work to enforce the specific rules of their subreddit. There are tens of thousands of Reddit mods. None of them are paid for their work, but they are given a lot of power within their specific communities. They can ban users from posting content, delete other people's posts, and control who gets to see the subreddit. Sometimes, this power goes to their heads, and drama ensues.
Article continues below advertisement
r/popping had more than 300,000 subscribers and only one mod: u/sh0rty. For reasons that aren't exactly clear, u/sh0rty decided they were done modding the subreddit. Some posit that it may have been due to recent complaints about their behavior as a mod (or lack thereof). This isn't that uncommon — mods step down for various reasons all the time. Usually, though, mods will announce when they are stepping down, giving someone else a chance to take over.
That's not what u/sh0rty did. They simply set the very popular subreddit to private and directed people to go elsewhere for their pimple-popping content. Needless to say, people are pretty upset by this decision. u/sh0rty has not provided any further reasoning for their actions.
Article continues below advertisement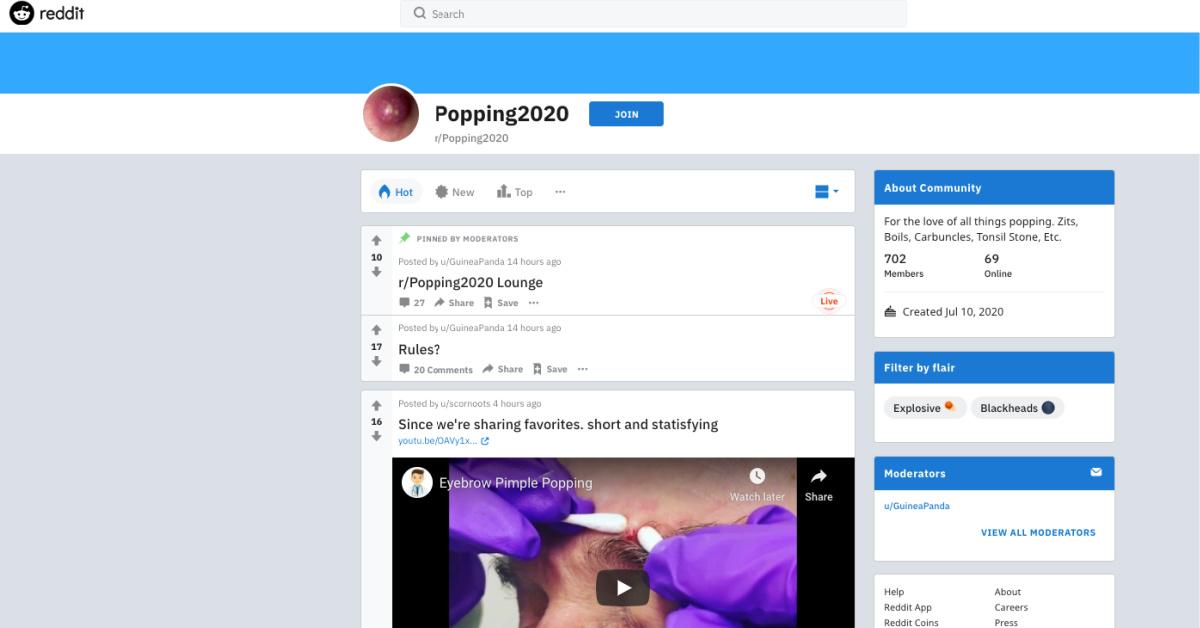 Luckily, there's now r/Popping2020.
It's possible that r/popping might be unlocked someday, but right now, the only person who holds those keys seems intent on not letting that happen. Luckily for people who need their pimple-popping fix, anyone can create a new subreddit at any time. So that's exactly what someone did. Redditor u/GuineaPanda started a new pimple-popping subreddit, r/Popping2020. It doesn't have anywhere near as many posts as r/popping did, but it could get there!
Who knew there could be so much drama surrounding pimples and the popping of them? We're just glad people have a place to go for their hobbies (as questionable as some of us may consider them).