What Happened to Roger from 'Chasing Classic Cars'?
What happened to Roger from 'Chasing Classic Cars'? Fans of the series want to know why the Discovery Channel host mysteriously vanished from the show for a spell.
What happened to Roger Barr from Chasing Classic Cars? It's a question that many fans of the show had when they noticed that the motor vehicle maven was no longer appearing on the program.
To say that Roger's got motoring in his blood would be an understatement: the man and his pal, Wayne Carini, have been longtime friends and co-workers who share a common love for cars.
Article continues below advertisement
Roger was a mechanic for the United States Air Force and honed a lot of his skills while stationed in Germany. He was such a talented driver that when he wasn't serving in the military for his country, he was driving for the Porsche factory sports car team as a backup motorist.
When he returned back to the states, he opened a garage in his hometown of Glastonbury, Connecticut, where he specialized in repairing foreign cars, although he famously had a sign hung up in his shop that read, "No French cars allowed." So not all foreign cars were welcome.
In that period, Roger would race cars on the weekend, winning National Championships in Formula B and Formula Vee competitions — the man not only knew how to work on cars but he could sure drive them too.
But fans don't just love Roger for his motoring pedigree, they also love his trademark "crotchety" no-nonsense attitude. The man is unapologetically himself, and is a huge reason behind the success of Chasing Classic Cars.
Which is why people were concerned when they noticed he was in Wayne's garage less and less.
Article continues below advertisement
So where is Roger from Chasing Classic Cars?
There were a ton of rumors surrounding Roger's "disappearance" from the program and the shop, with some speculating that the fan-favorite had sadly passed away.
That wasn't the case. However, Roger was hospitalized with an infection he sustained in his leg while working for F40 motorsports. He was once hospitalized in August of 2017, and then returned to work in November after recovering from the infection.
Article continues below advertisement
The infection took a toll on his well-being and forced Roger to spend less time in the shop. Even when he was released from the hospital, Roger continued to work at the shop, but would only take half-shifts (4 hours) on particularly hot days as there's no air-conditioning in the garage.
One thing that's apparent, however, is that Roger truly loves what he does, and his son and wife help him to communicate that to his fans via his Facebook page.
Article continues below advertisement
Sadly, Roger's leg problems persisted. Shortly after breaking the news on Facebook that he would need to work in the garage in a reduced capacity, his wife informed the internet that he'd require knee surgery.
The crazy thing is that the GoFundMe account set up in Roger's honor to help him cover the costs of the surgery states that the only income he receives is his rate as a mechanic in the shop.
Roger, apparently, doesn't get paid for his role on Chasing Classic Cars, which is a bit crazy when one considers, by Wayne's own admission, that the guy is pretty much the main reason why people visit the shop or watch the show.
Article continues below advertisement
Fans kept Roger and his family in high spirits by joking that they should ask the doctors to fit some automotive parts in Roger's body in order to help him recover more quickly.
The Barrs' response was excellent:
Article continues below advertisement
The good news is that Roger's knee surgery was a success. Throngs of his fans shared their delight at the news and one fan even visited Roger all the way from Belgium and brought chocolates to the mechanic to wish him a speedy recovery.
Article continues below advertisement
Article continues below advertisement
It was a long road to recovery for the grumpy mechanic, but he persisted and worked through physical therapy and his left knee felt amazing. It felt so good, in fact, that he realized how much his right knee stunk in comparison. So he began mulling over getting that one fixed so he could go back to getting underneath cars and have more mobility around the vehicles.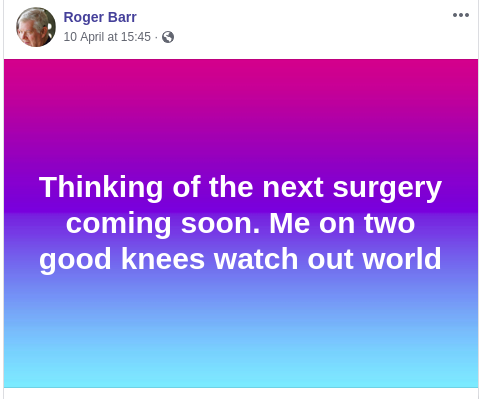 Article continues below advertisement
Ultimately, he thanked his fans for being behind him 100% and even shared some videos bragging about his new knee surgery on his Facebook page, much to everyone's delight.
As of now, Roger is still working in a reduced capacity at the shop, he's over 80 years old and still has to take it easy post knee surgery, not to mention the leg infections that he suffered. However, maybe if he does get that second knee fixed, we may see Roger getting back to doing what he loves even more: repairing and driving classic vehicles.
Watch Chasing Classic Cars on MotorTrend.