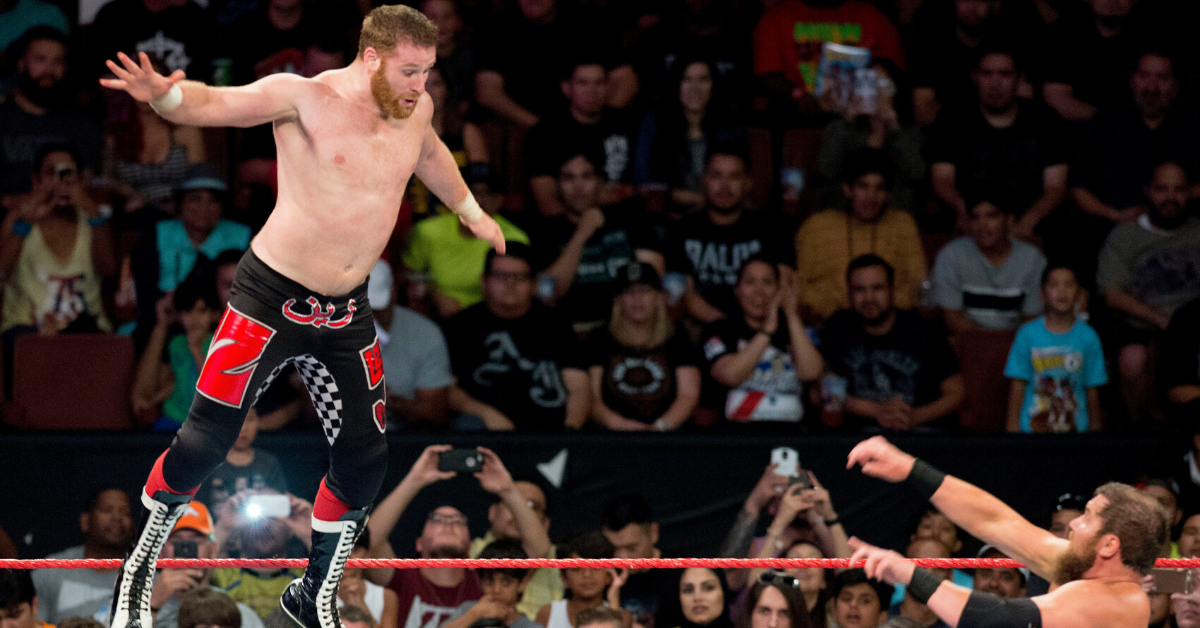 Sami Zayn Was Stripped of the WWE Intercontinental Champion Belt, but He's Not Taking It Lying Down
Sami Zayn is no longer the WWE Intercontinental Champion even though he remains undefeated. The wrestling star was stripped from his title, according an announcement made from the organization. On Tuesday, May 12, the WWE Backstage announced that Sami is not able to compete in the upcoming SmackDown, and as a result, he has been stripped of his title. So, what happened to Sami Zayn and why won't he compete?
Article continues below advertisement
What happened to Sami Zayn?
A tweet from WWE on Fox was sent out on May 12 that read, "@SamiZayn is unable to compete and defend the Intercontinental Championship, therefore @WWE has declared the title vacant." The tweet announcement continued, "A tournament to crown a new Champion will begin on Friday Night Smackdown on FOX."
Article continues below advertisement
Sami has been a part of the WWE team since 2013 and won the Intercontinental title this past March after he defeated Braun Strowman. Since then, he's not been in another match to defend his title, and it's rumored this is why he was stripped of the title.
Why won't Sami Zayn defend his title?
Ringside News reported that Sami Zayn will not be returning to WWE television "any time soon" and that may be why the WWE has decided to strip him of the title.
Article continues below advertisement
Although he's not made a public statement regarding the decision to not compete at the upcoming SmackDown event, it's been reported that Sami Zayn is unavailable due to the coronavirus pandemic and the lockdown orders. Although there's a pandemic, the WWE has decided to go ahead with tapings and events, although they're held without a live audience.
Article continues below advertisement
Sami Zayn responded to the title strip.
Not long after the tweet went out from the WWE, Sami replied with his own statement, saying he does not agree with the company's decision.
"I disagree with this decision and no matter what anyone says, I am still undefeated and therefore still the Intercontinental Champion," he wrote in the tweet.
Article continues below advertisement
Just about 12 hours after the WWE on Fox made the public decision to strip Sami from the title, the company tweeted out a question to their fans, asking, "The new Intercontinental Champion should be: ____________________________!" and that didn't sit very well with the current champ.
Sami replied back writing, "Ashamed of themselves."
Article continues below advertisement
It's clear he's not going to take this stripping of his title laying down. Although he may not be able to compete right now, reportedly due to the pandemic, his fans believe he will reclaim that title soon enough.
"You were robbed," one person tweeted back. Another said, "he will get the title back once he starts competing again."
And another says the people at the WWE deserve better, tweeting, "There's a pandemic on smooth brain. Disgusting the company making folk work during this, not to mention MASS FIRINGS. Sami and everyone at WWE deserves better working conditions."