Google Delisted Soap2day, and There's a Good Reason Why
People are upset that Soap2day was seemingly removed from Google recently. Why? Is Soap2day safe to use? What happened to it? Here's what you need to know.

Soap2day, a service created in 2018 by an unknown entity that allowed people to stream TVs and movies for free, seemed to be recently delisted from Google, causing panic and outrage on the internet. What happened? Where is Soap2day? Is it sketchy to use? Here's what to know before you try accessing the site.
Article continues below advertisement
What exactly happened to Soap2day?
Soap2day was most likely removed by Google because it wasn't entirely legal to use. Like, at all, actually. Since it (illegally) streamed content, it probably violated some major rules and regulations. According to Tech Numb, Soap2day "is not a legal online movie website and anyone caught using it to access or distribute content may be heavily punished by international governments."
Article continues below advertisement
In fact, there's cause for concern that users could even be fined for watching TV shows and movies on Soap2day. "In some jurisdictions, there are steep fines upwards of $100K for using websites like Soap2Today as well as the risk of doing jail time," Tech Numb stated.
On top of Soap2day not being legal, it's also possibly giving third parties users' info. Twitter user @chlmtcupholder took a screenshot of their screen when they were using the service. It seems like they were redirected to some kind of sketchy chat service when trying to simply use Soap2today. "So ummm never going on soap2day ever again. scared for my life now," they wrote. Yikes.
Article continues below advertisement
Can you still use Soap2day?
Technically, yes, you can use Soap2day — at your own risk. The site recently provided some links on their homepage (soapgate.org) that will lead you to their services. Since you can no longer navigate to their library through Google, they suggest that users save the link to their favorites for easy access.
Article continues below advertisement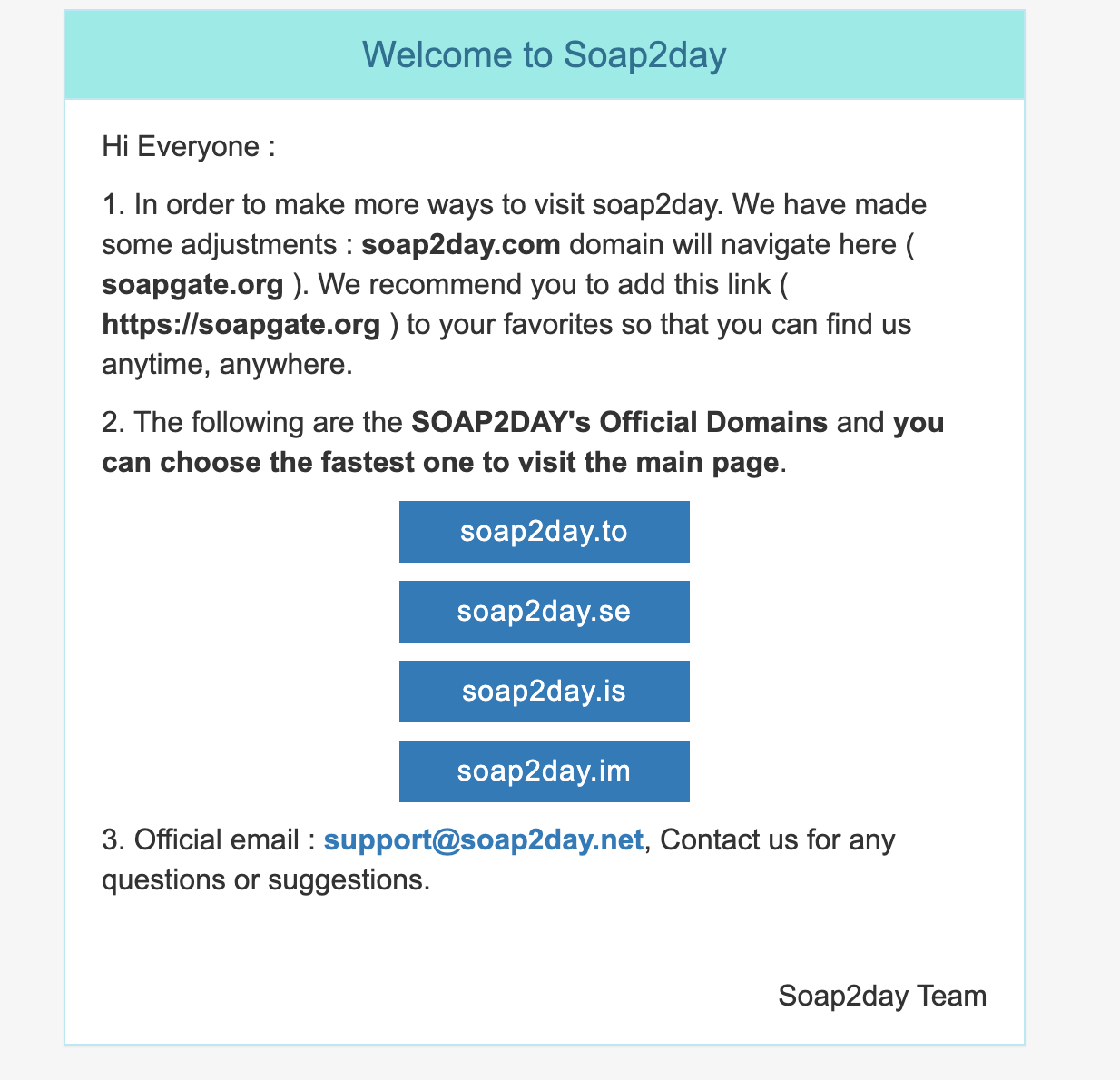 Still, Twitter users are upset that they're having trouble using the service, since some people relied on the free service to watch TV shows and movies.
Article continues below advertisement
Article continues below advertisement
The bottom line? Soap2day is really, really sketchy. To avoid any issues with the law or getting your private information sold to other third parties, it's best if you just splurge on a Netflix account and avoid the risk.