'First Take' Host Stephen A. Smith Reveals How He Hurt His Arm: "Know You All Laughing at Me"
What happened to Stephen A. Smith's arm? The 'First Take' commentator reveals why he's wearing a sling.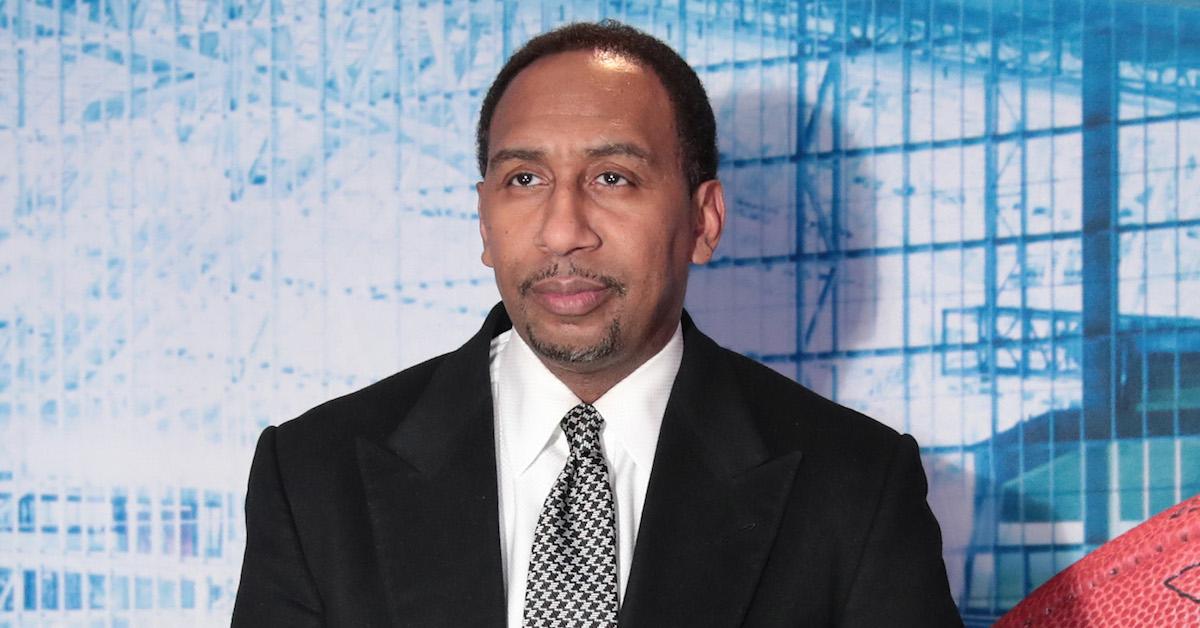 When Stephen A. Smith returned to ESPN's First Take on July 29 after a short hiatus, the TV personality was sporting a brand-new accessory: an arm sling.
The 51-year-old barely addressed the injury in his first show back, but when he was inundated with questions from curious viewers, the journalist revealed in a behind-the-scenes video why he's wearing the brace.
Article continues below advertisement
What happened to Stephen A. Smith's arm?
In a tweet on July 26, Stephen told followers that he tore his rotator cuff while boxing, but went into a little more detail after coming back to work.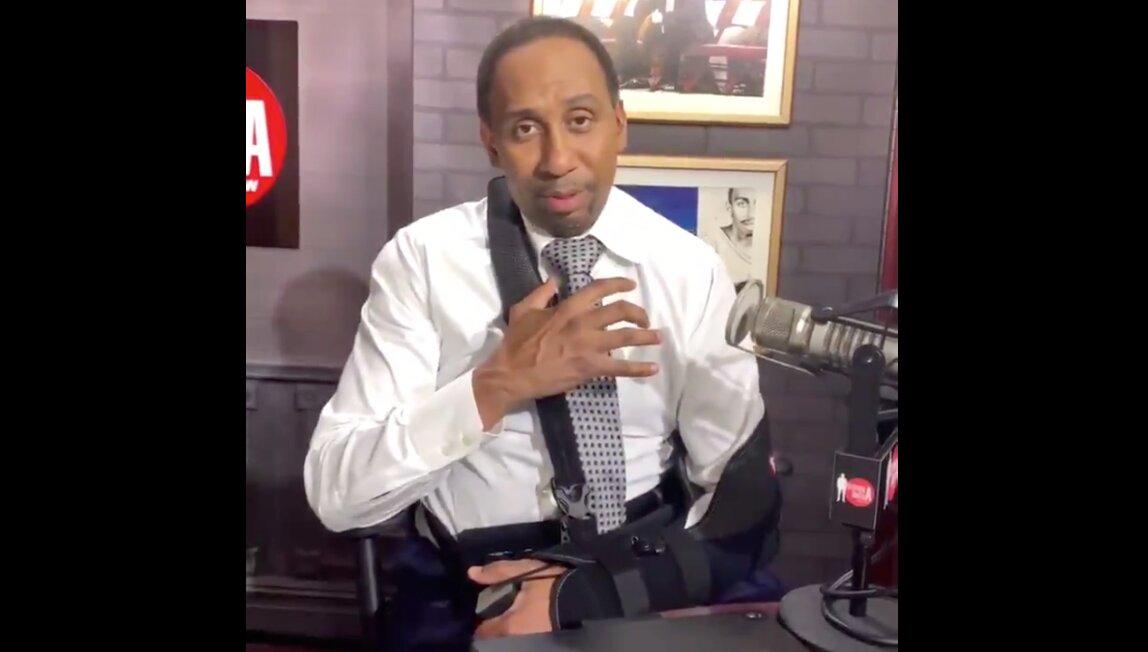 Article continues below advertisement
"I wanted to get myself in some shape," he explained. "Lost about 10 pounds, wanted to lose a little bit more, plus I love to box… I haven't been able to box over the last year because of my schedule and all that stuff, so I decided to get back heavily into it."
During a recent workout, Stephen heard a rip in his left shoulder. "I knew something was wrong," he shared. "Immediately it hurt, but it wasn't until the next day when I couldn't lift my damn arm over my shoulders [that I knew it was] really, really bad."
Article continues below advertisement
Stephen underwent surgery on July 24 and admitted that it's been a tough week. "I've been in some pain, taking pain medication. That ain't working. Trying to get some sleep. That ain't working," he lamented. "I got hurt, alright? Satisfied now? Know you all laughing at me."
The longtime radio host added, "Damnit I was trying to hold on to my youth… Just didn't work out. Now I'm suffering the consequences."
Article continues below advertisement
Stephen had a very eventful first day back thanks to Michael Irvin.
The sports analyst had the retired football player on First Take to discuss Dallas Cowboys running back Ezekiel Elliott's contract when things turned heated.
Michael so badly wanted to get his point across about negotiations between the player and Cowboys owner, Jerry Jones, that he resorted to standing and yelling at Stephen in order to be heard.
Article continues below advertisement
"You're missing the point here," he said, while growing more and more animated. "It ain't just dollars, it's egos that rises the billionaire to the billionaire! Yes, they got the money, that's why they went and bought the team. And the one thing they want to do more than anything is run around the other billionaires and say, 'I beat you!'"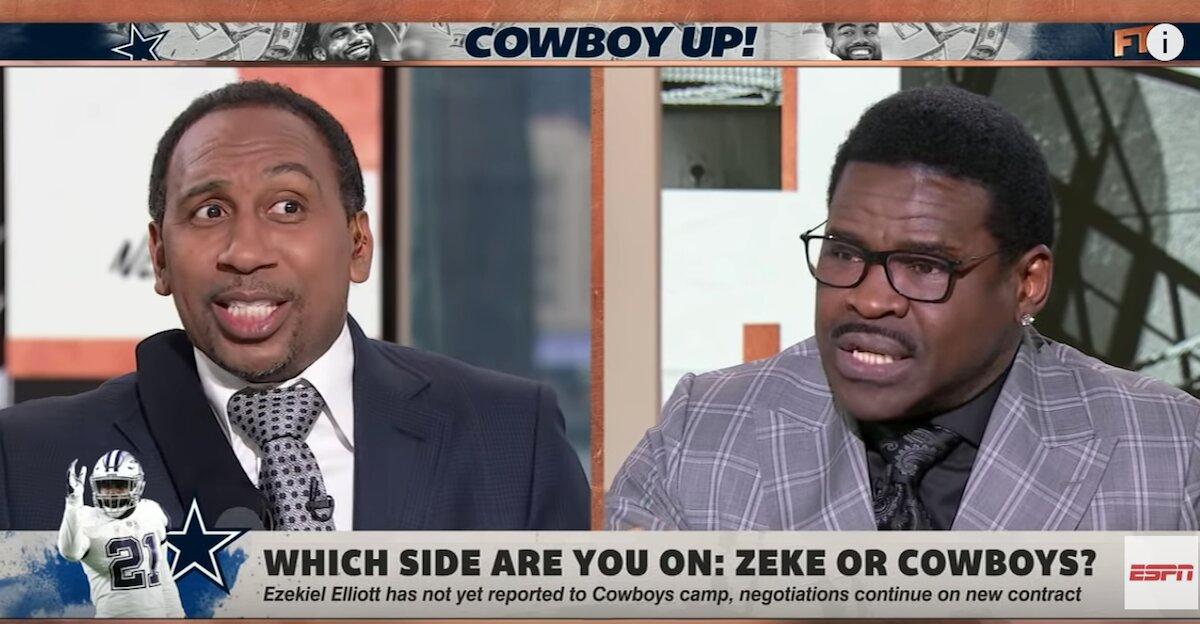 Article continues below advertisement
Stephen later posted the exchange on Twitter. "This dude…" he simply captioned the clip. On Instagram, he added, "CONFIRMED: Michael Irvin has lost his damn mind." Viewers found the whole thing rather comical.
"Someone needs to give [Irvin] some decaf!" one fan hilariously tweeted. Another wrote, "What in the hell is going on here? This sounds like a debate going on in a barbershop in Harlem lol."
A third Twitter user admitted, "My nightmare is getting stuck in an elevator with you two." It'd certainly be an experience you'd never forget.
Watch First Take live every weekday at 10 a.m. ET on ESPN.