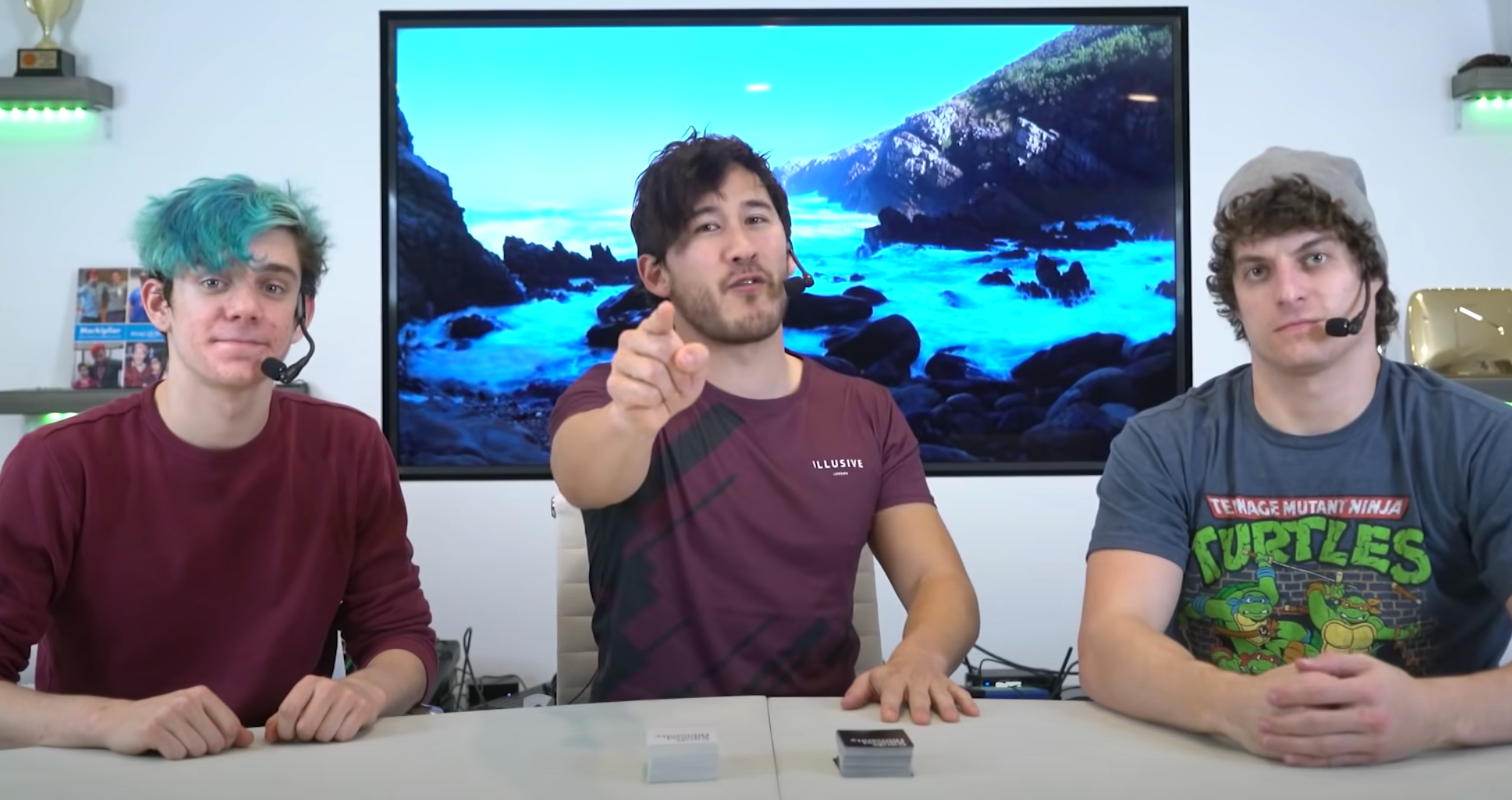 We Miss Teamiplier — What Ever Happened to Them?
It's been awhile since we've heard from Teamiplier, a group of YouTubers who mainly created videos for Markiplier's channel. While videos are still being regularly posted to Markiplier (as well as Unus Annus), Teamiplier disbanded around 2018. For a little bit of backstory: Markiplier was started by Mark Fischbach and was originally run by Mark, Tyler Scheid (Apocalypto12), Ethan Nestor, Ryan Magee, Matt Watson, and then eventually Amy Nelson (Peebles) and Kathryn Knutsen.
Article continues below advertisement
What happened to Teamiplier?
Back in 2016, Ryan and Matt had a falling out with Mark, which Mark posted about on Facebook. "Around June of this year Matt and Ryan decided to quit working for me. The primary reason being that it was difficult to keep the work and the friendship separate," Mark wrote, stating that he was deeply hurt by their decision. Tyler and Ethan joined, and then soon after, Amy and Kathryn. However, in 2018, Kathryn left Markiplier, and announced the news on Twitter. Teamiplier has essentially disbanded, with Mark himself admitting that Teamiplier "broke up."
Article continues below advertisement
"While it is the end of our working relationship, we are still friends and I'm not going anywhere," Kathryn wrote on Twitter after explaining, "I no longer work for Mark, I haven't for a little while now and didn't say anything because I don't really use Twitter to talk about that kind of stuff but since this is my main platform and most of you know me from that job I just wanted to share so there isn't any confusion."
Article continues below advertisement
Article continues below advertisement
Although Tyler and Mark are still close friends and create content together, it doesn't look like Tyler is a regular editor for Markiplier, either. Mark and Ethen went on to create Unus Annus in late 2019. Although the premise of Unus Annus was to post a video a day for a year and then self-destruct, it still remains to be seen if that's the content strategy they're going with. The YouTube channel has over 4 million subscribers. Amy, who is Mark's girlfriend, continues to support Markiplier and Unus Annus.
Article continues below advertisement
Many fans have taken to Twitter to express how much they miss the old days of Teamiplier.
Article continues below advertisement
Article continues below advertisement
In the recent years, Mark has risen to internet fame. He's worked with celebs like Jack Black and Jimmy Kimmel, appeared in TomSka's asdfmovie series, Smosh: The Movie, DisneyXD's Gamer's Guide to Pretty Much Everything, and more. His personal Instagram page has 8.3 million followers, and his new channel, Unus Annus has grown in popularity, thanks to TikTok.
People even carved Unus Annus pumpkins for Halloween this year.
Article continues below advertisement
As for the rest of the former Teamiplier squad: Kathryn has moved to other projects, and Tyler is big on Twitch. In 2018, Tyler let his fans know that his mom was diagnosed with cancer, and shaved his head out of solidarity. In June 2019, Mark posted a video titled "Some bad news," which sadly announced the death of Tyler's mom. Aside from going solo on Twitch (and YouTube), Tyler is also an ambassador for Extra Life, an organization that helps kids with health issues.
While it's unclear if Teamiplier will ever reunite, you can still keep up with the members as they embark on new internet adventures.