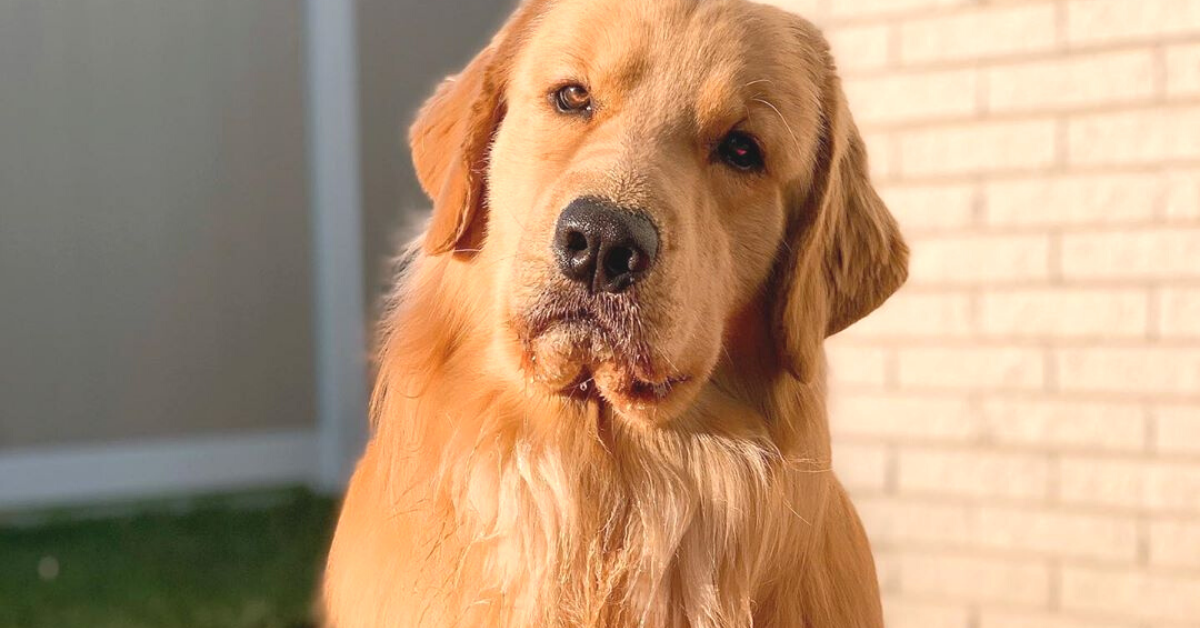 What Happened to Tucker Budzyn?
If you're a fan of dogs, chances are you know who Tucker Budzyn is. The gorgeous golden retriever pup is a social media star. He's got over 2.5 million people who follow him on Instagram, another 1.9 million on YouTube, and another 1.8 million who follow him on Facebook. He's a good boy, the good-est kind of boys, and on June 11, his mom, Courtney Budzyn, updated his fans on a scary incident that happened to him.
Article continues below advertisement
What happened to Tucker Budzyn?
On June 11, Courtney updated Tucker's Facebook Stories on an incident that happened earlier in the day that scared both her and Tucker. "My husband, Mike, took Tucker for a walk," she said. "A big giant pitbull-looking dog came out of nowhere, from behind their fence, and latched on to Tucker's neck."
She went on to say that the strange dog was "fully attacking him" and it was terrifying.
Article continues below advertisement
"Thankfully, Tucker has a ton of floof, and I believe that's what saved him," Courtney added. "There was blood on him but I can't find where it's at." She continued to say that Tucker "looks like he's OK," but she was worried.
Article continues below advertisement
A little bit later, Courtney came back to Facebook Stories to share more of what happened to Tucker Budzyn saying that she and her husband checked him for injuries again. "We looked again and didn't find any marks," she said. "We didn't find any marks and he seems to be doing fine. He's not limping or anything."
"It was just really scary situation," she said. "For some reason, Tucker didn't fight back which is odd. Usually when a dog attacks him, he fights back and turns into the Hulk," she continued.
Article continues below advertisement
Courtney wanted advice on what happened to Tucker.
She asked her followers to give her guidance on how to help Tucker and what she should do in this situation to make sure Tucker and others are safe.
Article continues below advertisement
"I kind of need some advice," she said. "Because I don't know what to do as far as that person clearly didn't have control of their dogs and there's older people who walk around with their dogs." Her husband told her that "there was no way I would have gotten the dog" off Tucker if she was the one who had taken him for a walk.
"I want other people to be safe, so I don't know who to contact to address the situation," she said. "If you have any advice, let me know."
It sounds like her followers gave some input on the situation and urged her to call to file a police report and to get Tucker Budzyn checked out by the vet.
Article continues below advertisement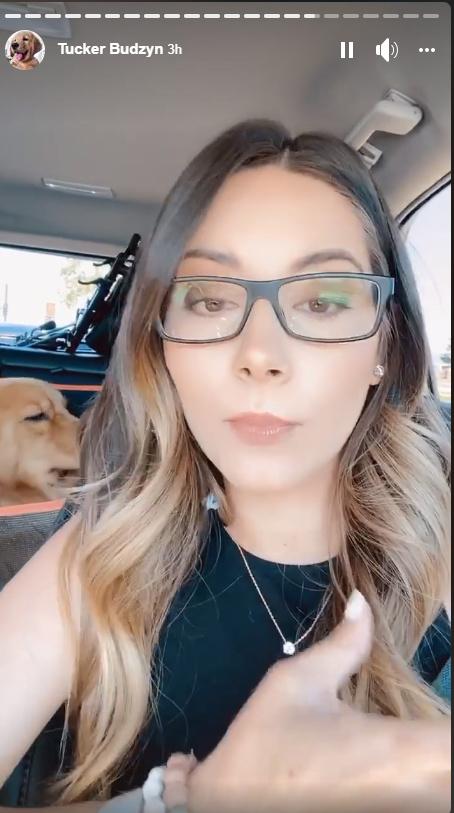 And that's what she did. A police report was filed for Tucker Budzyn.
According to the updates on Tucker Budzyn's Facebook page, Courtney did call the police to file a report and had made the decision to have the pup checked for injuries, although she couldn't see any visible injuries.
Article continues below advertisement
She wanted to make it clear to her fans that the police report was just to do her due diligence and she didn't want any charges pressed nor to have anything bad happen to the other dog.
Article continues below advertisement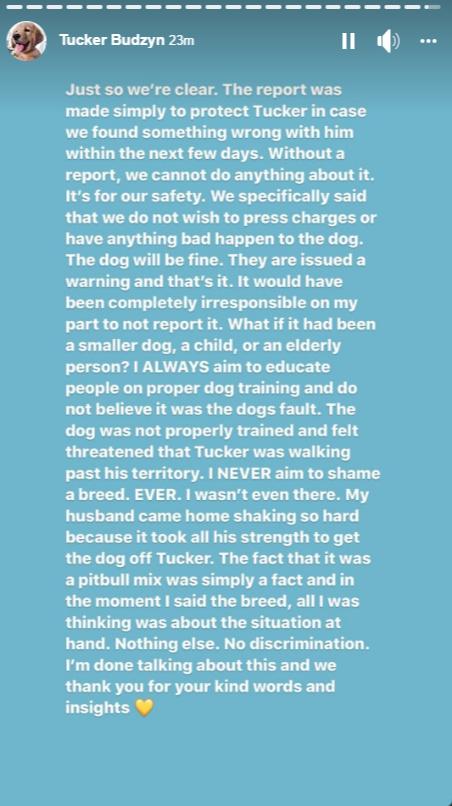 "Just so we're clear. the report was made simply to protect Tucker in case we found something wrong with him within the next few days," Courtney wrote in a statement posted to Facebook. "Without a report, we cannot do anything about it. It's for our safety. We specifically said that we do not wish to press charges or have anything bad happen to the dog. The dog will be fine. They are issued a warning and that's it. It would have been completely irresponsible on my part to not report it."
She continued, "What if it had been a smaller dog or a child, or an elderly person? I ALWAYS aim to educate people on proper dog training and do not believe it was the dogs fault. The dog was not properly trained and felt threatened that Tucker was walking past his territory. I NEVER aim to shame a breed, EVER. I wasn't even there."
Hopefully Tucker Budzyn continues to do well and he heals quickly.