This Woman Takes in Abandoned Hospice Dogs to Make Their Last Days Their Best
The Grey Muzzle Canine Hospice Project takes in dogs on their last legs who've been abandoned and makes sure they feel loved in their final days.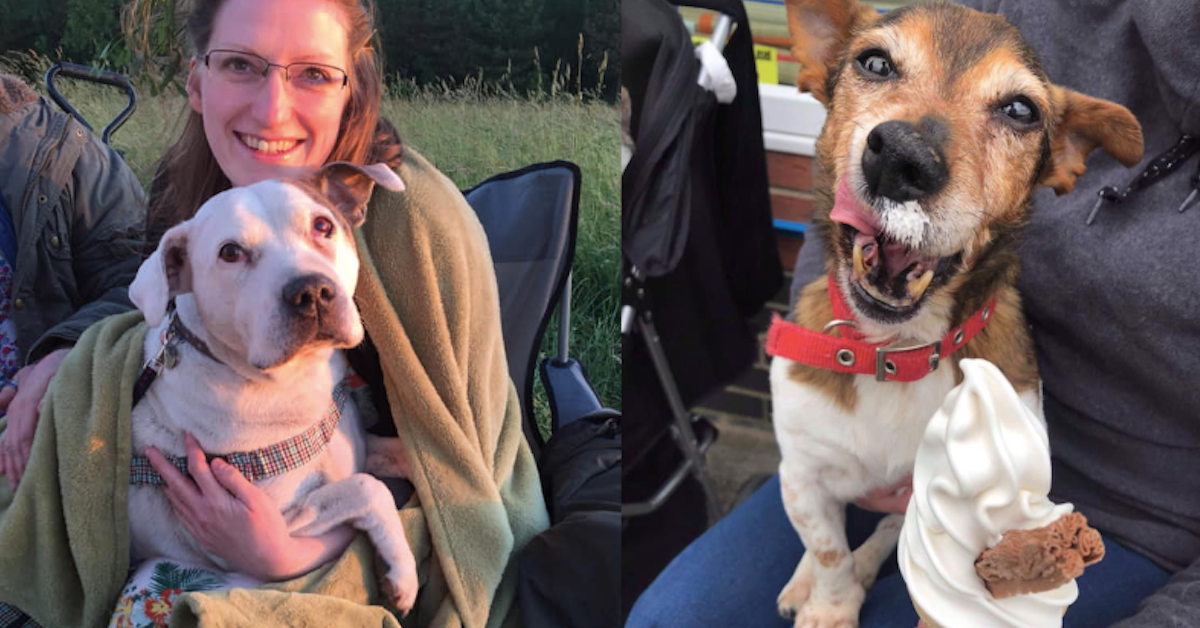 Often, when families can't afford to talk care of their ailing, elderly dogs, or when their beloved family pet starts to lose control over their faculties, they decide to give them up. Suddenly, these dogs, who've had wonderful lives until this point, end up alone, sick, and scared in shelters.
Article continues below advertisement
One woman, a retired nurse named Nicola Coyne, decided to do something for these abandoned senior pups. She set up The Grey Muzzle Canine Hospice Project. which takes in dying dogs who've been abandoned by their owners and ensures they live the rest of their lives knowing they are loved.
Article continues below advertisement
Nicola, a 46-year-old woman from Nottingham in the UK, runs the hospice from her home. She goes to pounds and shelters in the area and makes sure to come home with the most vulnerable, elderly dogs who are least likely to be adopted. She adopts two at a time, in most cases opting for dogs who have fewer than six months to live.
Not only does she take these dogs in and make sure the ends of their lives are as comfortable as possible, but she also treats them like royalty, making sure they "complete their bucket lists," according to Metro. That means birthday parties, trips to the beach, steak dinners, and ice cream.
Article continues below advertisement
Above all, she wants these dogs to feel loved and happy in their final days. That means unlimited cuddles for these poor pups. Nicola believes that most of these dogs were abandoned by owners who were not willing to pay expensive pet bills or commit to helping their older dog stay comfortable. Either that or they were working dogs who were "no longer considered useful."
Article continues below advertisement
Metro writes, "One charity she regularly helps said they 'couldn't be more grateful' to Nicola, who has given some of their most desperate pets 'love and care like they have never received.'" Nicola spends up to £500 ($610) on each dog, using a combination of her own money and the donations she receives through her nonprofit organization.
Article continues below advertisement
"It can be an utterly heartbreaking job, but someone has to do it," Nicola says. "I'm a complete animal love and I just can't bear the thought of them spending their final days, weeks, or months without the love they deserve. It can be really tough, but ultimately it's so rewarding when you can make those times special."
The longest she's had one of these pups is around a year, and the shortest was two weeks. No matter the dog's prognosis, Nicola's going to make sure they are happy and loved. When each dog dies, she has them cremated and buries them in a special plot at her home. What Nicola does for these dogs is truly a selfless act of love and appreciation.
Article continues below advertisement
She's been running the hospice from her home for years on an unofficial basis, but she only recently decided to name it and establish a nonprofit. The inspiration to make it official came from one of her favorite pups, Dougie the bulldog. "Dougie was found tied up outside a vet surgery one morning and only given weeks to live after they found he had lymphoma," Nicola told Metro.
Article continues below advertisement
"He had the best temperament and just wanted to feel loved and safe," she continued. "He was really poorly and not with us for long, but the difference I saw in him once he came with us from the pound, in just a matter of days, was incredible. He was a totally different dog. Dougie was about a year ago and that's when I decided I didn't want to see any more dogs go through that. I relly believe they should get a nice ending."
Article continues below advertisement
Joanne Snaith, from Helping Yorkshire Poundies, says, "Nicola does an amazing job, taking in dogs when they've been kicked out by their owners right at the very end of their lives — giving them the love and care most have never received previously in their lives. I absolutely admire the work of The Grey Muzzle Project."
How does Nicola take on such emotionally harrowing experiences over and over again? Her two children. "My two teenagers are like my rock. I couldn't do it without them," she told Metro. "We all get very attached to them, it's very emotionally intense and we do mourn and grieve for them. We do need to have breaks between them."
Nicola estimates that she's taken in about 30 dogs at this point and helped them through the end of their lives. They all get ice cream, steak, and one last birthday party (even if she doesn't know when their birthday actually is). And they each get to experience the unconditional love every dog deserves in their lifetime. Support The Grey Muzzle Canine Hospice Project here.