What Is a Canon Event? The Internet Won't Interfere With Them After 'Across the Spider-Verse'
What is a canon event? TikTokers are poking fun at the concept introduced in the popular 2023 film, 'Spider-Man: Across the Spider-Verse'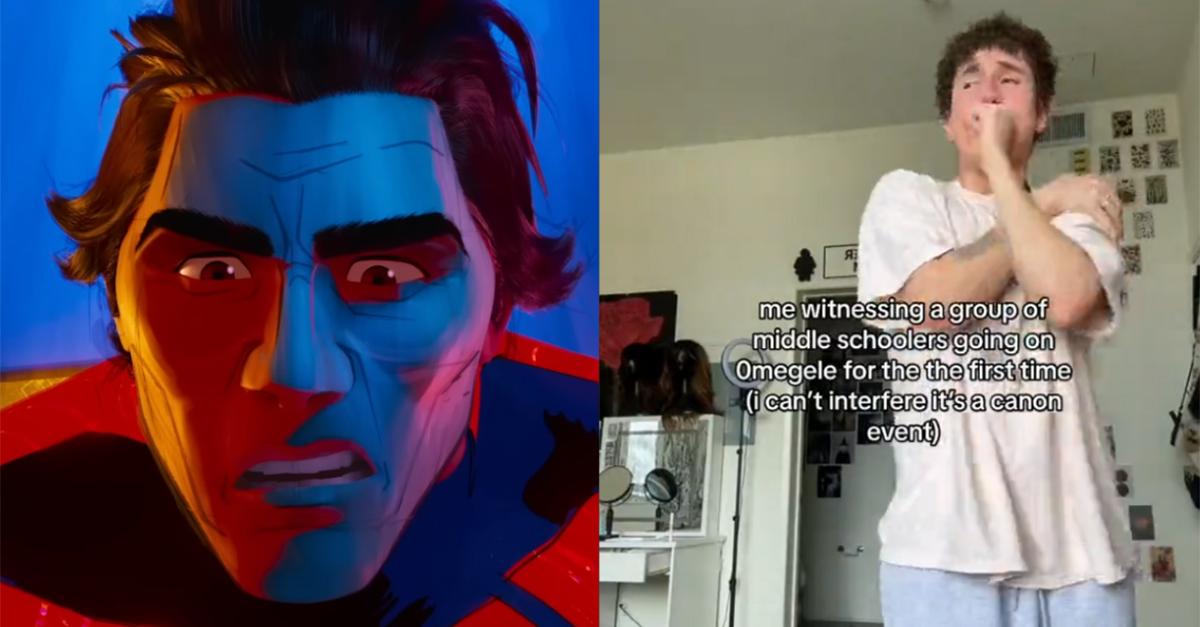 Movies and TV shows about time travel often warn us that trying to interfere with our past selves can have some serious ramifications. Most of us would jump at the chance to travel back to stop us from an embarrassing past memory or avoid a romantic partner who will eventually become a bitter ex. Unfortunately, most unspoken time travel laws tell us that doing so could wreak untold havoc on the universe. In one of the latest TikTok trends, this idea applies not just to time but also to space thanks to canon events.
Article continues below advertisement
TikTokers are essentially putting themselves on blast by describing their own canon events. The unique multiversal concept has been making the rounds as people point out some of their darkest memories or hottest takes on themselves and frame them as canon events, which reportedly cannot be interfered with. But what exactly are canon events? Luckily, you don't need to be an expert on metaphysics to understand them. You just have like Spider-Man a lot.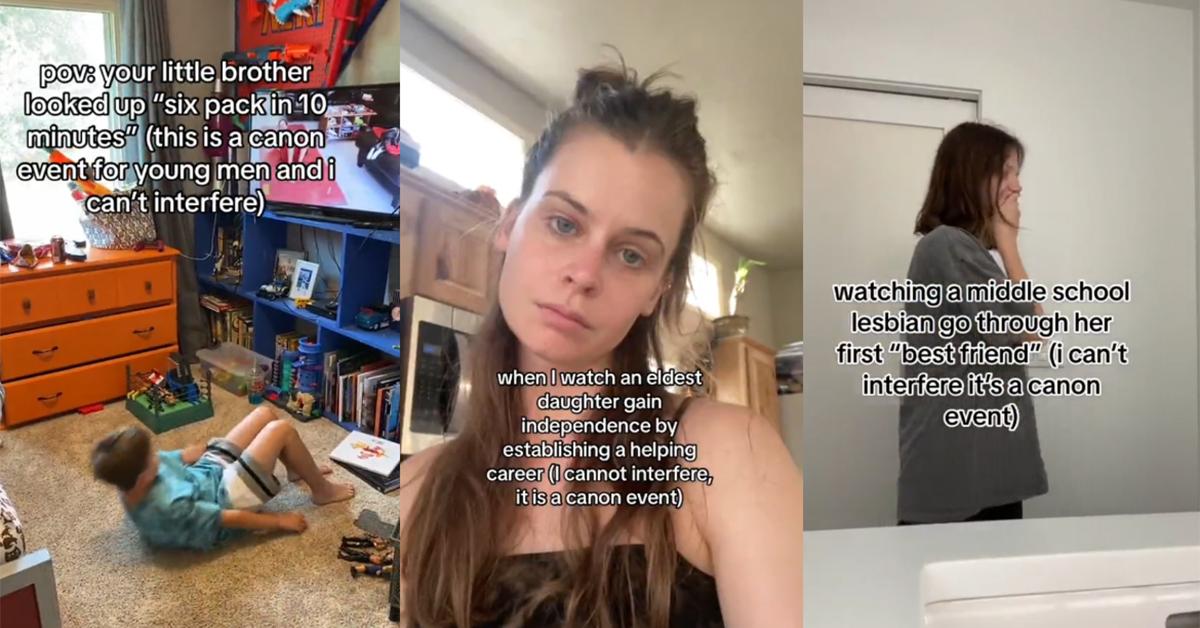 Article continues below advertisement
What is a canon event? TikTok is abuzz with their own.
Though genuine multiverse theory exists, the concept has become wildly popular in film and television lately. Plus, it's important to know to understand canon events.
Put simply, multiverse theory suggests that there are an infinite amount of parallel universes throughout unseen dimensions that are basically similar to our own, but often have massive existential differences. One aspect of multiverse theory is that in each one, there is a version of ourselves that exists there.
The concept of canon events is essentially a play on those alternate versions of us. In every dimension of the multiverse, that version of you will undergo a similar life path in order to become, well... you! Canon events are the major occurrences in one person's life that each of your alternate selves will eventually follow as part of their unifying life story. What's more, interfering with canon events can theoretically disrupt the multiverse at large.
TikTokers are playing with the concept in some hilarious ways.
Article continues below advertisement
Users are putting themselves in the shoes of someone watching an alternate self go through something that they have and are tragically (yet hilariously) unable to interfere.
"When I see the 20-year-old bisexual girl fall deeply in love with the below average indie guy who's not over his ex," one user posted.
Another person uploaded a video stating, "Me watching the young gay boy starting to idolize the movie Mean Girls and changing his personality to match Regina George."
Article continues below advertisement
By and large, people are taking some of the most formative and/or awkward moments of their lives and making them into canon events, which they are ultimately unable to alter without the risk of tearing the multiverse asunder.
While people are making some funny TikToks about their own canon events and their tragic inability to change them, this concept is no laughing matter to one Spider-Man out there in the multiverse.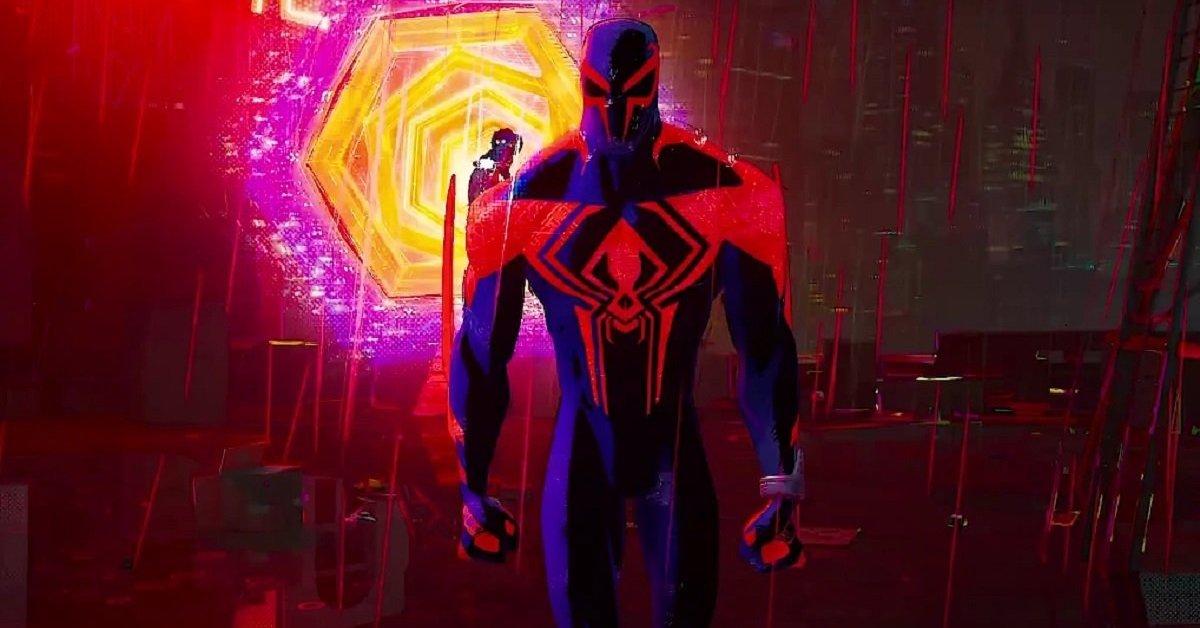 Article continues below advertisement
Canon events come from 'Spider-Man: Across the Spider-Verse'.
The meme inadvertently originated in the 2023 animated film, Spider-Man: Across the Spider-Verse. The film takes place shortly after the events of 2018's Into the Spider-Verse. It follows Miles Morales (Shameik Moore), a Spider-Man whose newest villain causes him to seek the help of Spider-People from all across the multiverse.
In the film, Miles learns about canon events from a futuristic Spider-Man named Miguel O'Hara (Oscar Issac).
Miguel describes the canon events of Spider-People to Miles, in which anyone who becomes a Spider-Person in their dimension has similar origin stories. They typically lose uncles and loved ones and must eventually learn that with great power comes great responsibility. However, Miguel takes canon events so seriously that he views any alteration as a grave threat.
If nothing else, Miguel would certainly appreciate the fact that folks on TikTok are respecting their individual canon events.