What Exactly Is a Shawty Pass on TikTok and How Can You Make One?
What is a Shawty Pass on TikTok? Users are making their own forms of identification on the app, but it's definitely not an easy task to accomplish.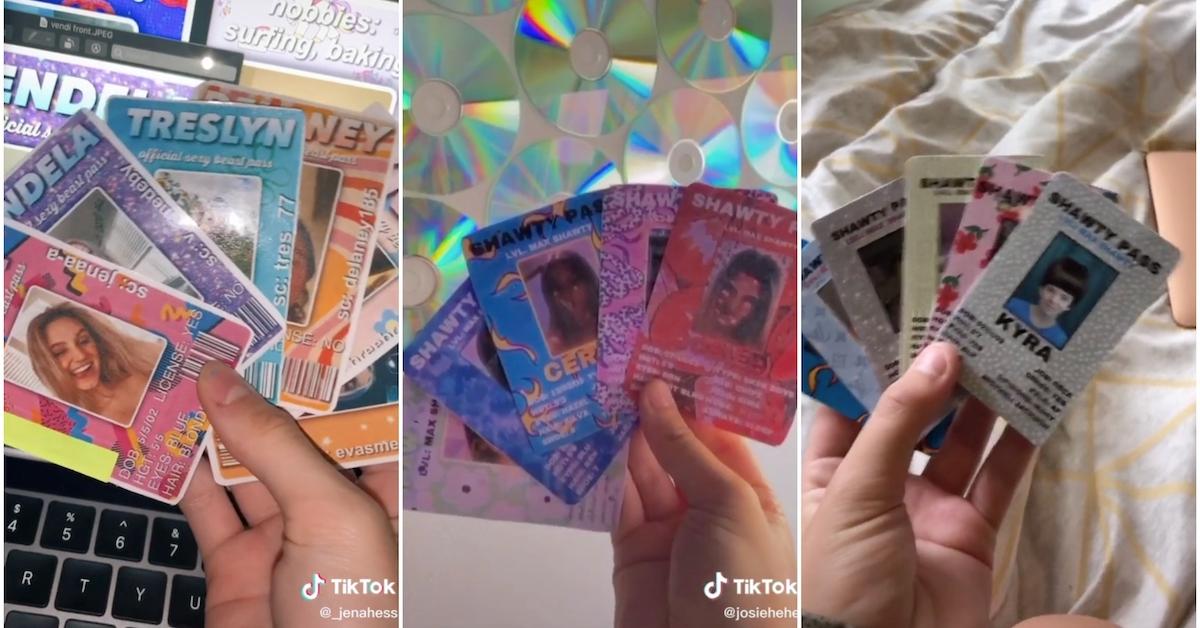 Becoming a TikTok user is as easy as downloading the app, but being cool and trendy requires some form of identification — enter the Shawty Pass.
While participating in challenges and knowing who a few of the residents of Hype House are might have been enough in the past to make it seem like you're in the know about TikTok, having a Shawty Pass is now a prerequisite.
The neon laminated cards are tailored to each user's personality and interests, and making one is no easy task.
Article continues below advertisement
What is a Shawty Pass on TikTok? Find out what the mysterious passport cards are all about, and find out how you can make one (it only requires a few apps and some sharp editing skills).
Article continues below advertisement
What is a Shawty Pass on TikTok?
The Shawty Pass is yet another trend that has gotten a lot of traction on the app, and many users are spending their free time creating them online and printing them out.
Think of the Shawty Pass as a driver's license for TikTok, except there's no real identifying information on it.
There are few rules when it comes to having a Shawty Pass, but the more creativity employed, the better. Many of the passes that have gotten attention online have featured neon backgrounds, preset patterns, and shadows behind photos.
The passes feature the user's name on the top in bright, bold text. In the middle of the card is a photo of the user, which can be silly in nature, a meme, or an actual headshot.
Article continues below advertisement
Underneath the photo, some pass holders have put their heights, weights, jobs, nicknames, and other social media information. Others have used the space at the bottom of the card for inside jokes, references to their friend groups, scannable barcodes, or information about their TikTok feeds.
The back of the pass is also a free space that people have used to put funny quotes on. The final must-have for the card is to add what "Shawty level" each user is. Many just write "Max Shawty."
Article continues below advertisement
Aside from having one to show off online, there's no real purpose to the Shawty Passes. But, because making them isn't an easy task, having a Shawty Pass is somewhat of an exclusive thing. Those who are experts at creating Shawty Passes have charged other users to make them.
Once users have made their passes, they make a TikTok featuring the song "Shawty Check" by Canned.Gravy.
How can you make a Shawty Pass?
The level of difficulty that making a Shawty Pass requires depends on how elaborate you want your card to look. You can download a background image from Pinterest (or use one that you make yourself on an outside app).
After you've picked out your background image and cropped it properly, you can download an editing app that will allow you to add text.
Article continues below advertisement
TikTok user @_JenaHess, whose tutorial video has received hundreds of thousands of views, used the app Phonto to add the name text at the top of the card. On this app, you can play with the colors, size, and effects for the font.
She also used the app Picsart for editing her background image, for adding effects like the barcode, and for laying the actual ID photo on top with the shadow.
For those who are already confused by the prospect of making a Shawty Pass, there are many users who will make a "professional" one for you... for a fee.