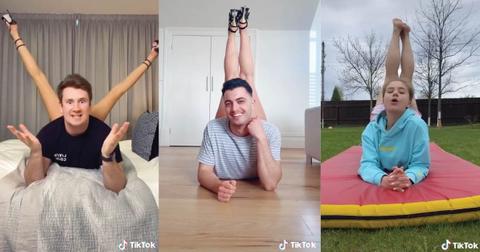 TikTok Users Are Doing the Vogue Trend to Show off Their Legs (Kind Of)
By Sara Belcher

Updated
TikTok is full of niche and sometimes really weird trends and challenges. If you're not on the app, you probably won't understand some of the humor that comes with these challenges. Trends like the fairy comments, the main character trend, and the Beetlejuice trend are all specific to TikTok and can seem unusual if you've never seen them before.
The Vogue trend is one of these challenges. In the simplest sense, the Vogue trend is a joke about having long legs — even if you don't.
Since there isn't one hashtag specific to the trend, you've probably just seen it on the For You page a few times. But here's how to do the Vogue trend yourself.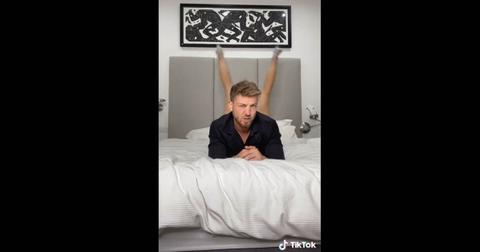 How to do the Vogue trend on TikTok:
If you're looking to recreate the video, you'll need a friend to help you out. One person, whoever will be facing the camera for the video, lays on their stomach, while the other lays on their back. The person laying on their back will likely have to lay slightly on top of their partner, so their legs can reach over their shoulders.
To make this as "believable" as possible, you'll need to make sure that your legs can reach comfortably over your partner's shoulders, but also that you're not so close to their shoulders that you can be seen by the camera. You may need to play with the angling of the camera as well to achieve the desired effect.
The sound you'll want to use is called "original sound - jordankantola." After the opening lines, "They tried to put me on the cover of Vogue, but my legs were too long," the person laying on their back will lift their legs, doing the motions done by others in most of the videos.
This trend takes some coordination with your partner, and may take a few takes. Just remember, even if you can't get it on the first few tries, you'll definitely have some good outtakes to laugh at after the fact.
If this doesn't make sense, there are also some tutorials on the app, as well as some fun, behind-the-scenes looks at this trend to help you understand better how to achieve it.
Others are using the sound to show off their height.
As this audio is meant to make light of being tall and having long legs, those with exceptionally long legs are also using the trend to highlight their height.
If you're someone who is at an exceedingly above average height, others have shown off their height by holding a blanket in front of their body, dropping it to showcase their height when the sound goes "but my legs were too long."
If you've been cursed with an average or below-average height, you could also get a friend to help you out to make a parody of this version of the trend. Hop on your friend's shoulders and cover yourself in a large trench coat or another article of clothing.