TikTok's Hanger Challenge Is Turning Heads — Literally!
For TikTok's Hanger Challenge, all you have to do is place a hanger around your head. Your head will start turning… or are people just faking?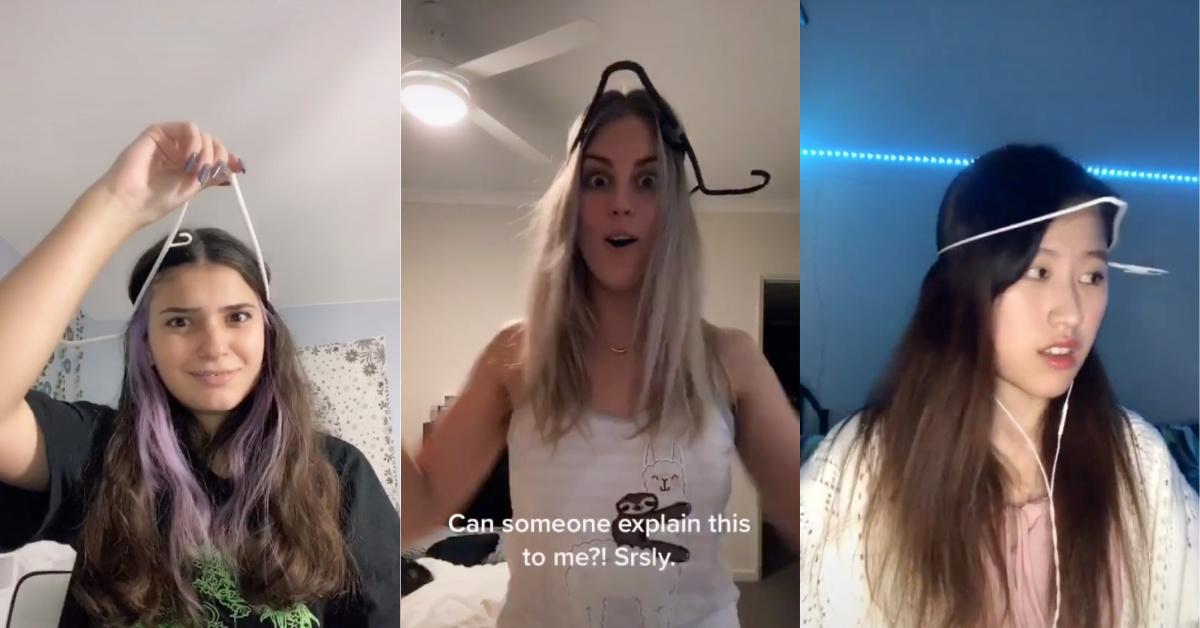 Well, it's been about five minutes since the last TikTok trend took over the video-sharing app, so you know what that means: There's another new TikTok trend! This one is called the Hanger Challenge, and it's causing quite a stir.
Article continues below advertisement
All you need to participate in this challenge is a coat hanger and a head. And maybe some acting skills — more on that in a second. Here's everything you need to know about the Hanger Challenge.
Article continues below advertisement
What is the Hanger Challenge on TikTok?
So, this most recent Hanger Challenge actually isn't the first hanger-related challenge to become popular on TikTok. There was another challenge a while back that involved people trying to fit their entire body through the gap in a coat hanger — not a good idea, for obvious reasons (we hope!). The was also the "Fish Be Like" trend that involved pretending hanger hooks were fish hooks and acting like a fish caught on the line. This new Hanger Challenge is completely different, though.
Basically, all you have to do is stretch a coat hanger open and place it so that the hanger touches both sides of your head. The idea is that for some reason or another, your head will automatically start to turn. It seems as though the trend first started on Douyin (the Chinese version of TikTok) then made its way throughout the app until it became a mainstream challenge.
Article continues below advertisement
Here's the thing, though: The main discussion around this challenge is about whether having a hanger on your head actually makes it turn involuntarily, or whether people are just pretending it works for TikTok. The mystery surrounding whether it's "real" or not is another thing that has led to the trend gaining popularity — people just have to see for themselves whether it really works.
Article continues below advertisement
Does the Hanger Challenge on TikTok really work?
As it turns out, there is some actual science to back up TikTok's Hanger Challenge (we were surprised, too!). Apparently, there's something known as the "hanger reflex," which is an unexpected rotation of the head when the "unilateral frontotemporal region" of someone's head is compressed by a hanger — that's a fancy way of saying some people's heads turn when they put a hanger on them.
Article continues below advertisement
In a 2015 study, researchers noticed head rotation in 95.8 percent of subjects (they were studying 120 people between the ages of 19 and 65). The researchers used wire coat hangers in their experiment, while a lot of people doing the Hanger Challenge on TikTok appear to use plastic hangers — maybe using a wire hanger is part of the trick?
Anyway, it seems as though the Hanger Challenge may actually be legit and based in real science — who knew? Of course, the only way to know for sure is to try it yourself. Obviously, don't hurt yourself when putting the hanger on your head — no TikTok trend is worth causing yourself actual pain!
Article continues below advertisement
Whether the people of TikTok are faking or actually testing out their hanger reflex, this is one trend that we actually find pretty darn fascinating. And, OK, yes, we're gonna go look for a wire hanger and try it ourselves, too.