Everyone Is Obsessed With This TikToker Angrily Cheering on a Kid Frosting Their Cake
If you've recently discovered Angryreactions on TikTok, here's a little bit about the TikToker — his real name, where he lives, and his other work on the internet.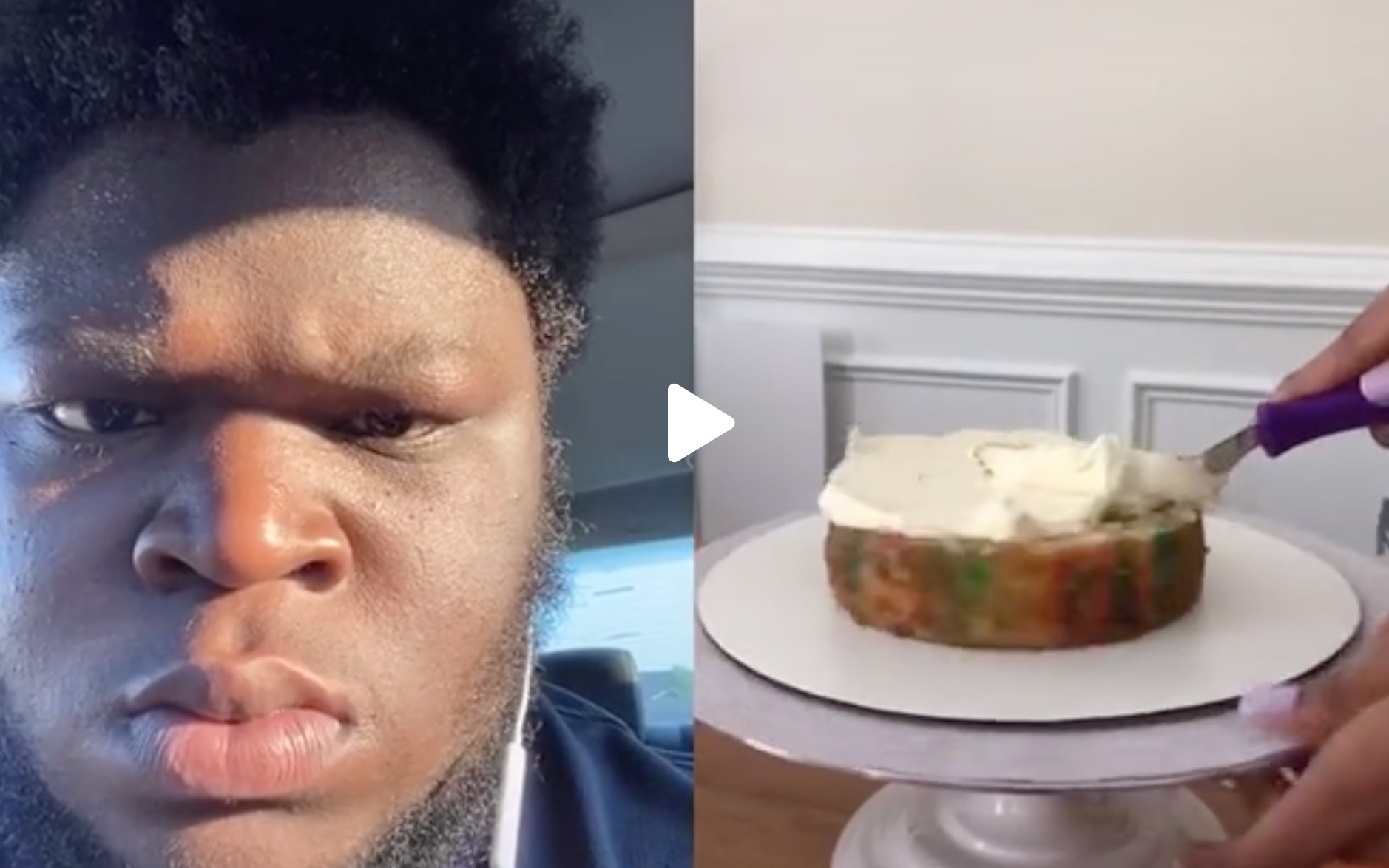 If you needed something to cheer you up (let's be real, all of us need this), angryreactions on TikTok is the answer. You may have seen the video of angryreactions (Oneya Johnson) angrily cheering on a young girl frosting a cake (it has nearly 32 million views), but Oneya has other delightful and hilarious videos in which he angrily encourages people or calls them out. In fact, he has multiple channels you should be following.
Article continues below advertisement
Who is angryreactions on TikTok?
The person behind angryreactions, a collection of positively angry duets, is 22-year-old Oneya Johnson, who has another TikTok page called faceonlyamothercouldlove, where he posts funny reactions to comments. He also has a YouTube page called Humble King, but it only has around 90k subscribers so far. According to his Facebook page, he currently lives in Chicago, and he's originally from Jackson, Mississippi. Angryreactions was created August 23 and it's already a viral sensation.
Article continues below advertisement
If you need a pick-me-up as well as some some motivation, let Oneya Johnson be your personal life coach. Seriously, he's very good at it.
Article continues below advertisement
Even though he's relatively new to the TikTok space, Oneya has seemingly always been hilarious. Here's a photo he posted back in 2018 that shows him "showing off" diapers instead of cash. His caption: "When you wanna flex but you a father now." LOL.
Article continues below advertisement
The best of angryreactions.
Hopefully Oneya gets his own show on Netflix one day, because this is truly the content we need in 2020. Aside from the cake frosting video which catapulted him into viral famedom, his other duets on his angryrections TikTok page are just as funny if not funnier. Like, watch him totally rip this dude apart for wearing socks to the pool. While he pokes fun at him, he also (angrily) encourages him to embrace and love his feet, since Oneya figures he's probably wearing socks to hide them. "Be comfortable in your own skin," he captioned the video.
Article continues below advertisement
Here's another, where Oneya defends a man who initially seems like he might be getting assaulted. "Don't touch him like that!" Oneya yells. But then as soon as the man defends himself using professional combat-fighting skills, Oneya changes his tune. "He go! He go! I told you!"
Article continues below advertisement
Maybe the most heart-warming TikTok is Oneya cheering a basketball player on, telling his that he's got this.
Angryreactions is only two days old, so we're just patiently waiting for Oneya to create more videos to make our day. We're sure the comedian's got a lot more coming, and we cannot wait.