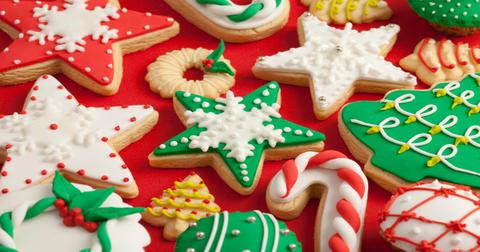 These Holiday Baking Fails Are a Work of Art
By Lily Rose

Updated
Maybe it's the fact that it's freezing outside or maybe it's because Netflix released a bunch of Christmas movies, but we want to bake. Visions of sugarplum cakes and peppermint chocolate chews are dancing through our heads. Thanks to places like Pinterest and Instagram it's super easy to get inspired by intricately (and mostly professionally) decorated Christmas cookies, cute Santa Claus cake pops, Oreo bark and more. 
But unless you're actually a contestant on The Great British Baking Show: Holidays, all that piping and fondant effort to turn a cookie into a snowflake can be pretty hard to get right. 
Admit it– You know you're definitely less of a Paul and Pru and more like someone from the baking fail series, Nailed It. 
Luckily, people on the internet know your pain. 
The only thing you (and they) can do after melting your candy cane garnish to a sticky charred crust or turning your evergreen tree frosting to an unfortunate shade of puke, is to post a picture of your awe-inspiring holiday baking fail to the internet. 
Nothing goes better with crushed holiday baking dreams than laughing at pictures of baking fails on the internet that are worse– and who knows, maybe your cookies/cupcakes/brittle/etc creation might look ugly but still taste pretty good. 
You might even muster up the courage to post a photo of your own baking abomination. 
Just don't leave those cookies out for Santa...
Or you'll end up on the naughty list.
This baker added some flair to their structurally unstable gingerbread house with some dinosaurs. Instead of scrapping their whole creation, they made it tell a story. Inspirational!
These festive-looking green and red spirals were neat as a pin in the reference photo. Unfortunately, this baker's cookies appear more tie dye than anything else. At least they're still circular.
She called these candy cane cookies a "fail" because they're super puffy and not exactly striped. However, we can still recognize what they're trying to be! And like she said, at least they taste good... LOL
Okay, these melty disasters were meant to be dessert truffles and they definitely look more like a tray full of Ikea meatballs. 
These santa hat brownies are totally cute in theory but way harder to execute in practice. This baker's creation looks less like little festive hats and more like confused brownie strawberry shortcakes. However, we bet they still taste nice!
What the heck shape were these sugar cookies originally supposed to be??? How did this go so terribly wrong? This is so amazingly terrible. Too bad they weren't baking these for a bachelorette party!