There's a Disturbing Rumor on Social Media Involving a TikTok Star Named Leah
A young girl is being talked about throughout social media and the Leah TikTok drama seems to center around old photos being circulated.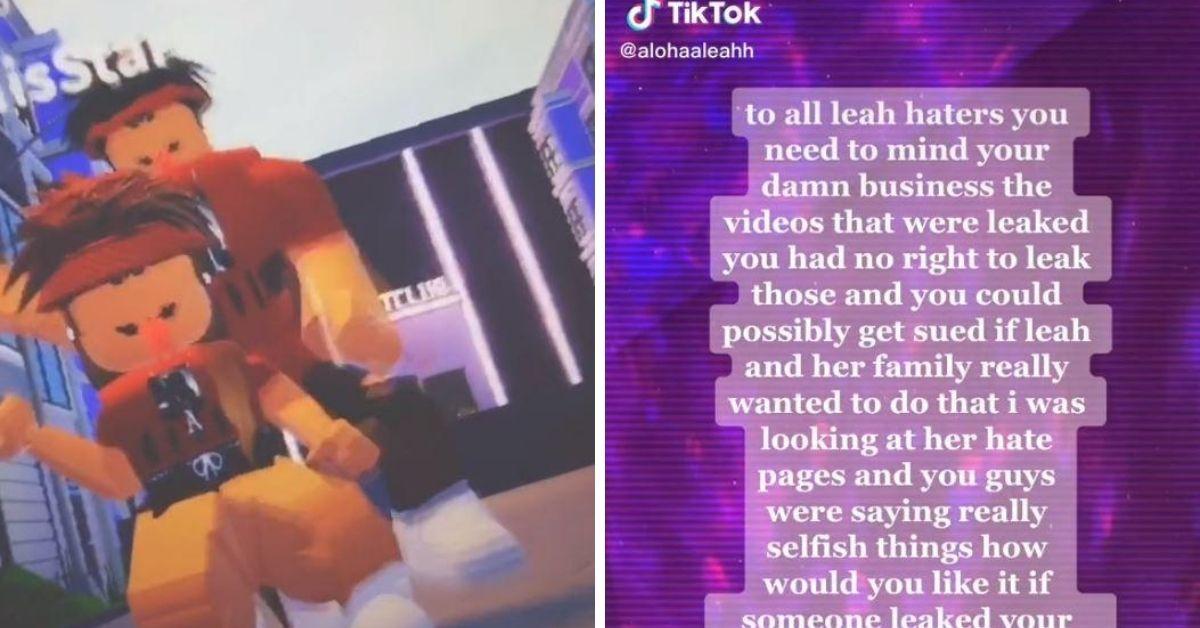 There are a lot of amazing things that social media has brought to our lives. We can keep up to date with old classmates and find hilarious memes to bring our spirits up. There is also a whole lot of drama on these platforms and for that reason, they're not always the best space for children. While TikTok may seem like an innocent place that kids can scroll through, it's full of dangerous footage and nasty rumors — like this TikTok drama regarding a user named Leah, which is confusing and quite disturbing.
Article continues below advertisement
There are a lot of young kids on TikTok, and Leah is *maybe* one of them.
According to celebpie, Leah, who goes by the TikTok handle alohaaleahh, has a large following on the platform with over 26,000 followers. It's not clear if her popularity is due to the platform or if she grew her followers elsewhere thanks to her love of Roblox. On TikTok, she takes part in the popular viral dances all over the platform, but instead of being featured in the videos, she uses her Roblox avatar instead.
Article continues below advertisement
According to her profile, Leah has a boyfriend named Adrian, and he seems to be front and center of both her TikTok videos and the drama that's centered around her.
TikTok drama involving Leah unfolded recently and it's hard to make sense of it all, really.
Beyond the fact that people like Leah's Roblox TikTok videos, there isn't a whole lot known about her. According to some sources, she's only 12 years old, a minor, as is her boyfriend. But there are also some hints that she's 22 years old.
Article continues below advertisement
Her age matters in this because the drama unfolding has to do with images that were allegedly taken 10 years ago – or recently – showing Leah at 12 years old in an adult situation. According to one YouTube video that attempts to explain the drama surrounding Leah, she took photos of herself and sent them to her boyfriend, Adrian. The YouTube video alleges Adrian then leaked the photos to other people and they have made their way to adult sites.
Article continues below advertisement
Either age Leah's at now, the image circulating is, allegedly, of her at 12 years old. A minor; a child; and she's being taunted by them now that they've been made available on the internet.
"She sent the nudes and guess what happened? Adrian leaked it," the anonymous YouTube video said. "Remember she is a minor. She is twelve, the person you should be blaming this situation on is her boyfriend," the video continued.
On Aug.12, 2020, Leah posted a TikTok video that seems to address this situation and she makes it sound like the image circulating was taken years ago, adding to the confusion.
Article continues below advertisement
"Using my old ten year old pictures against me doesn't mean shiiii," a video posted on her profile read. "Like y'all jus stop it's giving me a reason to just stop posting myself on the internet, leaking photos of me doesn't get you anywhere in life, so stop."
Article continues below advertisement
The person who is linked as Leah's boyfriend posted on TikTok that she was "having a hard time" and it looked like he was sharing screenshots of all the fake accounts that have popped up recently about Leah and contain the photographs at the center of all the drama. It appears some of Leah's fans believe that her images were not leaked by her boyfriend, but instead by her friend Tyler, though Tyler claims it was another friend who did it.
Article continues below advertisement
Another message posted on TikTok, apparently written by Leah's friend, highlights that she is getting lots of hate messages due to "videos" and "pictures" that were shared.
"To all leah haters you need to mind your damn business the videos that were leaked you had no right to leak those and you could possibly get sued if leah and her family really wanted to do that," the message read.
Article continues below advertisement
"i was looking at her hate pages and you guys were saying really selfish things how would you like it if someone leaked your personal business and leaked pictures and sent you threats im logging out now but y'all better think about your decision before you guys get sued xox - leahs best friend."
Regardless of if Leah is a 12-year-old or was one 10 years ago, distributing images of a 12-year-old is sharing child pornography and can land you behind bars for up to 20 years. So for all those fake "Leah" accounts sharing those images, you should know doing so can make you pay a very heavy price.
If you need support, The National Sexual Assault Hotline is available 24/7 at 1-800-656-4673. You will be connected with a trained staff member in your area. Or visit RAINN.org to chat online with a support specialist at any time.