What Is the "Voice" in 'Dune'? It's Kind of Like Jedi Mind Control
'Dune' has a lot to unpack as bringing the novel's world to life is a tall order. One question a lot of viewers have is: What is the "Voice"?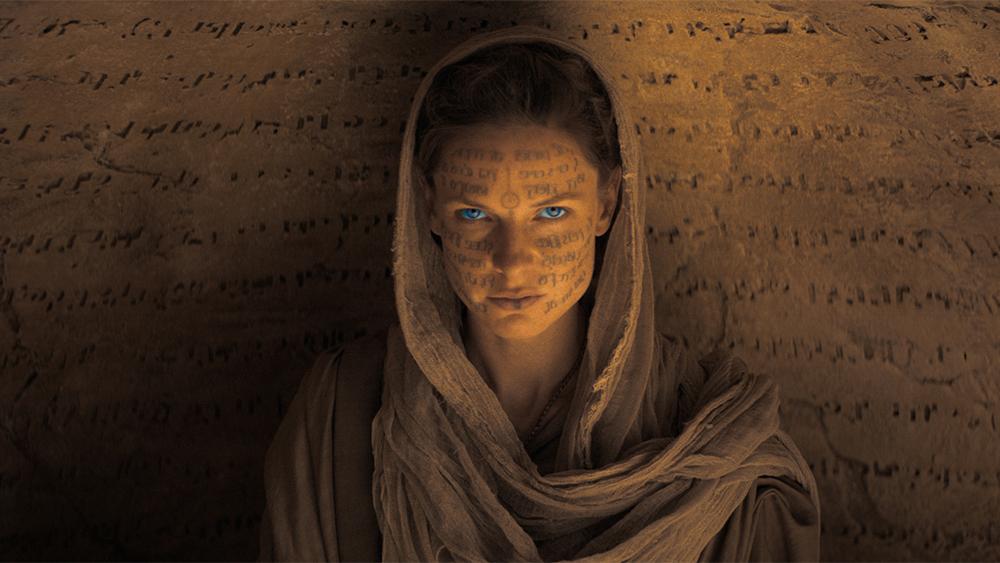 Spoiler alert: This article contains spoilers for Dune (2021).
Adapting expansive novels with ginormous worlds is a tall, tall order, which is always why it's such a huge celebration whenever it's not only done correctly but it also resonates with audiences all over the world. Take the Lord of the Rings and Harry Potter films, for example, or the first few episodes of Game of Thrones before showrunners took a steaming dump on all the work they did with that abysmal final season.
Dune has had some misfires in the past when it comes to adaptations, but Denis Villeneuve's 2021 film (which is now in theaters and streaming on HBO Max) is being praised as both a critical and commercial (relative to the pandemic) success.
It covers a lot of ground, which left viewers with a lot of questions, like, what is the "Voice" in the film?
Article continues below advertisement
What is the Voice in 'Dune'?
No, it's not a cheesy singing competition that desert-dwelling Timothée Chalamet and Zendaya watch in between hunts for the Spice Melange so they can not only enjoy something akin to an acid trip but also see futuristic visions.
The Voice is actually a "gift" that members of the Bene Gesserit religion enjoy.
Paul Atreides (Timothée) enjoys these powers through a combination of his lineage and his training. But to fully understand the Voice, then you'll need to understand the religion that dominates the Dune world. The very first book defines Bene Gesserit as: "The ancient school of mental and physical training established primarily for female students after the Butlerian Jihad destroyed the so-called 'thinking machines' and robots."
Article continues below advertisement
In the context of the novel, kind of like Shaolin Monks or the Jedi if we're keeping things all cinematic, the Bene Gesserit are a super ancient religion that puts its philosophies into action.
Their old ways afford them tons of crazy abilities, and adherence to those traditions makes them more and more powerful with each growing generation.
Article continues below advertisement
Some of these abilities are downright awesome, like knowing when someone is lying due to vague telepathic skills. Then there's their brand of martial arts called the "Weirding Way" making them incredible fighters. Bene Gesserit women are in control of their fertility: They can determine themselves if they want a male or female child.
And then there's the "Voice."
Article continues below advertisement
The Voice allows users to influence the actions of others.
The Dune glossary in the first novel defines it as: "That combined training originated by the Bene Gesserit which permits an adept to control others merely by selecting tone shadings of the voice."
It's important to note that the Voice isn't telepathy, but the implementation of sonic manipulation to get a listener to do what they want.
Article continues below advertisement
Paul isn't an expert in utilizing the Voice, but we see him get his mother to give him a glass of water at the beginning of the film and then again to have a grunt remove a gag from her mouth. Once he does that, she's able to use the Voice herself and do some real damage.
Article continues below advertisement
Folks are aware of this ability. Remember the assassin that's sent to kill Paul and his mom, Lady Jessica? They were likely deaf for a reason: The Voice wouldn't work on them.
'Dune' characters can learn the Voice.
Of course Paul has the leg up on most because he's a descendant of the religion and he can perfect the skill thanks to some tips from his mom. If there are other Dune movies, then there's a good chance we'll see Paul embrace more of his Bene Gesserit heritage and training to protect those that he loves and get things done.