'Dune' Will Give Sci-Fi Lovers Stunning Visuals and an Action-Packed Storyline
The long-awaited HBO Max 'Dune' official trailer has arrived! With a star-studded cast and a plot adapted from a classic novel, fans are stoked.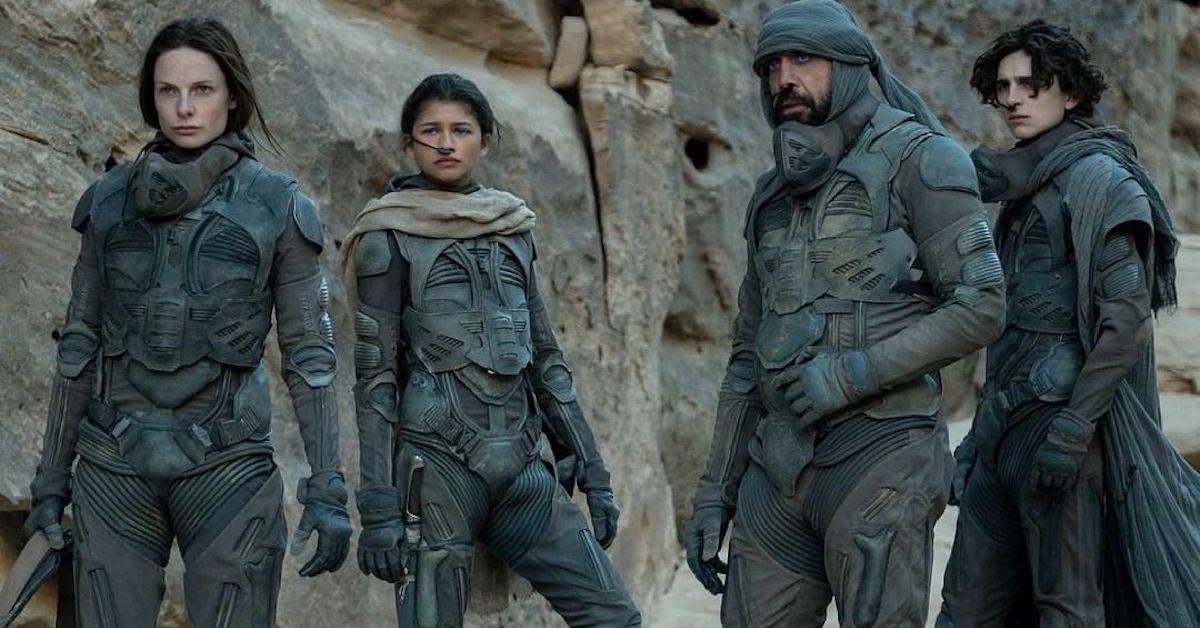 It's safe to say that science-fiction and fantasy books adapted into movies always land in the highly-anticipated category. From The Lord of the Rings to Divergent, fans go crazy action-packed storylines with amazing visuals. And by the looks of it, HBO Max's Dune is the next film that will satisfy many sci-fi lovers.
Article continues below advertisement
Telling the story of two houses at odds, Dune's plot surrounds the importance of controlling Arrakis — the only planet where a specific substance, known as "the spice," can be found.
In the true nature of a book-turned-film, fans will be watching to see if the storyline remains the same or if filmmakers will get creative. And with the official Dune trailer now available to watch, we think it's time to provide fans with a proper breakdown. Read on to get the full scoop.
Article continues below advertisement
The 'Dune' official trailer starts off with Paul Atreides experiencing vivid dreams.
Reeling fans in straight out the gate, the Dune official trailer kicks off with a bit of mystique and intrigue.
"There's something happening to me," Paul Atreides (Timothée Chalamet) says. "There's something awakening in my mind. I can't control it." Then, flashes of Chani (Zendaya) fill the screen just before they share a kiss.
As he awakens from a dream, the trailer moves forward to show that Paul's "dreams" are actually visions of what's to come on Arrakis. Paul eventually learns that he inherits a sizeable amount of power and goes through the motions of learning how to use it to his advantage.
Article continues below advertisement
A battle ensues as the enemy tries to get rid of Paul's family one by one in order to gain control of Arrakis. Will they succeed? Will Paul become victorious? Dune will answer all of those questions.
Article continues below advertisement
Aside from Zendaya and Timothée Chalamet, Variety reveals that Dune also features other A-list stars such as Oscar Issac, Jason Momoa, Josh Brolin, Stellan Skarsgård, Dave Bautista, Sharon Duncan Brewster, Stephen McKinley Henderson, Chang Chen, David Dastmalchian, Charlotte Rampling, and Javier Bardem.
Article continues below advertisement
What is the backstory of 'Dune'?
Dune is adapted from Frank Herbert's 1965 science fiction novel of the same name.
Variety explains that the two houses at odds are the Atreides and the house of Harkonnen — who are considered to be the bad guys.
Article continues below advertisement
Baron Vladimir Harkonnen (Stellan Skarsgård) is a wealthy leader with a reputation for being cruel and greedy. He's also known for floating around in a little anti-gravity seat that takes him from place to place.
His disdain for the Atreides family prompts him to dispute the Empire's move to put Duke Leto (Oscar Isaac) in charge of Arrakis, which the Harkonnen family ruled for 80 years prior. As a result, his hatred has caused him to start a war for the planet.
Article continues below advertisement
When is 'Dune's' release date?
It has been a long road for Dune, as it was supposed to be released in 2020, but the pandemic got in the way. But, the wait will soon be over. Dune will be released in theaters on October 21, 2021. And it will be available to stream on HBO Max later this year, according to CinemaBlend.
Article continues below advertisement
Variety shares that Joshua Grode, John Harrison, Brian Herbert, Kim Herbert, Tanya Lapointe, and Byron Merritt all serve as executive producers. Denis Villeneuve (Blade Runner 2049, Arrival, Sicario) directed the movie.
HBO Max shared via Twitter that "Dune will be in theaters and on HBO Max, only on the ad-free plan streaming in the U.S. for 31 days from its theatrical release."