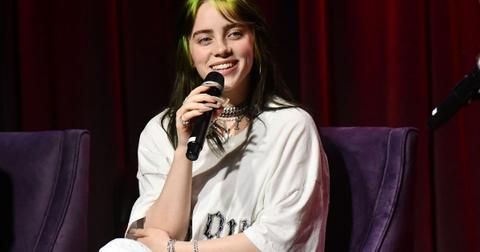 We All Know Billie Eilish Is Talented, but Did You Know She's Been in Movies?
By Devan McGuinness

Updated
If we were to pick out one singer of today that just slays every new release, it would be an easy choice with Billie Eilish. She's only 18, and it seems like everything she touches turns to gold. It's even more impressive when we consider her rise to fame.
She's had her hand in everything that's put her in the spotlight, and she's tried a whole lot of stuff for someone in the entertainment business, which is even more impressive when we consider her age.
Billie Eilish has always done things a little differently.
Billie first hit viral status in 2016 when a song she and her brother, Phineas O'Connell, wrote for a dance class. "Ocean Eyes" went viral after she and her brother posted it to SoundCloud, and that is pretty much how she's done the music career since — all on her own terms.
We all know her for her incredible music – all of which is produced by herself and written alongside her brother. It's something they've done together forever. Having been homeschooled, they were encouraged to focus on the things they loved, and these two make incredible music.
Even when Billie was signed by the big record companies, she refused to do her music any other way. She continued to write alongside her brother, and that's a huge reason why the two of them have been so successful.
Music isn't the only creative outlet for Billie Eilish.
According to an interview with Rolling Stone, Billie has tried her hand at a lot of different artistic outlets. For the longest time, Billie apparently seemed more interested in visual art than music.
"She'd borrow her dad's digital camera and stage photo shoots in the backyard, little dramas with her toy animals in the grass savanna," Rolling Stone wrote. "Her dad made slideshows and set them to music; he still has a folder on his computer called 'Billie's World.'" Both of her parents thought she was going to grow up to be a director.
While she hasn't done that yet, she has been in several films. Billie has been in Diary of a Wimpy Kid, Ramona and Beezus, and X-Men, according to Rolling Stone.
What role did Billie Eilish play in 'Diary of a Wimpy Kid'?
If you don't remember Billie Eilish in Diary of a Wimpy Kid, don't worry – the role she played in the movie wasn't a big one.
"I went on, like, two auditions," she told Rolling Stone. "So lame. This creepy, cold room. All these kids that looked exactly the same. Most actor kids are psychopaths."
So, instead of having an acting role on the films, she had more fun doing something called "looping" which is recording background dialogue for crowd scenes. Which is what Billie's role was in the movies mentioned.
"I did Diary of a Wimpy Kid, Ramona and Beezus, X-Men," she says. "It was fun — a bunch of kids in a room yelling random things, and then we'd have a break and get snacks." In a way, it's not too dissimilar from what she does now.
What else has Billie Eilish done?
It's clear that Billie is amazing at the arts – whether that be with visual arts, home videos, music, or background sounds. She's also taken on dance, too.
While we don't get to see her moves in her music videos, she had been taking dance class seriously, before music. She studied contemporary, hip-hop, ballet, tap, and jazz. She told Rolling Stone she joined a competitive dance company when she was 12 years old. Unfortunately, she had a substantial injury that resulting in her needing to quit dance all together.
"I think that's when the depression started," she says. "It sent me down a hole. [..] I felt like I deserved to be in pain."
And it was that pain that she funneled into her music, and her creative passion found an outlet in the music she creates today.