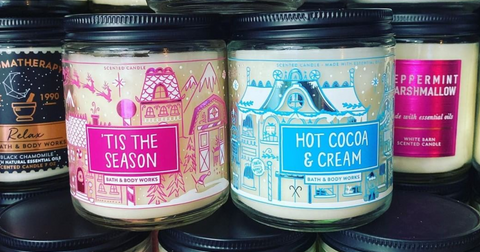 Bath and Body Works' Annual Candle Day Is Upon Us — Here's Everything You Need To Know
By Samantha Faragalli Younghans

Updated
Calling all frequent shoppers! Is your house decked out in different scented candles all the time? Then you may want to open your eyes and ears to Bath and Body Works' annual Candle Day, which will be here before we know it. The popular body care and home fragrance empire hosts Candle Day every year, so now, people are wondering: When is Bath and Body Works' Candle Day 2019? Scroll down to find out everything we know here!
When is Bath and Body Works' Candle Day 2019?
So it turns out, Bath and Body Works' Candle Day 2019 is upon us! The ever-so-popular shopping event will take place on Saturday, Dec. 7, just in time for holiday shopping.
And luckily for us, the hard-to-beat deals on candles are available both online and in stores. That's right, you can order a slew of candles without even getting off your couch! Or if you'd rather go sniff them in person, you can visit one of the store's plethora of locations around the world.
What are the sales on Bath and Body Works' Candle Day?
Normally a Bath and Body Works three-wick candle is $24.50, but last year, they sold them for just $8.95 each (if you don't want to wait, they're currently 40% off for Cyber Monday). That said, we're hoping that this year they honor this low price again, as it's the lowest shoppers have ever seen on their candles thanks to the whopping $15.55 savings.
Which scents do the three-wick Bath and Body Works candles come in?
The Bath and Body Works three-wick candles come in a slew of scents (it's nearly impossible to choose from the over 100 options!), including Fresh Balsam, Winter Candy Apple, Vanilla Bean Noel, Frosted Cranberry, Twisted Peppermint, Spiced Gingerbread, Frosted Coconut Snowball, Tis the Season, Sugared Snickerdoodle, Champagne Toast, Party Dress, Peach Bellini, and many, many more.
It's no wonder we leave the store on Candle Day with 10+ candles every year...
How long is Bath and Body Works' Candle Day? 
The only downside of Bath and Body Works' candle day is, unlike Black Friday and other big shopping weekends, Candle Day only lasts one day. So if you can't make it to a store or computer on Dec. 7, you're unfortunately out of luck.
But let's be real about all of this. The lines at Bath and Body Works are likely going to be insane over the weekend, so don't fret if you choose to skip out on Candle Day this year. If you catch the single-week candles on a sale day, you can probably purchase a bunch for a great price. If not, their normal price is $14.50, and the three-wick candle normal price is $24.50, which honestly isn't that bad for arguably some of the best candles out there...